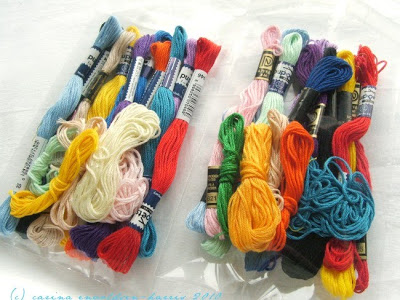 Hello! On Wednesday I received my Big Project in the post. Oh my! So happy with it! But I am still sorting out a few things related to it, so I am not going to reveal it just yet… So mean, I know! ;-)
I am going to tell the newsletter subscribers about it first, though, so if you are super-curious, you could always sign up for that if you fancy.
Now, ok, something completely different: since I have been making patterns I felt that it was a good idea to use embroidery thread from a brand that is widely available because I add the colours I have used in the patterns. Wouldn't make sense to write "I am not sure where you can get these exact colours because I bought my thread in Woolworths but it doesn't exist anymore.." Right, that doesn't make sense at all?
I actually do have a pretty large stash of that embroidery thread from Woollies but I don't really need it anymore. Maybe you could put it to good use? It's not the very best embroidery thread in the world, but cetainly not the worst either!
If you would like one of the bags in the image up there, either leave a comment with your email address or send me an email (carinascraftblog AT gmail DOT com) and I'll send it to ya next week.
There are 8-10 whole skeins in each bag, plus a few which are partially used. If you have a preference for either bag, please let me know.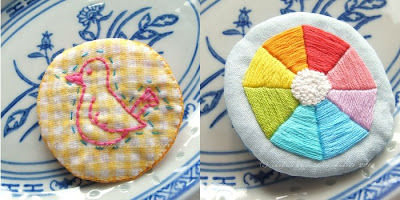 And now for something completely different again: I have made a few new hand stitched brooches. These two are in the shop right now.
That bird is cute, I think! And you know I am tempted to just keep that colour wheel one all to myself. I love colour. Did you know?! I mean, luuuuurve it!
°°°º°O°º°°°º°O°º°°°º°O°º°°°º°O°º°°°º°O°º°°°