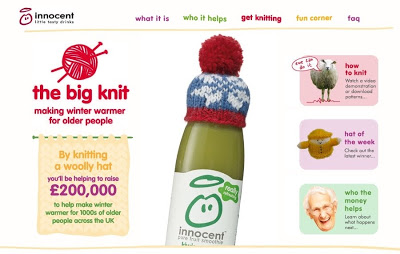 I must admit I am only a very recent convert to the ways of the smoothie. And so far only the innocent kind will do. ;-) Do you like smoothies?
The last couple of years I have been meaning to do some hat making for innocent's Big Knit campaign, but I just never got it done. Or I only remembered too late. Well now that I am actually crazy about their wares I am totally fired up to get some hats made! And it's the perfect project for when you've got a cold and your brain is fuzzy so you can't concentrate much! ;-)
The Big Knit is simple: people knit, or crochet, little hats that fit on the innocent smoothie bottles. The bottles are then sold in the shops and innocent get 25p per behatted bottle which go towards keeping old folks a bit warmer in winter. That's pretty cool, huh?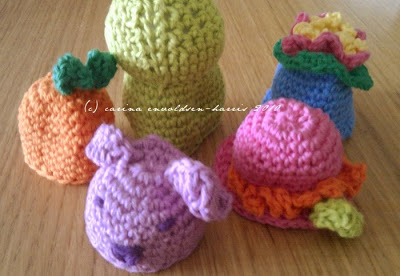 So these are the hats I have made so far – excuse the somewhat crappy photo, it's taken with the mobile. It's fun to make these because each one is quite small so you can just make stuff up as you go along. Which I am a fan of, yup.
That said, I think I am going to make a whole gang of the bunny 'pattern' I made up (the lilac fella in the bottom of the image). Because it's fun and it even has a little fluffy tail! So, ok, the Big Knit site actually doesn't have any crochet instructions (I'm sure they did last year, so what's up with the crochet discrimination? ;-) ) but if you fancy hookin' up some hats, I'd be happy to write out some instructions for ya. Maybe for the bunny?
In any case, innocent's goal is 800,000 hats this year, so I think you should definitely make a couple, whether you knit or crochet. It will help get rid of some of your yarn stash! And you don't even have to make a fancy hat. A plain one will do quite nicely too.
They won't mind if the hats come from overseas, I'm sure, (as long as they receive them by October 15th), so you really have no excuse not to make a few! If you are unable to get your hands on an actual bottle to measure your hat on, just make sure that your hats are approx. 1.5″/4cm in diameter and about 0.75″/2cm tall. There's a Flickr group too, if you need inspiration!
Right, leave a comment if you're making hats too! Or if you want help geting started. :-)
°°°º°O°º°°°º°O°º°°°º°O°º°°°º°O°º°°°º°O°º°°°