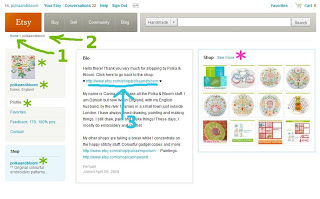 Do you have a shop on Etsy? Or do you buy from people on Etsy?
I don't know if you ever look at people's profile pages, but recently that page has become really confusing and really counter-intuitive.
The thing that is REALLY confusing is that there is only a single link back to the shop in question, the one I have marked with a pink asterisk *. All the green asterisks * link to the profile page itself.
No, really. Count the asterisks, I'll wait here… FOUR links on a page and they all link to the page itself! It makes NO sense and it's confusing as hell! Especially if you do not realise that the "See more" text is a link back to the shop, there is no other way back there!
Clicking any of the links you would expect were links back to the shop, is an exercise in futility. Logically, you'd think the shop name would take you back to the shop, but no. Logically, the avatar could be a link to the shop, but no.
It makes no sense. It only frustrates the visitor. Visitor = shopper.
Imagine you are at the supermarket and you want to buy some milk. On the way to the cooler section you get distracted by the fruits and veg section. But every time you try to leave the fruit and veg you can't, because there is some strange parallel dimension thing that sends you right back to fruit and veg nomatter which aisle you use. Only if you're lucky and spot a tiny sign saying 'way out' will you be able to leave.
I don't think that supermarket would be very successful. Because if you can't go and get the item you were interested in, you'd get pretty frustrated.. right? And if you're frustrated, you'd, umm… leave?
I have added a link(3) to the shop in the beginning of the profile itself, to try and help shoppers avoid the profile merry-go-round.
Clicking on Home(1) or the shop name at the top(2) doesn't help either. 'Home' leads to the front page of Etsy and the shop name isn't a link at all, so that's no help.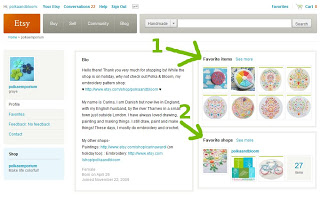 This is a look at one of my other Etsy shops. It is on holiday now, so there are no shop items. Instead you can see another feature (?) of the new profile page 'design'.. Favourites(1) and favourite shops(2), and treasuries, if you've made any of those, are much more highlighted now. Instead of being below the profile itself, they will now show up under the items in your shop.
All the favourites for that second shop are items in my Polka & Bloom shop.
As you can see in the top image, my profile in the Polka & Bloom shop shows no favourites. Not because I don't have any, but because I have made them private. As much I want to share the work of other people and help them prosper with their creative business, I don't think the way they are shown at the moment, is fair.
It is difficult enough to get back to the shop whose profile you're checking out without a bunch of pretty pictures to distract you to go to someone else's shop. We work hard on getting traffic to our Etsy shops, so it seems unfair that Etsy would try and get the traffic to move away from our shops… right?
Another bizarre thing about the profile is that if you have a profile that is over a certain length, it'll be cut off and there will be a 'read more' link. Clicking on that will give you a pop-up. Pop-ups are SO 1999! And not only do you have a pop-up, but one you have to scroll inside to read the whole profile. Why on earth can't we just scroll on the actual profile page?
Making a pop-up that forces people to scroll, shows you have no clue what a pop-up is for.
My profile wasn't very long to start with, so I was able to tweak it so people can read the whole thing, without the annoying pop-up. But if you want an example, have a look at Jesse's profile. And here's a link to her shop too, in case you want to check it out, and I think you should because she's ace.
What do you think about these changes? Over in the Etsy forum you can read what other people think…
PS. Sorry about the quality of the images in this post, but it's Blogger's image upload compression or some such. But I don't want to upload the images on Flickr, they don't like that sort of thing.. ;-)
.:º°º:.:º°º:.:º°º:.:º°º:.:º°º:.:º°º:.:º°º:.