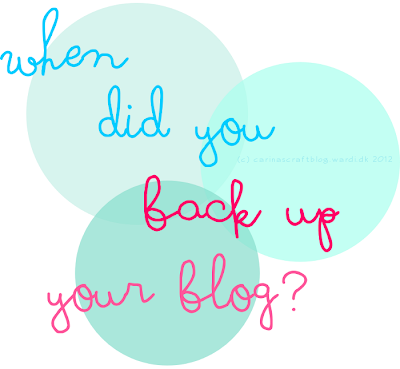 When did you last back up your blog? Over a month ago (like me)? Never? It's probably time to do it again! It's really quick and easy to do, so do take the two minutes it takes for some bloggy peace of mind.
Because I think it's important to back up our blogs – I reckon it's also important to remind others to do it too. That's just the kind of busybody helpful person I am… ;-)
I thought we might as well make this a *thing* – so I've added a widget to the bottom of this post (if you're seeing this in a reader you may have to visit the actual blog for it to shop up..) where you can add a link to your blog if you've backed up your blog recently-ish. Maybe today? And why not write a blog post to remind your own readers to back up their blogs? Make it a happy back-y up-y virtuous circle! If you need a tutorial for backing up your Blogger/Blogspot blog, this is how.
The link widget thing also has the lovely side effect of introducing others to your blog and we can all go visit with each other – nice! :-)
So, back up your blog, blog about it (if you want to) and then leave a link here.
document.write('