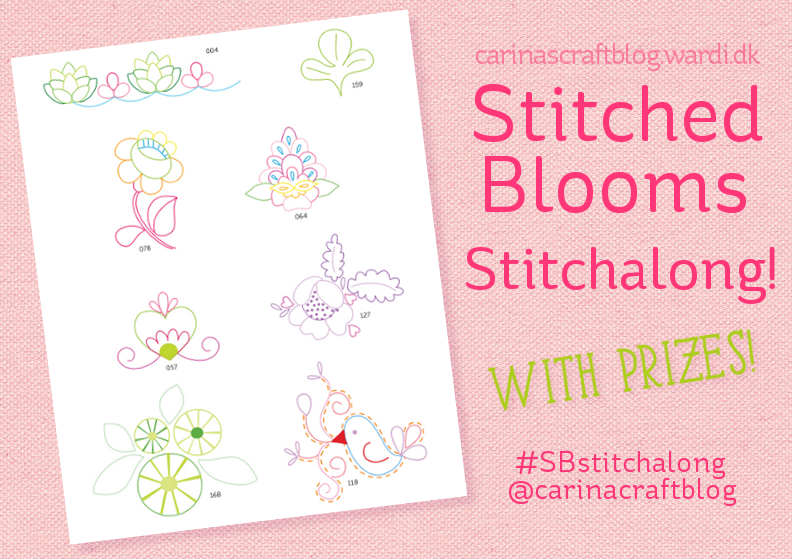 As I mentioned on Friday, I've been cooking up another stitchalong. This time with the help of my publisher, because it's a Stitched Blooms stitchalong! With prizes!
I just want to mention this first: this is not a giveaway, ok? You have to make a wee bit of a stitchy effort to enter. But anyone can play, even if you don't actually have a copy of Stitched Blooms.
Starting today, and ending at 8pm UK time next Tuesday (November 19th), you can stitch one (or more) motifs from Stitched Blooms and share them via Instagram, Twitter or on your blog. I'll be stitching along too. Because you know I love stitching. ;-) I'll share mostly on Instagram.
Ways to enter
Via Instagram: share photos of what you stitch and remember to use the #SBstitchalong tag. And do let me know too: @carinacraftblog
Via Twitter: you can either share the photo directly on Twitter, or with a link to your blog or a Flickr photo page. Again, please use #SBstitchalong and @carinacraftblog
Via blog post: share what you make in a blog post and then come over here and leave a comment on this post.
If you have a copy of the book, feel free to pick any motif you like, and if you don't have a copy of Stitched Blooms, we've put together a small selection of motifs that you can download here. You can mix the SB motifs with other motifs if you like. Basically I'd just love to see you get creative with motifs that have mainly just lived in my brain. Until the book came out anyway. ;-)
I know that time can sometimes be at a premium at this time of year, so you don't have to finish your stitchery, but we must be able to see that it is one of the motifs from SB/the sheet.
Stitchalong prizes
2 copies of Stitched Blooms
1 project from the book, made by me
I'll pick the three winners at random and publish them here on the blog next Thursday (November 20th) and I will also notify the winners. If I have not received a response from a winner by November 30th, I will pick a different winner.
By entering in the competition you give me permission to use your photo(s) in a gallery to show what has been made during the stitchalong. I will of course attribute photos to their owner and link back to you. :-)
So now, let's get stitching! :-)
. . . . . . . . . . . . . . . . . . . . . . . . .