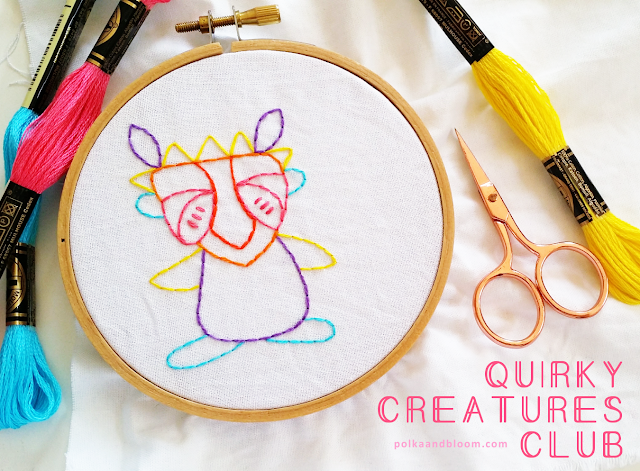 It's time for a new stitchalong club! This one, oh my, I've wanted to do it for years. Not just one or two years, no. More like five years.
So what is it? I call them Quirky Creatures. That's the official name, but their working title is mini monsters. :-)
They started out in my sketchbook about 10-11 years ago (!), as a doodle-y creative exercise. All of a sudden I had all these creatures filling the pages.
Now it's time to stitch them! I'm not putting it off any longer. I hope you will join the club and stitch some creatures too!
The creatures have lots of personality, they are quirky after all! And I think what I especially love about them is that you can't really tell what they are. Are they animals? Aliens? As old as Yoda? Male or female? They just are what they are and you can add your own interpretation.
I like when toys or clothes or decor isn't aimed specifically at girls or boys. So I think the creatures are particularly great for kids. They're even simple enough that kids can stitch 'em too. Basically, if you know back stitch, you don't really need to know anything else. I think my plan is to use mostly back stitch.
How does the club work?
When you sign up, you will be able to download a welcome PDF. You will be added to a club email list. The list will only be used for this club, I will not add you to my newsletter list. (But if you want to sign up for my newsletter, you can do that right here.)
You will get 15 creatures in total, three every two weeks, starting on May 23rd. It's a nice slow pace. Or maybe you want to save them all up for your summer holidays? Along with the creatures, you will also get a couple of ideas/tutorials for fun ways to use the creatures, apart from embroidery. You will receive everything via email to download and print at home. or at work as long as the boss isn't looking. ;-)
Each creature is 3″ tall. There will be a reversed version of each creature so you don't have to reverse it if you use an iron on method to transfer.
Timeline for the club:
May 23: First club email
June 6: Second club email
June 20: Third club email
July 4: Fourth club email
July 18: Fifth club email
If you have any questions, do get in touch: carina@polkaandbloom.com
. . . . . . . . . . . . . . . . . . . . . . . . .