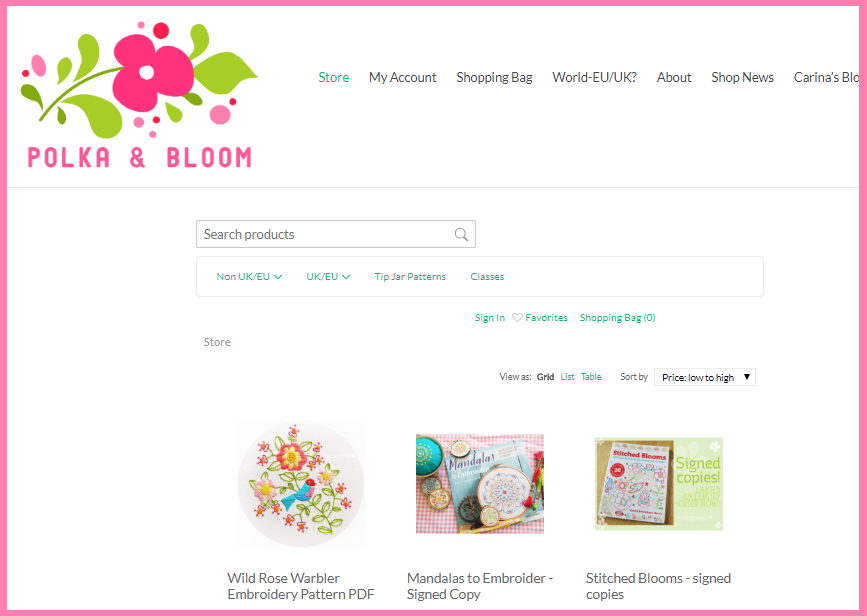 Hello!
I am making some changes to the Polka & Bloom shop. For many years I have had the shop on my own website, but sales through the website have gone down a lot in the past couple of years. I suspect it is because of the EU VAT thing which means I've had to split the shop into two sections, one for UK/EU customers and one for everyone else. Which may be a bit confusing!
I hope it is because of the EU VAT thing, otherwise it would mean that people don't dig my patterns anymore! :-o
I'd prefer to have the main shop on my own site, because I am 100% in control of that, but at the moment that just doesn't make any sense. If people get confused when they go there to shop, they're less likely to feel comfortable buying anything. It is my job to avoid confusing people! :-)
Most of my sales come through my Etsy shop now, and combined with the fact that the (fixed) cost of the shop on my own site has almost doubled (!), I have decided that I'm going to downgrade the shop on my own site.
From now on, my own site will only have physical goods (so I don't have to worry about EU VAT) and patterns and ebooks will be sold through my Etsy shop.
As much as I am wistful about my shop/website, I am also relieved to have made this decision. I think the whole EU/VAT thing has been a bigger worry than I realised.
As I was typing the above, which was only supposed to be an announcement, I decided that I should say thank you to the ol' shop AND to you, so:
The change will happen on May 20 (2018), and until then you can get 50% off all embroidery patterns* and ebooks, including all the bundles of patterns. Use this code: THANKYOU.
One last time:
If you are in the UK/EU, please use this link. Because of those EU VAT rules which mean I have to email PDF files to you because otherwise you will have to pay VAT and I will have to deal with some very complicated VAT something-something. But I just thought I'd mention it for any new readers (hi! welcome!)
If you're outside the EU, please use this link.
*Patterns in the 'Tip Jar' category are excluded because they are donationware patterns, so you can get those for free or pay a small amount if you like.
. . . . . . . . . . . . . . . . . . . . . . . . .