Many, many months ago, when I read the Crafter's Companion, I had the idea that it would be interesting to hear other, perhaps lesser known, crafters' stories. Just because you aren't known far and wide doesn't make you less interesting (at least I think so!). And recently I finally decided to do something about that idea. So I contacted a few lovely ladies, and I'm (sooo!!) happy that they all accepted to participate.
If there's anyone you think deserves to be interviewed, please do send me an email. You can even suggest yourself (I actually think it would be rather swell if you did, so don't be shy!)
The interviews consist of a number of questions, from which the person in question can choose to answer as many as they feel like – or feel apply to them. A few of the questions are mandatory, but most are optional, so all the interviews will be different, in more ways than one.
Right, with no further ado, here's the first one, with Kate North of Kate's Quilting (& other fibre arts) Blog. Thanks, Kate! :-)
Briefly describe yourself and what you make
I used to describe myself as a quilter, but although I still make quilts and no doubt always will, as there are elements of that process I enjoy very much, I have also recently moved into a lot of related areas, like fibre postcards, "inchies" (and other small works) and art and journal quilts. And I dye fabric & embellish it in various ways. Oh, and I do some beading… Consequently, I've been trying to learn to be comfortable referring to myself as a Textile Artist or Fibre Artist without feeling it was pompous. It really is more descriptive.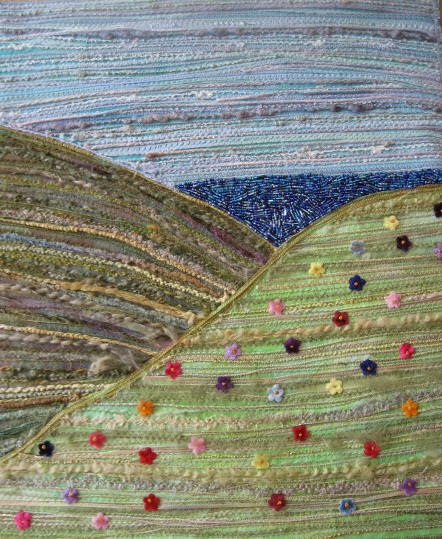 Who or what inspires you?
Better to ask who or what doesn't inspire me, than who or what does. There are so many exciting things out there to be inspired by; I often feel like sponge soaking up bits here and bits there and sometimes using specific ideas, sometimes just keeping it all in the back of my mind. I am inspired sometimes by the real world – nature, things I read, trips up to town (London). I also adore the world of blogs & blogging, for that unique glimpse into not only the wonderful art being made in my field (and others) but for the insight into the creative process. I honestly couldn't begin to list the huge number of women who have inspired me (and they are, on the whole, women)- this is why I keep a huge blog roll down the side of my blog, to share that inspiration with others – but a few that I find particularly inspiring at the present moment are Susan Lenz (Art in Stitches), Sara Lechner (The Fabric of Meditation ), Lynda at Purple Missus and Anna Nowicki (Serendipity). And Dy of Random Applique has got me going on polymer clay faces, for my sins. Ask me the same question next week and I'd probably give a different answer. I read between 150 and 200 blogs on a regular basis, and in any given week, I'd say I was inspired by at least a third of them, each in a different way.
When / how did you learn?
I was actually introduced to traditional quilting in university by my friend Cathi , but it wasn't until about 8 years ago I really got into the medium – a friend down the road from me is a quilter (and in fact has since become a professional longarm quilter) and seeing her projects reminded me how much I enjoyed it before (I had been sidetracked into pottery and weaving, and still did some sewing of other sorts, so there was always craft/art in my life). I've learned from a variety of sources – books, magazines, the occasional workshop or online course, but mostly from seeing what others have done and attempting it myself – frequently with completely different results, of course. I belong to a number of yahoo groups, including a fabulous (private) dyeing & surface embellishment group who have taught me far more than I could have learned in years of courses, and a number of quilting, postcard and other related groups – all of which are full of women who are astonishingly generous with their time and skills.
Why do you 'bother' to make things by hand?/Why is crafting good for you?
There are, I think, a number of reasons why handcrafted goods are desirable in the modern world, including things like learning to value patience, respect for traditional skills, serving as a balance to our quick and easy society, etc – but personally, I make things by hand for two main reasons. For myself, I do it because I enjoy the process. There is something I find rewarding about taking an idea and being able to develop it into a tangible entity (sometimes!). I find it relaxing, but also energising. And it helps me feel good about the other aspects of my life – some of which I enjoy anyway (like my kids) and some of which, less so (like housework). For others, I make things by hand because taking the time to make something from scratch gives of yourself much more than even the best chosen bought gift. And because I enjoy it!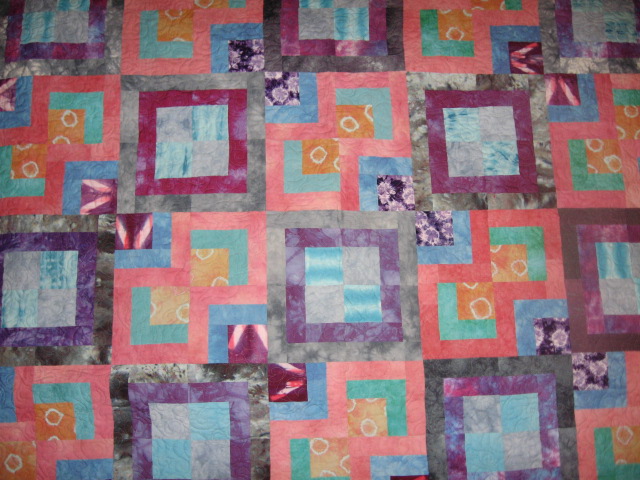 What is your craft "philosophy"?
Well, I'm not sure I've ever thought of myself as having a "craft philosophy" per se, but there are a few thoughts I find recurring regularly in regard to crafting, so perhaps that's where a philosophy starts…
Here's one: almost nothing is a complete loss. If something doesn't work or you hate doing it, at least you have learned how not to go ahead. And often, a part of what you have done has taught you something positive even if you hate the end result. Even a tiny plus is a still a plus.
And here's another: While it's important to strive to do your best work, this is not because it's important to compete with others or emulate their style but because you owe it to yourself to treat your own work with respect. Even a beginner can take time and care over a piece; yes, it may not have quite the precision or knowledge as a similar piece made by an expert, but it will have integrity.
And: Be yourself. Yes, it's great to look at what others do, try the ideas you like, learn new things, check out all the latest materials, but in the end, the art that will make you happiest and which will prove to be your best is the art that speaks from within yourself.
And finally: Enjoy yourself. It's not that it can't be work, but if it starts to make you crazy or you hate it – stop. Take a deep breath. Do something different. Be yourself (I know – but it bears repeating).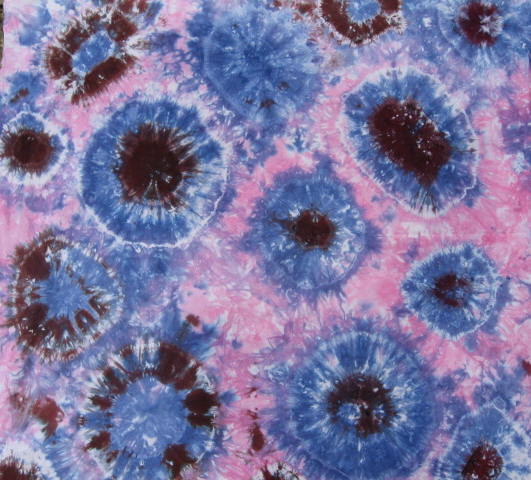 How do you deal with crafty mistakes?
It all depends on the mistake. Sometimes I fix things (ripping out seams to make points match, unpicking bad quilting). Sometimes I change my idea mid-stream (putting a layer of sheer fabric or paint over a card which wasn't working in an effort to alter direction). Sometimes I set things aside in hopes that another project will be able to use the parts that didn't work this time. And sometimes, I simply throw things away. It was very liberating when I learned to do that…
Do you have a designated craft space? What does it mean to you?
Actually, this is something I feel very strongly about and would advise any serious artist or crafter to attempt to make a personal, designated craft space if at all possible, even if it's only small, though of course, larger is better. I am very lucky to have a small studio (it's the boxroom, and is a little larger than 2mx2m) and I'm absolutely certain that the main reason I manage to work most days is having a dedicated space – just being able to leave things out makes a huge difference – it's so much easier to work in a spare 15 minutes if you don't have to first get out all your stuff. I love dyeing fabric, but don't do nearly as much of it as I would with a bigger (and wet) studio as it means having to get out all my supplies every time. Also, on a less practical note (though I am a fairly practical girl, when it comes down to it) having your own space helps give a sense of validation as an artist or crafter, which I think can be a stumbling block for many people, especially those who are just beginning to find their feet. And of course, I have so much stuff that it would take over the house if I didn't have my own space, but then again, I might have that much stuff because I have the space for it…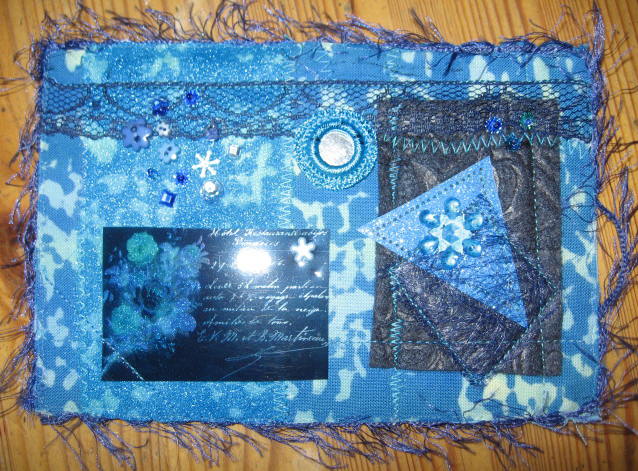 Do you use a sketchbook or journal?
I've always been attracted to the IDEA of sketchbooks and journals, but it's never worked for me, either in terms of creative writing (which I used to do a bit of) or art. Don't know why, just isn't really my thing. I do sometimes use my blog as a journal, though it's more a record of what I've done than an exploration of what I might do. I do wonder if I occasionally lose ideas because I don't have a journal, but then again, I have so many ideas I'll never have time to try out that perhaps that's a good thing!
What impact (if any) has the internet had on your craft?
A huge impact. In the beginning, that was mainly because quilting is so big in the US, so it was a great way to interact with that community. But as the textile arts grow around the world, it's such a fabulous way to keep in touch with others doing similar things – not to mention a great way to get ahold of supplies, etc. Also, having young kids, my free time often ends up being at odd hours, and the internet is always open…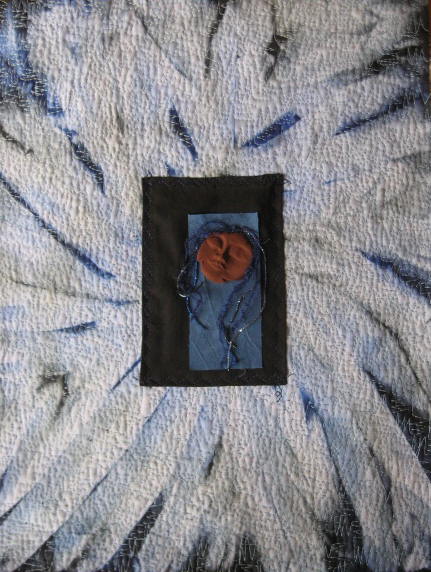 Do you make art or craft? Is there a difference?
I consider myself both an artist and a crafter, but I'm not sure I'd be able to explain the difference if asked. Certainly some of the things I do are more crafting than art – some obviously so (greeting cards, clothes for teddies). The converse is true as well – some of my stuff I definitely consider art (art & journal quilts, many of my postcards, fabric book pages). But some things lie in the middle, so I simply try to avoid categorising them. I don't think there's anything inately wrong with the word craft, but unfortunately, it seems to have picked up a slightly derogatory tone in recent years (as in "just crafts") so I often avoid using it for that reason. This is probably why I used to use the word "quilter" – to avoid that issue. But I'm practising saying "Textile Artist" and who knows, someday soon it may no longer seem pretentious to say it.