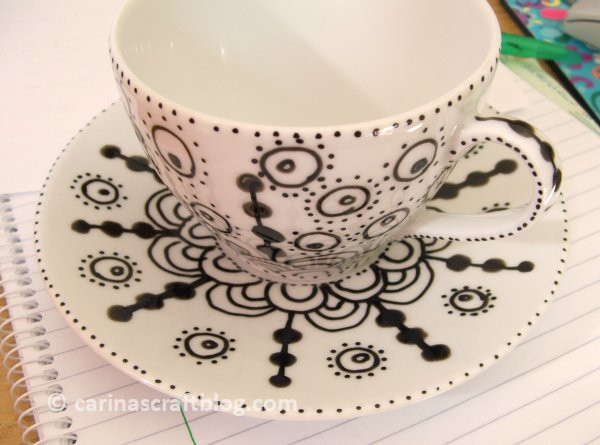 Wow, you really like that cup, huh?! :-) Thank you very much for all your comments about it! Seeing as you're asking how I made it, here's a wee tutorial. It is very easy.
You need a Pebeo Porcelaine 150 pen. You should be able to find it (or something similar) at you favourite craft shop. Then you need something you want to decorate, which doesn't have to be white – and it might actually be fun to add something to an already decorated object!
Clean your mug (or whatever) with some white spirit, make sure it's dry and then you're ready to have fun! I suspect it is best to keep your greasy little fingers off the surface you want to decorate, so be careful how you hold it. Don't worry if you make a mistake when drawing on your mug, you can wipe it all off with water!
Once you're happy with your design, leave your mug to dry for 24 hours. Then put it in a cold oven. Turn the oven on and once the oven has reached a temperature of 150°C/300°F bake your mug for 35 minutes. Let your mug cool down in the oven. And that's it! Sooo easy, right?
I'm already pondering what to draw on next. Maybe my plain green mug..! Let me know how you get on with this, I'd love to see what you come up with. :-)