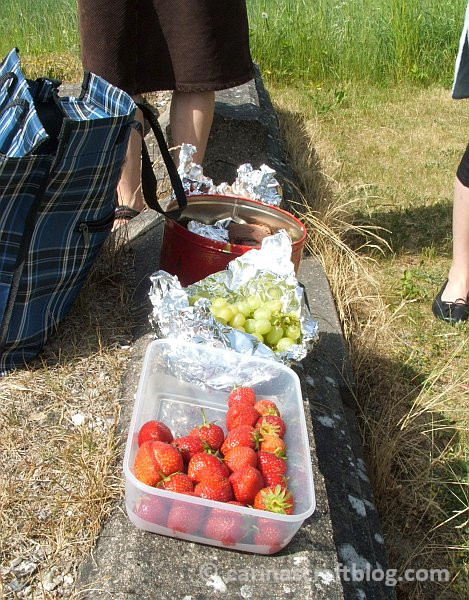 My friends have lied to me. And they made my mum lie to me! But it's all good. You see, in Denmark the hen night (polterabend in Danish – although that's originally a German word…) is supposed to be a surprise and the bride will be 'kidnapped' by her friends.
And this is exactly what happened on Saturday. My mum told me that we were going to the hotel to sort out the menu for the wedding, but when we got there, there were my friends shouting "SURPISE!" At first I didn't even realise that it was anything to do with me. I was REALLY surprised! And I looked at Tony and said "did you know about this??!!" He didn't. He was just as surprised.
Well, off we went to a little village close to where my parents live and first we sat outside and had cake and fruit in the sunshine.
Then we went to the studio of a glass artist and we were going to make a large glass bowl! First she explained about different techniques and I was really itching to have a go! They let me pick the colours for the bowl and make a design.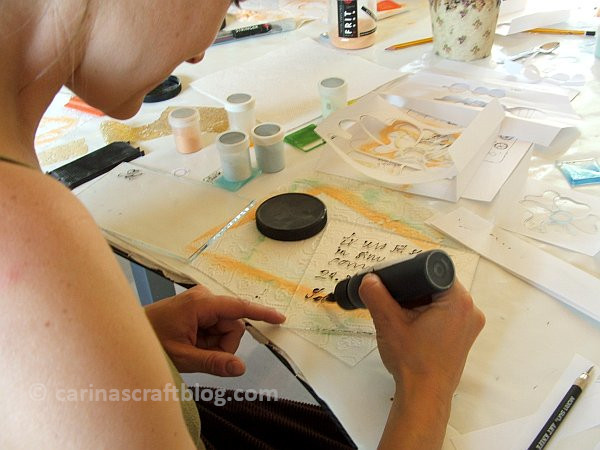 Up there is my friend Solveig, she's writing her name on the middle tile of the bowl.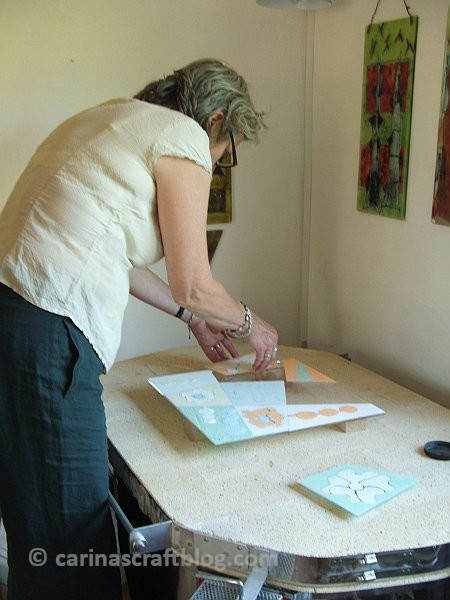 Here is the glass artist putting the pieces together on top of a large sheet of glass, which forms the base of the bowl. The whole thing melts together into one solid piece of glass when it goes in the kiln. It was quite interesting making this. You work with glass powders in different colours and you can make many different effects in it. There's also a tube with paint that you can use like a pen and write or draw on the glass. I think that's the bit I liked the best.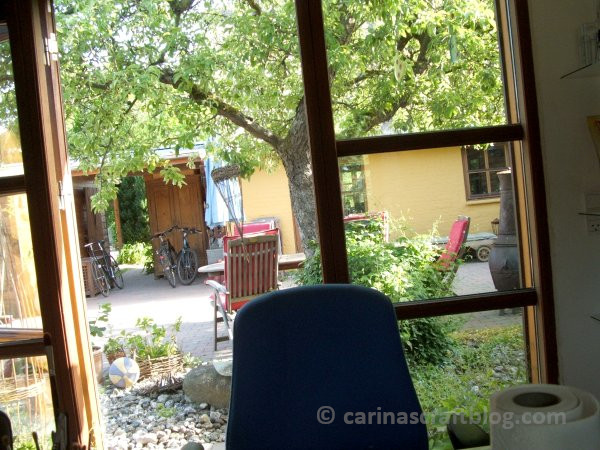 This is a view of the courtyard outside the studio. It was very nice.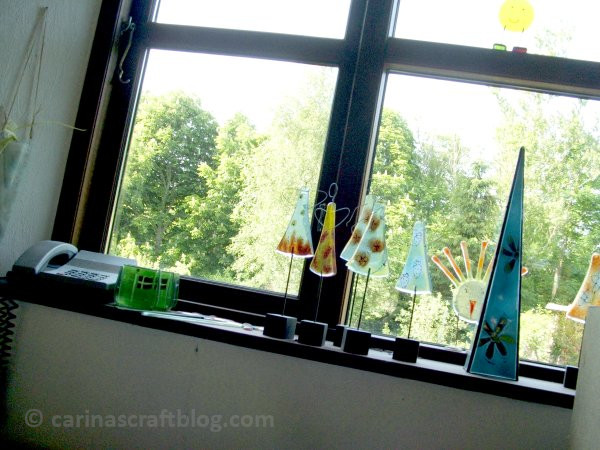 And a really bad photo showing some things in the studio.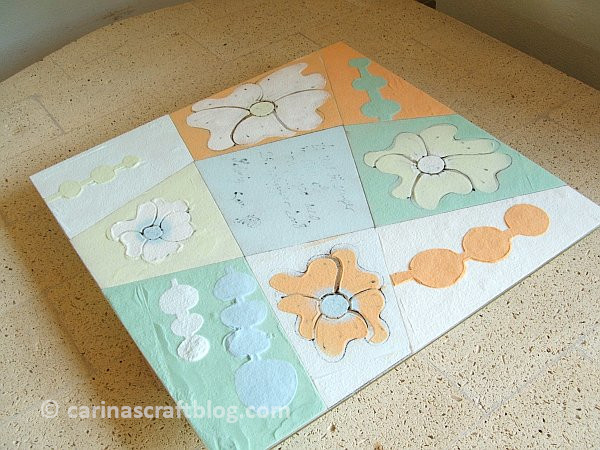 Here's the finished bowl (before firing in the kiln). It will be placed over a form and will then take the shape of that. The colours look quite pale, but that will all change once it's been fired. It's kinda like glazes for ceramics, they're not always the real colour before firing. I really love it already, and I can't wait to see the finished bowl!
I'm really happy that my friends picked this 'activity' for my polterabend. I would not have enjoyed the kind of public humiliation that can sometimes be a part of a polterabend in Denmark, and I don't really drink, so a night on the town would have been a total waste!
Of course, that's not to say that I didn't have any alcohol – there was a couple of glasses of wine. In the sunshine, on the patio of my friends' new house. And I mean new, there's not even a lawn yet!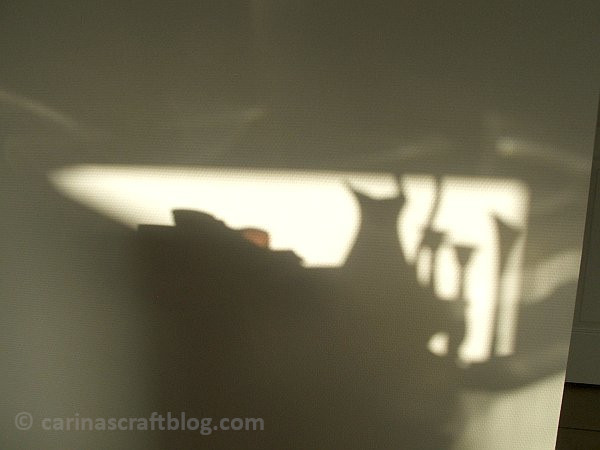 A lovely, lovely house. Look, even the shadows in the evening are lovely. I could do with a house in Denmark. But you knew that, didn't you? ;-)
Here's my friend's hubby doing the bbq version of a mushroom cloud. I hope he doesn't mind me posting this picture, but I figure, you can barely see him behind all that smoke!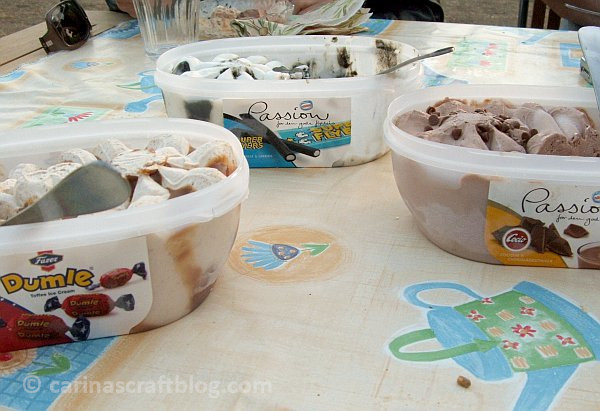 And then there was dessert. Ice cream in the flavours of Danish sweets and chocolate milk. Friggin' amazing! I especially liked the liquorice one. Yummy!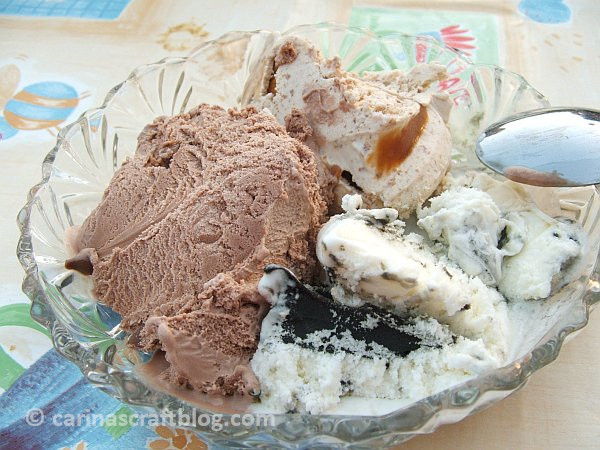 I had a GREAT time. It was such a surprise and I really, really appreciate it. It is sometimes very difficult to be away from the people I know in Denmark. I know, there's email and stuff, but it just isn't the same I tells ya. And now that picture of the ice cream is making me long for some chocolate milk….