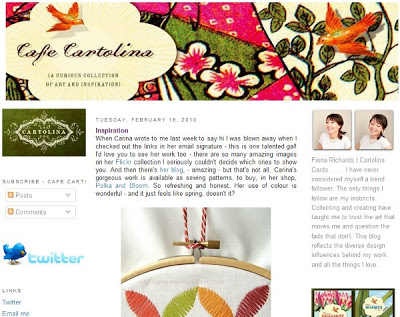 How wonderous the interweb is and how kind people are. Last week I poked my head out of my shell (I am quite shy, so it's not something I do very often!), and emailed Fiona of Cafe Cartolina. I've been following her (incredibly inspiring!) blog for quite a while, but never got round to leaving a comment (again with the shy thing, I guess, but that is a whole post in itself!)
Anyway, Fiona emailed me back and she is as nice as her blog suggests. And guess what, she very kindly featured some of my embroideries on her blog today. Totally flattered and honoured!
Thank you, Fiona! And hello to the visitors coming from her blog!
I urge you to go and check out the Cafe Cartolina blog, I am sure it will inspire you!