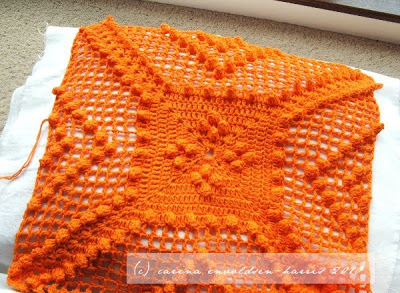 My parents have a crocheted blanket/bedspread which my Farmor (paternal grandma) made for them. She copied it from a blanket my mum had inherited from her Mormor (maternal grandma).There was no pattern, so Farmor simply copied it. I thought it was something akin to magic at the time. But I didn't know how to crochet then.
So that blanket is special! Unfortunately, it's not quite big enough so my mum has asked me to make some extra squares. Which I am very happy to do. I have made a test square, the orange one up there. It is big. A lot bigger than the original.
But I figured it'd be easier to a copy in large to better see what's going on, because I haven't got a proper pattern either. I have to copy it too, as best I can. And I think I've got it pretty much spot on.
Of course, I do know how to crochet now, but it still seems a bit like magic to just be able to copy it.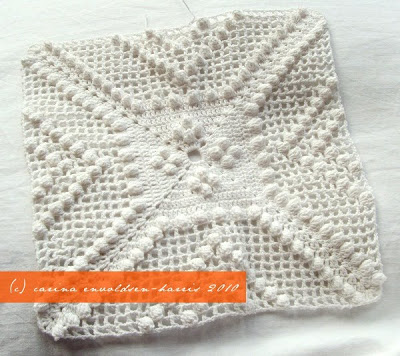 Here is one of the originals that my Farmor made. I am still figuring out exactly what yarn and hook size she used, but once that is sorted I can get on with making those squares for my mum.
I like the connection this blanket gives me to women of previous generations of my family, and from both sides of the family. It makes it very meaningful to me. I am going to make a blanket, with this pattern, for us as well. But I think I may do it in the large size and possibly in Colour. For the first one atleast. I wouldn't be surprised if I made one exactly like the one Farmor made at some point.
I'll see if I can get a picture of my parents' blanket when we are in Denmark next. It really is a beauty!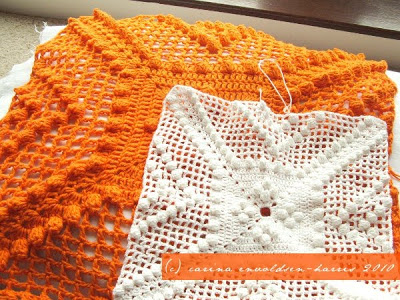 Check out the difference in size between the original and my copy. And mine hasn't even been blocked!