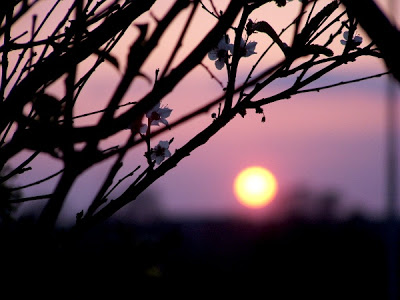 So you may have heard that the volcano Eyjafjallajökull on Iceland is spewing ash into the air and it has travelled down here to England (et al.) According to the weather people it won't* affect us, apart from giving us some nice sunsets and sunrises. Well, I am not one to miss out on Spectacular Colours in Nature!
So off we went last night in search of a decent place to take some pictures. Kinda difficult, there seems to be a lack of proper horizon view in these parts. We ended up at a services off the A13 and that is where these pictures are taken. Standing in a row of bushes. Behind us was the car park and directly below was the A13! So romantic, huh?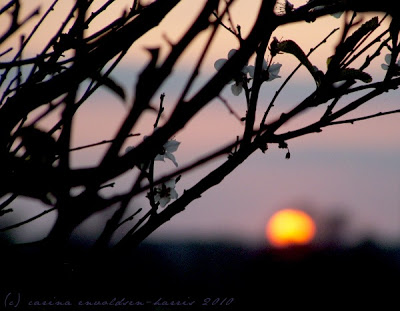 Well, the sunset wasn't that Spectacular. Nice, but not Spectacular. Actually, it was a bit more red than my pictures show, but I guess the light from the sun was too bright for my camera to capture it properly.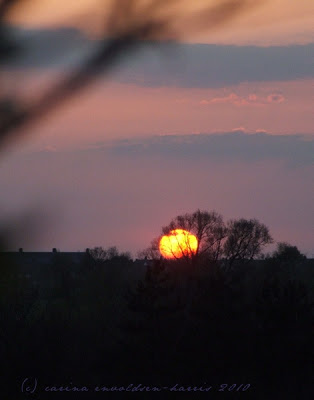 * Of course, the ash cloud is affecting the UK – and the rest of Northern Europe – there have been no flights in or out of the UK for the past 24 hours. And there will be no flights until tomorrow either. We're keeping our fingers crossed that the winds will shift the ash out of the way, because my mum is supposed to come visit on Monday! So we'd be grateful if the ash would get the heck out of the way, in England and Denmark! :-)
Apart from that, I find this situation quite fascinating. For one, there's the whole thing about the ash, it has tiny glass particles in it created when the hot stuff from the volcano is cooled by the glacier above it. Who knew that such a thing could happen?
Also the whole situation of the planet sticking it to us. I know, it will mean great losses to the airline industries and others, but… we're so spoiled, aren't we? Jetting off on holidays and what not. Think of all the fuel that won't be polluting the atmosphere, even if it is just for a few days. What a breath of fresh air.
Edit: well, it's official, my mum's flight (Monday morning) has been cancelled. This totally sucks. Not only am I not going to see my mum, but now we have to sort out cancelling (and hopefully getting refunds!) for flight, hotel, train etc.. Totally bummed out by this. Being grown-up about it all, but secretly (not so secretly anymore, I guess) I would like to have a little weep over it. Oh well. ;-)