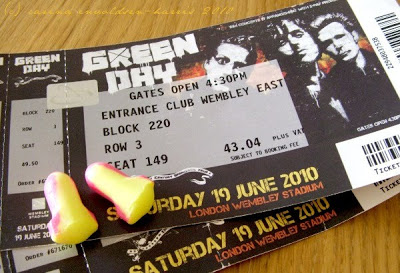 This is where we spent last Satuday evening: Green Day concert at Wembley Stadium. It was Amazing! No, sorry, gotta put that in all caps: AMAZING!! And to think I almost didn't go! One of the best concerts I have ever been to – it even tops most of the R.E.M. concerts I have had the pleasure of attending!
There were two supporting acts; Frank Turner whom neither of us had about before and Joan Jett (please be aware that the JJ website plays loud rock music when it loads!). Whom we had heard of before, well, we knew one of her songs, 'I Love Rock'n'Roll'. We both agreed that it would have been better if there had been just one opening act: Frank Turner. Joan Jett seems kinda dated and all the songs were sort of samey-samey.
Frank Turner on the other hand – pretty darn good. So good, in fact, that we have bought one of his cds. I am listening to it as I write this! Makes a change from listening to Green Day almost constantly since the concert…
I fear I have got a slight case of bandcrush, if you know what I mean. Or maybe it is just a Billie Joe crush.. Oh deary me.
Ahem. Anyway. The concert. Did I mention that it was Amazing?!
Before the band came on stage there was a 'drunk' pink bunny running around on stage. I am not sure what the heck that was about, but it was pretty funny! Then GD came on and Armstrong told everyone to stand up – which was great because, well, it's a friggin' rock concert so why the hell would you be sitting down all the time? Yeah, that means you, guy in seat in front of me, why did you seem so unenthusiastic?!
Not only was the music excellent, but it was a friggin' great show too. I have seen 'great showman' used to describe Armstrong and I would definitely agree with that. But the other two main band members' personalities absolutely come through as well. And one thing that really struck me is how they all seemed to really be enjoying themselves. It wasn't 'just another gig'. Which makes the audience feel all warm and fuzzy inside!
D'you know, I am actually finding it a bit hard to describe it all, it was all so great; the lights, the screens, the dragging people up on stage and and and. All I really want to say is: WOOO!! Green Day!! Wooooo!!! Yeah!!!
If you fancy reading a review of the concert which is a lot more eloquent than mine, and has some really great photos, follow this link. :-)
PS: Yes, those are earplugs. I can recommend wearing earplugs at concerts. If they are good earplugs, they will shot out all the noise but still let you hear the music. The music actually sounded better with the earplugs in because all the background noise was removed. Seriously. After concerts my ears are usually ringing or buzzing, but not this time. And I don't care how much Tony laughed at me every time I put them in! ;-)
♥ • ○ • ○ • ○ • ○ • ♥ • ○ • ○ • ○ • ○ • ♥