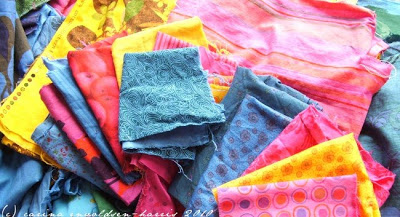 All that fabric I dyed the other day.. in one big pile – these are a few of my favourites. :-)
Right, a wee bit of bloggy housekeeping: I've poked around with the ol' code today, so if things are looking out of sorts please let me know.
And, I have finally, after talking to myself about it for Absolutely Ages, installed Disqus as commenting system. Unfortunately, it means that comments left with Blogger aren't available. But it is a sacrifice worth making to get a better commenting experience. Like threaded replies and stuff.
Why not try it out? Leave a comment and check it out for yourself. Say something random! :-)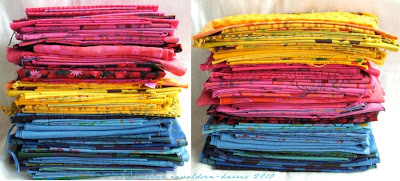 Back to the fabric! I spent about 3 hours yesterday and today combined ironing all the fabric. There doesn't seem to be as much now that it is all flat and unwrinkled! The pile on the left is sorted by the colour I dyed it with. On the right I have sorted them a bit more, as you can maybe tell? Some of the yellows and blues are quite green, some of the pinks are deliciously orange and so on.
I can't tell you what I am making yet lest the recipient reads this! But it's gonna be good. Well, I hope it is!
Have a colourful Thursday!
°°°º°O°º°°°º°O°º°°°º°O°º°°°º°O°º°°°º°O°º°°°