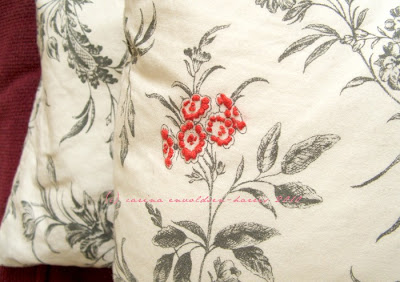 Do you remember I posted something similar to this a little while ago? Or maybe it was ages ago? Jeez, can you believe it is September already!?
And I promised I'd share it with you 'very soon'.. mmhmmm yeah.. ;-)
Anyway, it's finished and so I am sharing it!
We bought some pillow covers in the IKEA bargain bin (oh how I love that concept!). Luckily there were three because they were not going on our bed. Nope, we bought them for the cushions on the sofa and there's three of them.
The pillow covers are 50×80 cm, but the cushions are only 50x50cm. So I cut off the excess at the open end of each one, put the cushion inside and stitched them shut. So there's an easy way to get new cushion covers if you haven't got a sewing machine; you only need to stitch one seam!
But white and grey is a wee bit boring for my taste. So I decided I'd add a bit of stitching to them, just to spice them up a bit. Although, evidently white and grey are not boring to Tony, because when he saw me stitching some of those flowers he asked "are you going to stitch all of it?!" And he looked slightly horrified… ;-)
"No, no, that would take ages, dude! I just want to add a wee bit of colour." Sigh of relief from him, I think!
..I don't actually call him dude. ;-)
If you want to stitch on your cushion/pillow covers, of course you'll want to stitch on them before sewing them shut or it will be a bit awkward.
°°°º°O°º°°°º°O°º°°°º°O°º°°°º°O°º°°°º°O°º°°°