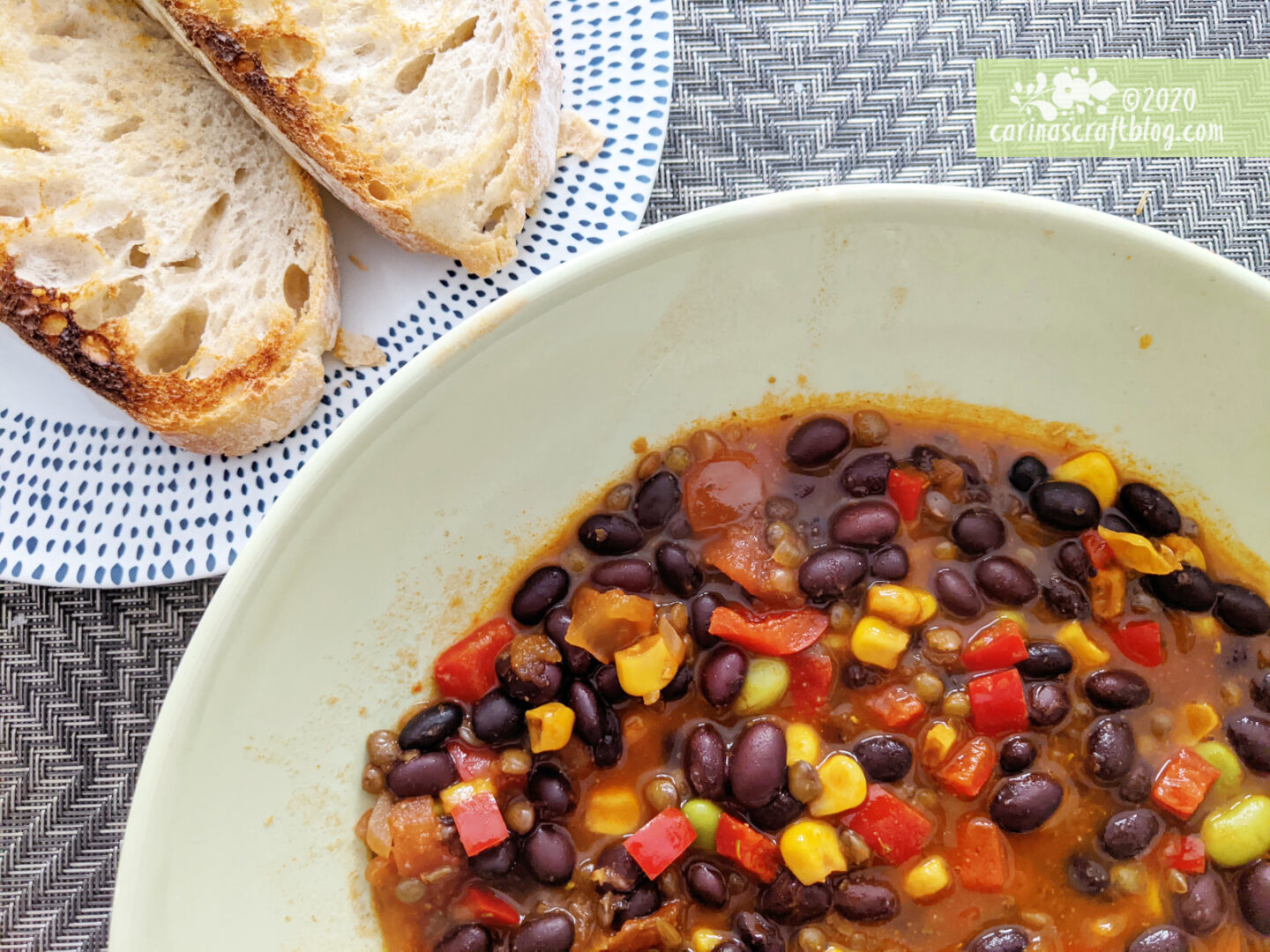 The chili bean soup I mentioned yesterday now has a sort-of recipe and here it is. I love how colourful it is. :-)
I'm sharing the recipe as I remember making it. And really a soup like this is just asking for you to improvise and add whatever random vegetables that are looking a bit sad in the fridge! Or use different beans or different herbs and spices.
It's also a great way to get in some of your five-a-day veggies! For most vegetables 80 grams counts as one of your five-a-day. 80 grams of beans also count! As does 20 grams of tomato purée (because it's concentrated tomato-y goodness).
Serves 2-3 people depending on how hungry they are and what else you are serving with the soup!
You will need:
1 tablespoon (olive) oil
1 finely chopped red onion
1 finely diced red pepper
2 chopped tomatoes
1 tin of black beans, rinsed
2 tablespoons of tomato purée
100 grams of frozen edamame beans
100 grams of frozen sweetcorn
100 grams of cooked Puy lentils
1 vegetable stock cube
1/4 teaspoon of chili powder
1/2 teaspoon of garlic granules
1/2 teaspoon of cumin
1/2 teaspoon of sweet smoked paprika
1 teaspoon of dried oregano
salt to taste
Fry the finely chopped onion in the (olive) oil until the onion starts to turn translucent. Then add the spices: chili, garlic granules, cumin and smoked paprika. Let the spices heat through for a minute while stirring.
Add the red pepper and a stock cube along with a couple of tablespoons of water. Once the stock cube has dissolved add the black beans and a pinch of salt. Stir the beans through the rest and heat through then add sweet corn, tomato puree and 400 ml water. Stir well and put the lid on and leave to cook for ten minutes, stirring regularly.
Add more water if needed. Add edamame beans and the chopped tomatoes. Simmer for five minutes, then add 100 grams of cooked puy lentils and a teaspoon of oregano. Simmer for another five minutes then check the taste. Add more salt or spices if necessary. Mix any additional spices in well and let heat through for another few minutes.
Serve with some nice bread or throw in some leftover (or freshly cooked) pasta. You can also pour sour cream over the soup and dip some tortilla chips in the soup.