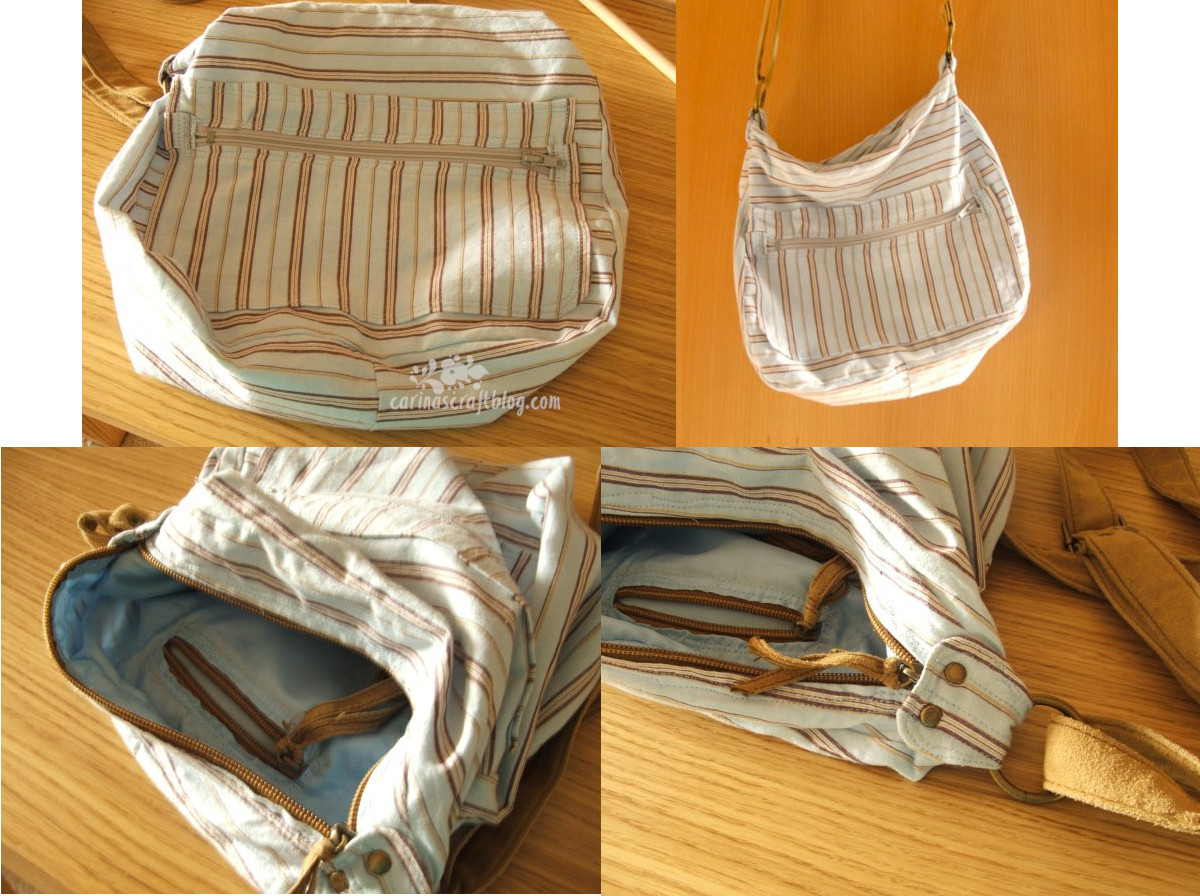 Edit: Oops! I forgot to write which whiplash category this goes in. Although I'm not entirely sure which it should belong to. Let's just say FANCY since I like the colours so much. ;-)
I finally finished this bag – spurred on by this month's whiplash: bags on whipup. And I'm so so happy with it! It is a "copy" of a bag I have. Or rather, it's a copy of a bag I gave my sister (I have one too). 
Anyway – when she moved to America, she was going to give it to a charity shop with some other stuff. But since my bag was looking a bit worse for wear, I decided to take back hers and then use my own to make a template for a new one.
So I spent several hours carefully dismantling the bag, and making sure to notice how it was put together, as I haven't done any zippers in anything before!
The blue lining is something I bought years and years ago – long time before I started sewing or had even considered doing so. The front pocket is different from the original bag, which has two small pockets.The fabric for the bag is one of my dad's old shirts – it too was going to a charity shop, but I thought the blue and brown stripe pattern was so nice, it had to be used for something! And since I had already decided that I'd recycle the shoulder-strap and some of the zippers (which are sort of brown), I thought the shirt would be perfect for this bag.
And speaking of zippers, which I mentioned I've never tried sewing before, that went really well. It was pretty straight-forward once I'd carefully studied how the original was put together.I used the zippers from those two pockets on the inside pockets. On the original only one of the inside pockets had a zipper, but I thought it's be nice to have a zipper on the pocket for the mobile phone.
I love this bag for so many reasons! I feel like I've really proven something to myself – I can do stuff that look intimidating when I just put my mind to it! And the bag reminds me of my family – which is nice when they are all so far away – my sister, who didn't want her bag anymore, my dad who didn't want his shirt anymore and my mum who will now be very proud of me!
I don't think she ever, even in her wildest fantasy, imagined that I'd take up sewing – or get a sewing machine for that matter. I've learnt so much from her, mostly by osmosis, as I never had the patience to sit down and be taught how to do these things.