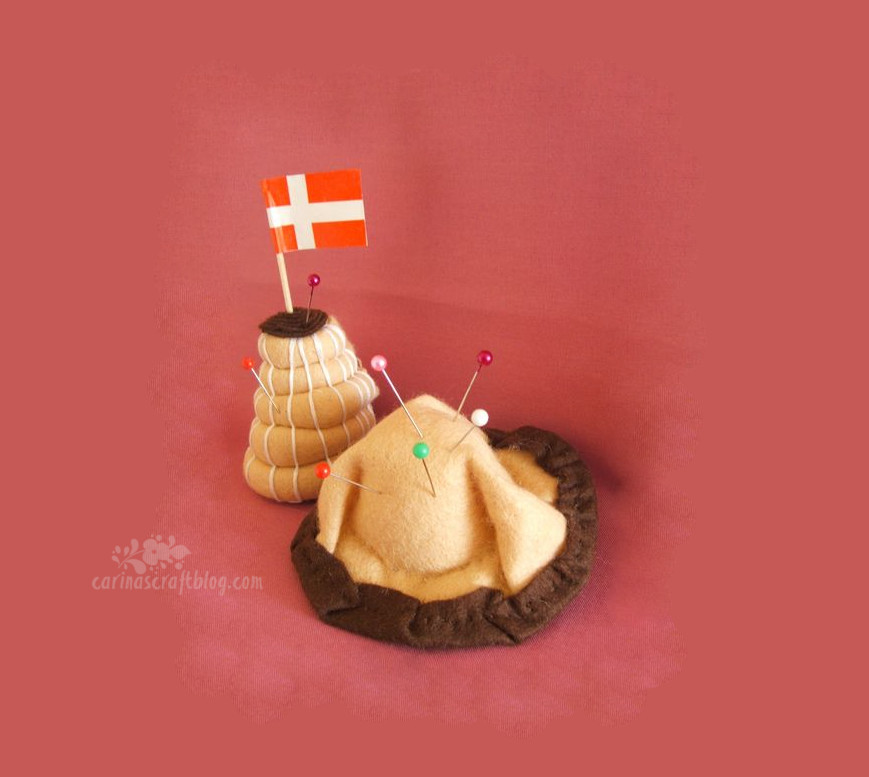 Oi, I've been really slacking with the pincushion challenge this time around. I've had the idea for it for a-g-e-s, but I just didn't get round to making it. But there it is. Or they are – cause I actually made two!
The theme was edible, so I've made a couple of traditional Danish cakes. At the back is what is supposed to be the top bit of a rather large cake called a kransekage (ring cake), which is a tower made from rings of what is basically baked marzipan (yummy, yummy, yummy!). Kransekage is what Danes will usually have at a wedding.
The cake in front is a napoleonshat, which has a marzipan centre and chocolate on the bottom. It is also very, very yummy. 
I'm not entirely sure why I decided to make these cakes into pincushions – other than feeling slightly homesick at times…
Anyway. This type of cakes is something unique to Denmark. Our culinary heritage so to speak. Even the EU has said so. This is because they are still made according to old traditions, by individual bakers, and hasn't been commercialised.
I hope this post wasn't too boring… it's less about pincushions than about Danish cakes… ;-)