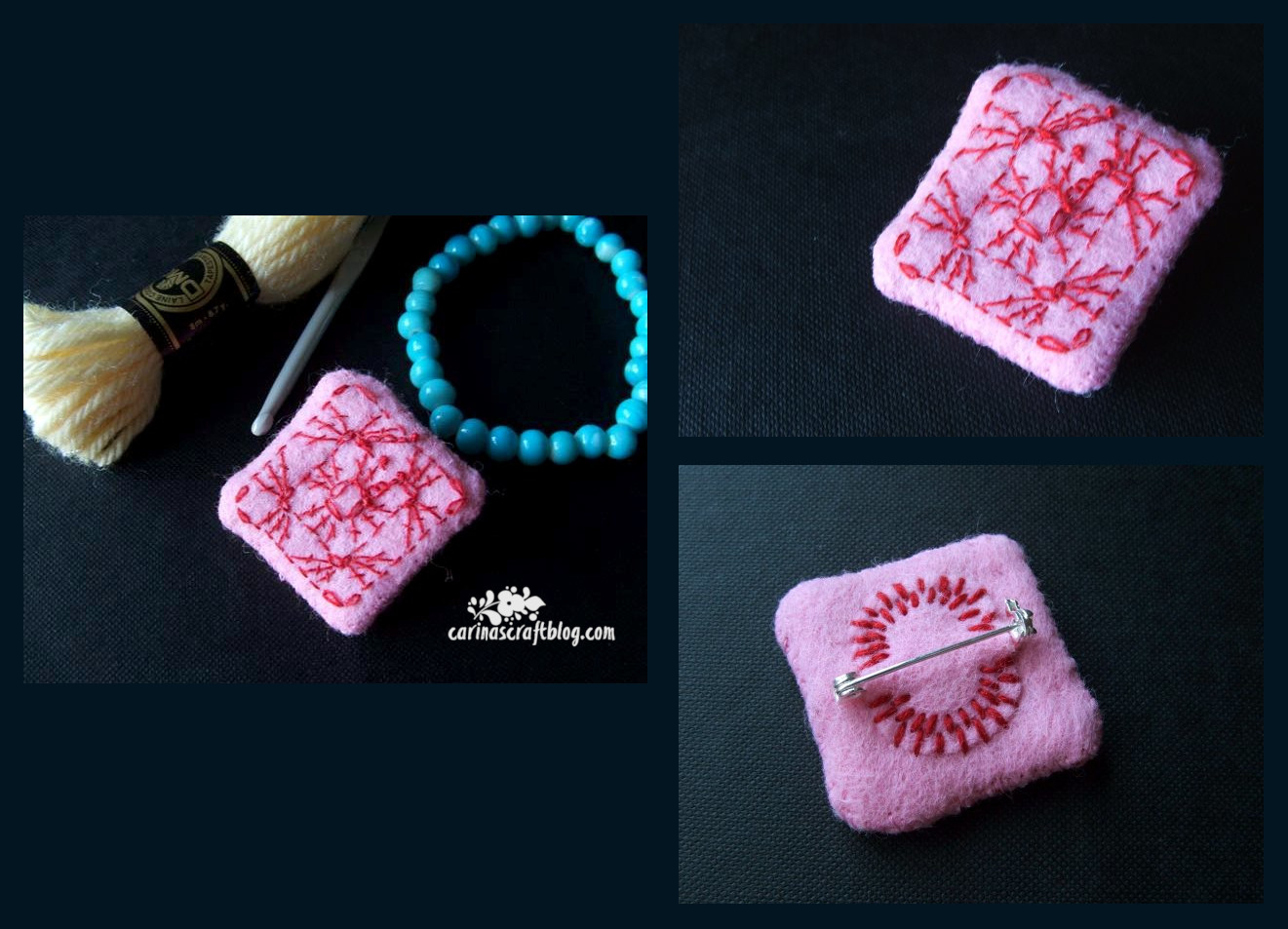 This is my entry for Oct/Nov Whiplash (process category). It's a brooch made from felt. Can you tell what I've embroidered on it? If you crochet I bet you recognise the first couple of rounds of the granny square. Do you?
Inspiration comes out of the blue sometimes. I knew I wanted to make something with embroidery for this theme, so I was playing around, sketching some bracelets in my sketchbook, but nothing seemed to catch my fancy. Then later I was drawing some crochet diagrams and I suddenly realised how pretty the shapes were and it suddenly hit me that I'd embroider a crochet diagram on a brooch.
It was quite fiddly to make. It kept getting wonky, but I finally got it all lined up right. It's made with a single strand of embroidery floss. Other than the fiddly-ness of it, it is quite simple to make. Embroider the diagram on one square of felt, attach the pin on the other square, sew together (right sides facing each other) and turn. Stitch the opening and that's it.
I like the symmetry of crochet diagrams. And the simplicity – even if they look difficult at first. Of course, before I actually knew how to crochet the symbols made no sense to me whatsoever. Now I actually prefer the diagrams to a written pattern. Once you get it, it just makes sense, I think. Plus with different names for the same thing in US and UK crochet, the diagram is easier. Of course it definitely helps when you get your hands on a Japanese crochet book as well!
Making this brooch my mind wandered and I was thinking about a lot of rather disparate things. Like how these diagrams remind me of geometry and mathematics which, although I'm not very good at either, I find absolutely fascinating. The diagrams are universal too, like mathematics. Once you get it, you can read them all. And make something. Maybe they should have put a granny square diagram on the Voyager 1 disc. Wouldn't that be cool?
I like the abstraction of the diagram. To the uninitiated it could be anything; random shapes, a tiny tile or whatever. But some might recognise it and then it will probably say: here's someone who can crochet. That's what I'd like to think anyway…
The brooch also made me think of my grandmothers. Especially my paternal grandmother (farmor). I knew her the longest, so I grew up watching her sewing, making lace, embroidering and of course crocheting. I really wish I'd found my crafty side sooner so I could have shared it with farmor. And just imagine all the things I could have learnt from her.
I recently discovered that my maternal grandmother (mormor) also was a crocheter – and who knows what else? I think I have to ask my mum about that… I think mormor was very creative too. I particularly remember how she used to cut sandwiches into triangles and squares and then make ships or faces from those shapes.
So crochet reminds me of both my grandmothers. And of my mum as well, although she only has the most basic knowledge of crochet – for once there's something crafty where I'm the know it all! ;-)
Right, I hope you enjoyed my brooch – and my little meandering post… :-)