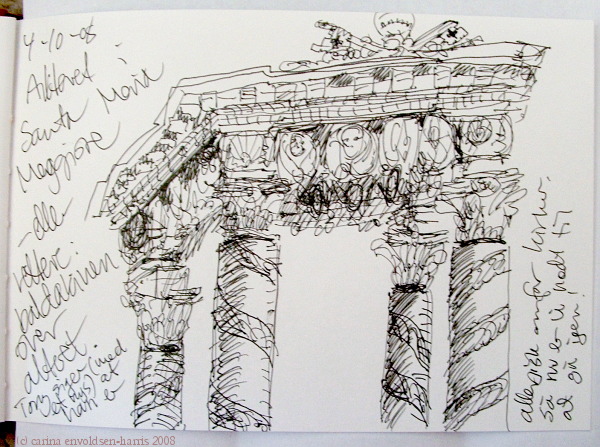 These are drawings I made in Rome. Some are pretty terrible, but I'm uploading ALL of them, to show the complete picture, so to speak.
Tony gave me a sketchbook for Christmas probably in 2006 and I've kept it for "something special" ever since. Well, if our honeymoon wasn't the appropriate time to use it, I don't what is.
And I drew! In Rome! Almost every day. So proud of that, because at home that rarely happens. I am so, so happy that I actively made that a part of every day. Tony was a great motivator for me, encouraging me to draw. even if it was a bit boring for him at times. But he made the most of it and brought a long a book to read while I drew. And he called me his 'artist wife', how cute is that?!
As I have said before, a thing or a place really gets under your skin when you draw it. You're not just taking an instant to take a picture, you have to sit down and observe it. Look at the details and then physically put those details down on the paper.
The sketchbook isn't full, but it is over half full. The rest of the pages I have decided to write about things that I remember from Rome. Either just randomly, or by looking at the drawings. Oh this is such a special thing to have! I don't think I can properly describe how much these drawings mean to me. Admittedly, they are not all terribly great, but that is not the point of them. Although, I will say this: the more I drew, the better the drawings seemed to get.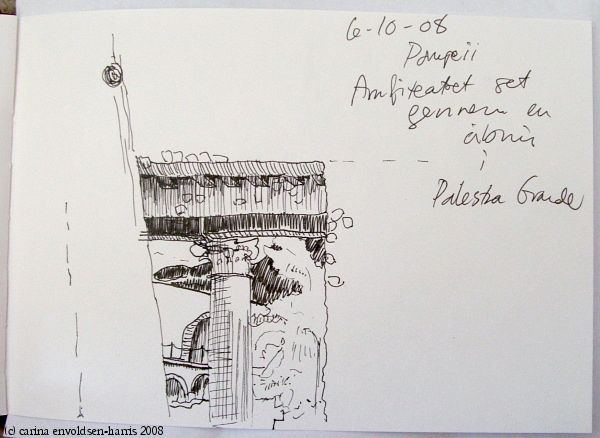 The point is exactly to draw. And to make the place part of you. I can look at this drawing from the baths of Caracalla and exactly remember how hot it was that day, but in the shade, where I was sitting under a tree, it was quite pleasant. And it was so quiet despite there being a pretty busy road nearby…
I can only recommend drawing when you go on holiday – and also at home! I am not very good at doing the latter. Which is silly, because home life should be appreciated and remembered too. It is just as valuable (if not more!) and interesting and unfamiliar, if we just let it be.
And don't worry if you think your drawings suck. It doesn't matter. You have to start somewhere. More than likely, some of your first attempts will be crap and others will be fantastic. You just gotta keep at it. And bloody hell, if drawing some exotic locale isn't motivation to sit down and notice things, I don't know what is!
Sorry, I've been going on long enough about this. But that is just because it is so important to me. I wish for everyone to be able to experience the joy of drawing. Drawing in general, and certainly on location. To take ownership (not physically, of course!) of a place is so amazing…
The horse up there is the first horse I have ever drawn! And I think it would actually have turned out pretty decent, but, alas, we shall never know for sure. The driver of the carriage decided to bugger off before I finished drawing the horse! Sometimes speed is just as important as careful observation!