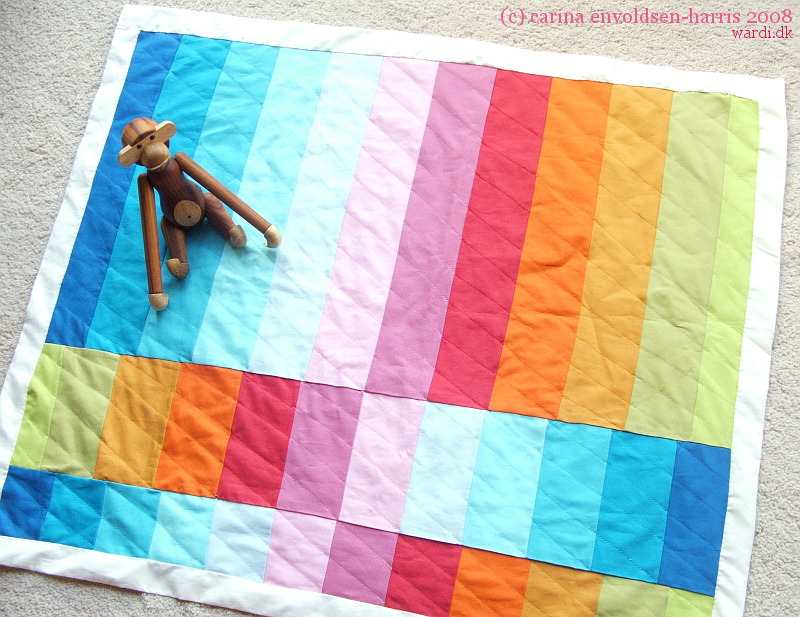 So, hey, this is the project which has occupied my time and mind a lot the past week. A baby quilt. Not for us, no no. Don't you go gettin' any silly ideas!
The making of it included both a lengthy waffling about with the contents of my fabric drawer(s) and a 2 hour round trip to our local IKEA which is only 5 minutes away. The buses are a bit funny at the moment…
Edit: I've entered the quilt in a wee contest on Make Baby Stuff. You can find my entry right here. I'd be much obliged if you'd vote for it! :-)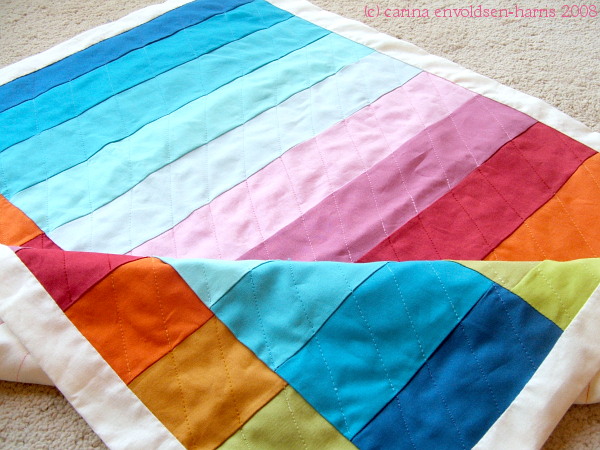 My plan was to use only upcycled fabric, but I didn't have enough (most of them are pinks and greens, BIG surprise!) to make the spectrum type design I had in mind, so I turned to the solid colours.
It is machine quilted diagonally in a colour corresponding to each stripe. Oh man, it took ages to do that! Changing the colour and such! The colours are on the back too, so there's a bit of colour there as well. I think if I were to do it again, I might keep it the same colour as the back…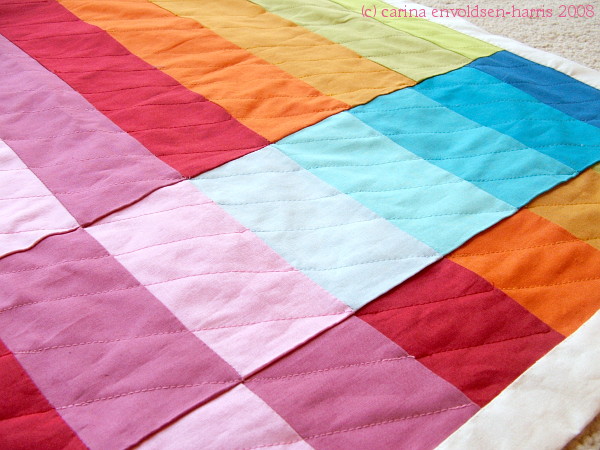 I didn't want to be too precise about the measurements in this, so the stripes don't match up exactly, nor do the diagonal lines. Which is why I call it the Don't Worry Be Happy quilt. I'd rather enjoy the colours than fiddle with something as trivial as measuring…
It is self-bound (I think that's the right term..?), meaning that the back fabric was cut larger than the top and batting and then folded over to make the edge. This part is hand-sewn; I didn't want to have any too obvious stitches on this bit. I did have a bit of trouble doing the corners, they ways of doing them I've found on the interwebs (where else?) didn't work for me. Probably nothing to do with their methods! It's me… ;-)
The batting is just another bit of the cotton, same as the backing, to make it very light. And to make it a bit easier to quilt for a newbie like me.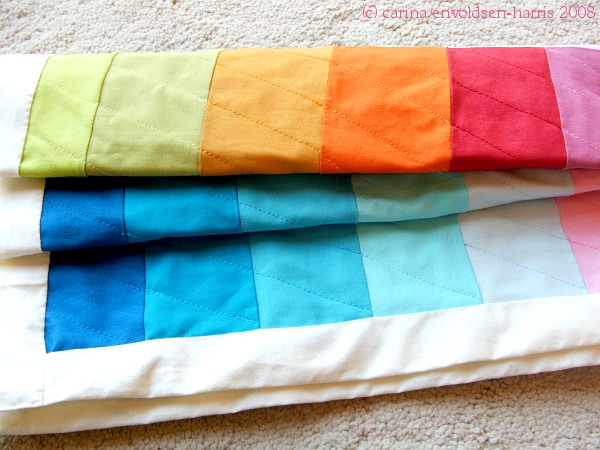 To say that I'm chuffed with the result would be an understatement. I love the colours I ended up using. And I love that it is almost like the small sketch I made in my sketchbook. i like it when things are simple, but with a twist, i.e. the reversed stripe. Now, of course, I want to make a big one for our bed.
When I told Tony this, I do believe that his reply was o……k. He he. He needn't fear, I haven't got the time to make it at the moment anyway! ;-) I'll just put it on the long list of "wish I had the time or materials to make this".