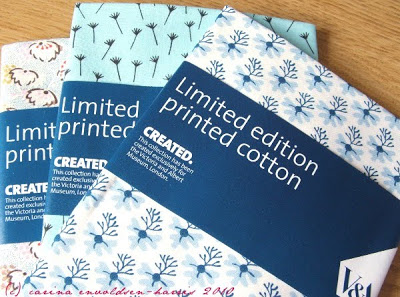 I went to the V&A Museum with my mum and her friend, to see the Quilts exhibition. I bought some fat quarters of the cotton prints made by Liberty especially for this exhibition. There were lots of pretty prints to choose from! And you can get them from the website too if you're unable to get yourself to the V&A. But beware, a single fat quarter is £3.50, but a pack of six is £25.00. So you can almost buy 7 fat quarters for the same price. Very strange…
Anyway. The exhibition.
If you are interested in textile crafts, quilting, embroidery or similar, I urge you to go see the Quilts exhibition. The quilts are beautiful objects in themselves; many of them are over 200 years old, and still in fairly good condition!
An interesting thing about a lot of the older quilts is that from a distance they look brownish and quite plain. But then you get close to them and the individual patches are full of pattern, colour and life. Some of the patterns are downright mesmerizing.
And the variety of block patterns, in some of the quilts, is quite stunning. In some of them, individual patches are about ½". Imagine the work that goes into that! Although, if you have done any handsewing, you will know that it isn't as time consuming as you might think. Especially with a bit of practice. And then consider that most quilts, especially the larger ones, were not the work of just one person. Person usually being a woman! But rather the work of several women.
Another interesting thing, I thought, is that most, if not all, of the old quilts are made of silk, whereas the newer ones are mostly cotton. Quilts went from a luxury to a domestic 'object'.
The exhibition also includes a number of quilts by contemporary artists. I must admit that I didn't care much for them. They seemed out of place to me. Left me kinda cold because they lacked the warmth of the older quilts. I am not sure why the modern quilts have to be Art. Aren't they 'valuable' enough in themselves without having art tacked on? It seems that they are more art than quilt.
I am more interested in what a quilt meant to someone 200 years ago than I am interested in someone using the medium to try and get some statement across. Surely, there must be some contemporary quilters out there who make quilts in a traditional sense but without them being old-fashioned or stale. Or is that me?
What do you think? Have you seen the Quilts exhibition?
PS – I didn't take any pictures of the quilts, because it wasn't allowed. A real shame! And they didn't have any postcards of my favourites! Booh!
○ • ○ • ○ • ○ • ○ • ○ • ○ • ○ • ○ • ○