I would not call myself an advanced sewer (sewist? what's the right word?), but I think I have just climbed up a few rungs on the sewing ladder. I made this shirt for Tony. That's where the scraps from last week came from. It is the first garment I have ever made all by myself. I have made a blouse for myself, but my mum basically did all the 'difficult' bits, I just did the sewing together!
But this shirt; 100% solo project. I started by taking apart one of his old shirts, making notes on it as I went along, like what is the sleeve doing and where. How wide is the seam, is it double-folded etc etc. Then I made a paper copy of each shirt part, transferring all those notes to the paper. And then I cut fabric to make a muslin version.
Sewing the muslin taught me so much about what order to sew things together: I did some of it in the wrong order – but that just meant I knew how to do it for the Real Thing.
The original shirt was a long sleeve shirt, but because Tony wanted a short sleeve shirt I had to figure out how to alter that. Luckily, he had a short sleeve one that he wanted to get rid of, so I used the sleeve from that to make a template. I didn't try it out on the muslin version first. I just measured the sleeve and the armscye, extending the latter to fit. Luckily, it did! That was a bit nerve-wrecking!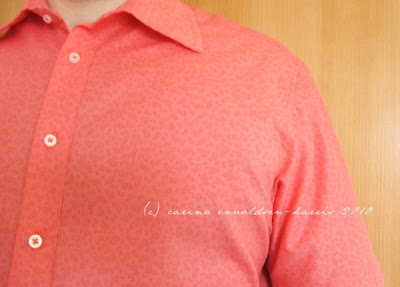 Oh the things I have learnt! And most of it without swearing too much! I had never done a single buttonhole, so there was another thing to learn. I am glad to say that that was really easy – the machine basically does it for you!
By golly, I am so proud of myself. I got my sewing machine about 4 years ago. Before then I couldn't even thread a sewing machine. Seriously, I am not kidding (When I do kid, you'll know it by my use of the word "bazinga.") My mum tried showing me So Many Times and it never stuck!
If I can get to this point in four years, basically winging it all the way, you really, really can too! You just need patience, perserverance and determination. And maybe an assortment of swear words!
So. Can I get a Hell Yeah?! And maybe a Woop-Woop?! ;-)
♥ • ♥ • ♥ • ♥ • ♥ • ♥ • ♥ • ♥ • ♥ • ♥ • ♥ • ♥ • ♥ • ♥ • ♥ • ♥