There are details about a giveaway at the end of the post! Giveaway is closed now, thank you!
Hello!
I am really (Really REALLY) excited to tell you about this:
I made another ebook. With more embroidery! Yes! Here, look! This is the frontpage: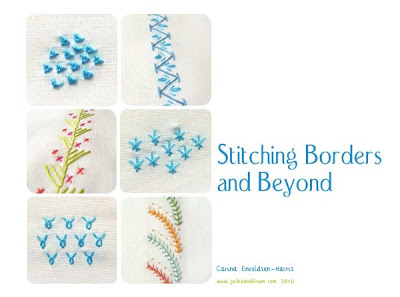 Golly, it has been a long time in the making, but that is another story in itself! Let's talk about the book instead.
As you can probably tell, it is called Stitching Borders and Beyond. It had a few titles before that. Among them was 'Bob'. But it was suggested to me that that probably wasn't the best title.. ;-)
So, Bob Stitching Borders is a collection of 12 stitches, some are border-type stitches and a few are isolated stitches. I want more people to use these stitches instead of always defaulting to the usual suspects – I am guilty of this too! So much so that I used a few of them in the patterns in the ebook. Such is my addiction to French knot et al!
But the patterns!
Those are just some of them! There are 10 in all. And I gave them all titles, just because I could.
The book is available in the shop and will be on Etsy too very soon.
Would you like to read a few more details about the book, see some more pictures and ohhhhh maybe download a taster of the book? Taster with instructions for the Maidenhair stitch which I have used in two of the above images, and the pattern for the one in the bottom picture! Then pop over to the new polkaandbloom.com website and have a look!
Oh and there's more! If you would like to win a copy of Stitching Borders, leave a comment on this blog post. If you tweet about this post (using the #stitchbob tag so I can find the tweets) gives you another lot in the pot.
I'll pick a winner on Saturday morning, so you have the rest of the week! Thank you for entering, comments are now closed!
○ • ○ • ○ • ○ • ○ • ○ • ○ • ○ • ○ • ○