If you have emailed me in the last couple of weeks, and not received a reply, would you email me again? I have somehow managed to delete some emails which should not have been deleted. Yikes! So sorry!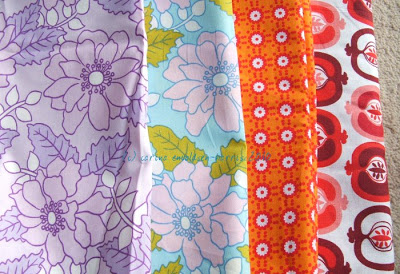 I was very restrained in my fabric purchases in Denmark this time around. I only bought some white fabric and the ones in the image above. Apart from the red apple-y one, that one's from my mum.
Those two on the left are friggin' awesome, won't you agree?! I think I may have to get my mum to pick up some more of those.. you know, just because..!
The orange one is for Tony's next shirt! My guy is not afraid to stand out!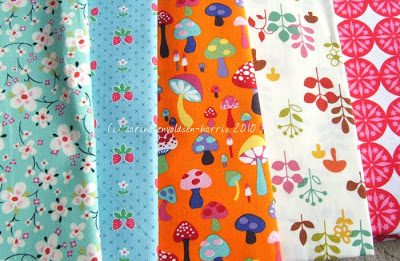 Ok, admittedly, it was easy to be restrained because I knew these fabrics would be waiting for me – I bought them in the US over the internets and had them sent to my sister and she then brought them over. So pretty, arent' they? I love those tiny strawberries! And that pink and red one will most likely cover our cushions come Christmas time. Planning ahead! :-D
Now, I got a question for you:
Have you ever been to Brugge/Bruges in Belgium? Is there something cool there not to be missed? Tony and I are going there for a few days for our anniversary next week and neither of us has been there before. So any tips would be great! :-)
We are driving there in our car! Well, Tony is driving, I'm the co-pilot! But we'll be driving in our English car, in the 'wrong' side! Quite an adventure!
°°°º°O°º°°°º°O°º°°°º°O°º°°°º°O°º°°°º°O°º°°°