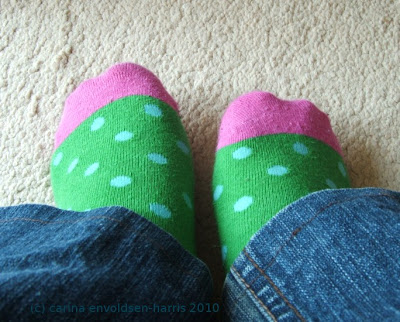 Hello, how are you?
It's amazing: the weather here today is sunny and birds are singing, it really feels like a spring day. Makes you wonder if the globe overnight and we're now in the Southern Hemisphere! But I guess not, surely, if that were the case it'd be all over Twitter! ;-)
Those are my current favourite socks. They are very happy! I just regret not buying another pair in a different colour combination – then I could have worn odd socks. I like wearing odd socks, you see. Is that weird?
Tonight we're going to IKEA and that also makes me happy. For one, because I ♥ IKEA and two, because we're getting ourselves a large bookcase so hopefully now we can get our books in some kind of order. Especially my large art/craft books which until now have been living behind a chest of drawers; that's no way to treat a book!
How about you? Do you wear odd socks? Have you been to IKEA lately? Don't forget to visit the Bargain Corner if you're going – you might get lucky in the fabric bin. Yeah, not *that* kind of lucky! ;-)
°°°º°O°º°°°º°O°º°°°º°O°º°°°º°O°º°°°º°O°º°°°