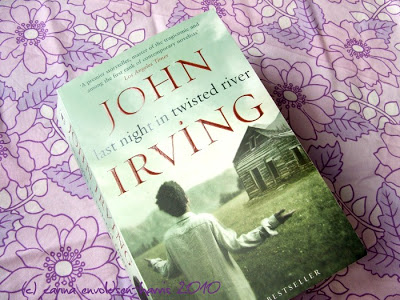 This is the latest novel from John Irving, Last Night in Twisted River
. I like it! Which makes me very happy because I like John Irving very much. His books, I mean; I've never met the man.
But it makes me really happy that I like Twisted River because his previous novel was impossible to read. To me, anyway. It was just too dreary and chilly. I always felt like putting on a sweater when I tried to read it. Isn't that funny? And all the characters were kinda creepy.
In the end I had to throw in the towel and give up on the book. Maybe I'll give it another go one day..
It just reinforces my theory that every other book from Irving is great and almost impossible to put down. And the rest are so-so..
So anyway, Twisted River is another twisted (hehe) tale of going back and forth in time, with lots of minor characters all weaving into the main story line. It's very 'Irving'. Of course there is a writer in the book. And bears. Even a bit of wrestling. And it's one of those stories where you kinda can't say what it is about without giving too much away.
If you like John Irving's novels, I'm pretty sure you'll like this one. I liked it so much I stayed up late one night to finish reading the last chapter! :-)
°°°º°O°º°°°º°O°º°°°º°O°º°°°º°O°º°°°º°O°º°°°