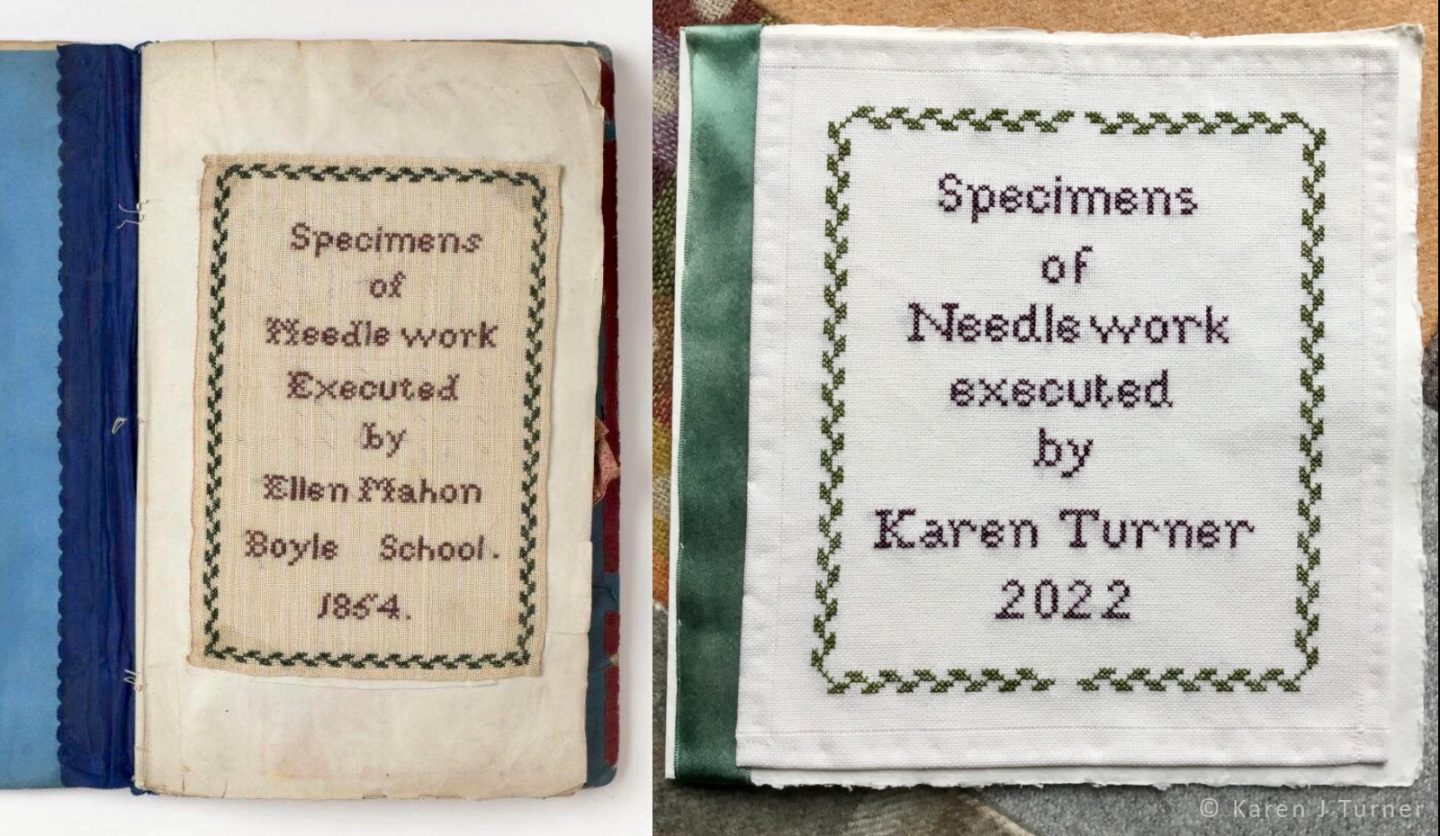 Today I am very excited to share someone else's stitching project with you. I came across it on Twitter and I was instantly in love and had to know more! It is a wonderful project by Dr Karen Turner. I'll let her tell you all about it below but first I want to encourage you to pop over to her blog and read about the project in more detail once you have finished reading what she has to say below.
I hope you will find the project as fascinating and inspiring as I do. :-)
You can find Karen on her blog, Instagram and Twitter. Thank you for sharing your work with us!
Please tell us a bit about yourself and your relationship with sewing/hand stitching.
I have sewn for as long as I can remember. My first adventure was a little coloured canvas tapestry kit featuring a panda and bamboo, which I completed at the age of about 6 or 7. It came ready-framed in white PVC, with a little sticky hanging loop on the back. My mother made all my childhood clothes so there were always scraps of fabric in the house, and I learned to make a patchwork bag using the English paper-piecing method, cutting the paper templates out of an old Littlewoods catalogue. I made my first bed-sized quilt top (hexagons, Granny's flower garden) at the age of about 14; I made it into a duvet cover and took it to university with me when I left home. I still have it today and can identify nearly all of the fabrics in it. These days I mostly make textile art and sometimes smaller quilts. I don't use a sewing machine as I prefer the quieter, gentler way of working entirely by hand. I also dye most of my threads and fabrics myself.
Please tell us about your wonderful project/What was it about the original sampler book that inspired you to make your own?
I like to collect scraps of antique fabric when I can find them, and since completing my PhD in Victorian women's fiction I also have an academic interest in the nineteenth century. I have always admired antique samplers for the range of motifs, the variety in design, and the skill in execution. I saw Ellen Mahon's wonderful book in the V and A collection online and was astonished by her range and her skill. She made her book while at school in Ireland in the early 1850s and made samples of darning and mending, plain sewing, patchwork, cross stitch, needlepoint, dressmaking, knitting and crochet. I thought it would be interesting to make something similar, just to share Ellen's experience, and to see how long it might have taken.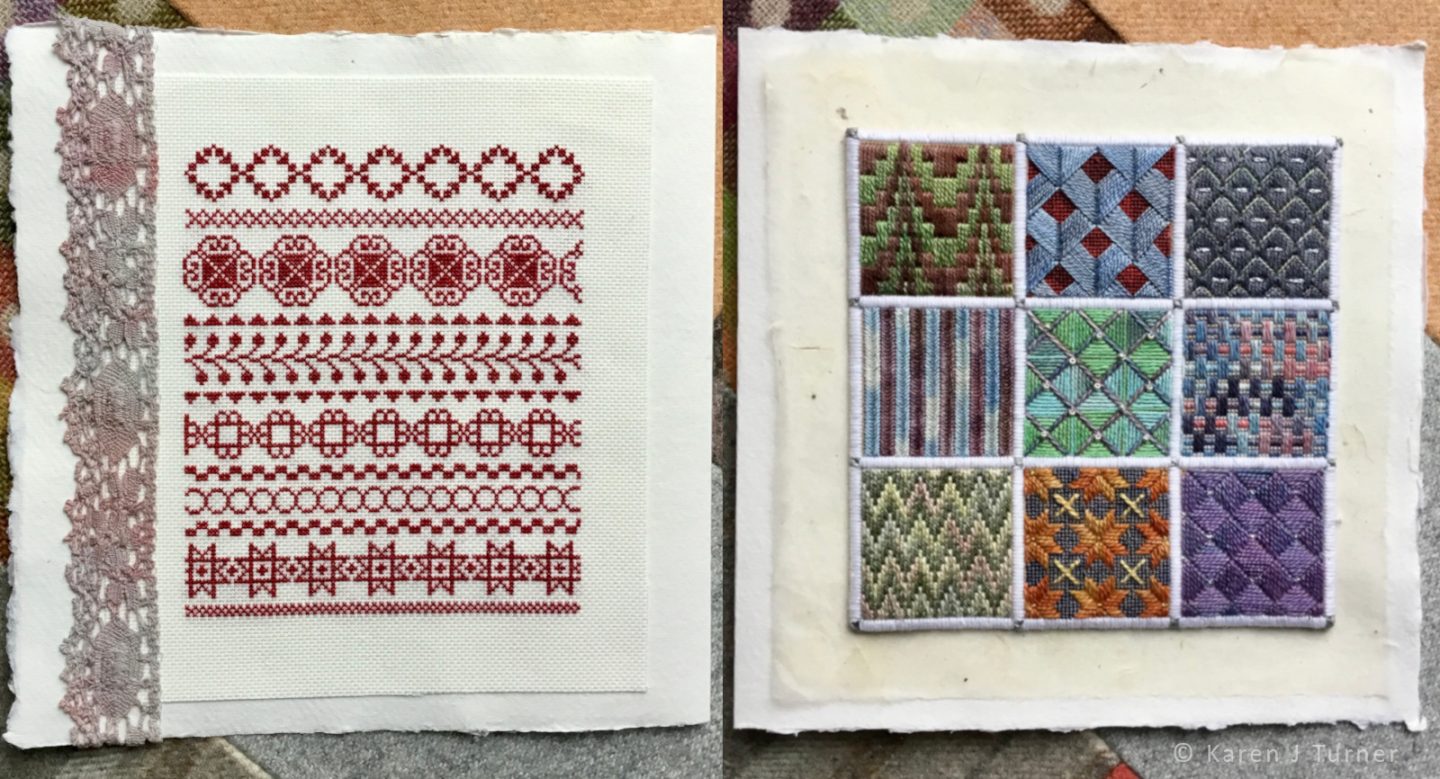 Were you already familiar with all the techniques you used for your sampler book or was this a learning experience
I was familiar with all of the techniques except traditional darning, which I learned by reading nineteenth-century instruction manuals, using Ellen's work as a guide. Some of the techniques (cross stitch and needlepoint) I hadn't done for decades, but there was nothing here that posed a huge problem. I used to make twelfth-scale miniatures, which was useful experience for making the little clothes and the small-scale needlepoint.
The thing I spent most time researching was the designs and patterns for the needlework. I found lots of inspiration in the online Antique Pattern Library, and I found embroidery designs by Sarah Bland in the V & A collection. The designs for the 9-panel needlepoint page came from Mrs Henry Owen's The Illuminated Book of Needlework. I didn't get round to making any knitted or crocheted samples on this occasion, but I haven't ruled it out for a possible future volume 2. Ellen made an impossibly tiny knitted stocking, and I would like to have a go some time but am fairly confident that hers will be a hundred times better than anything I could do.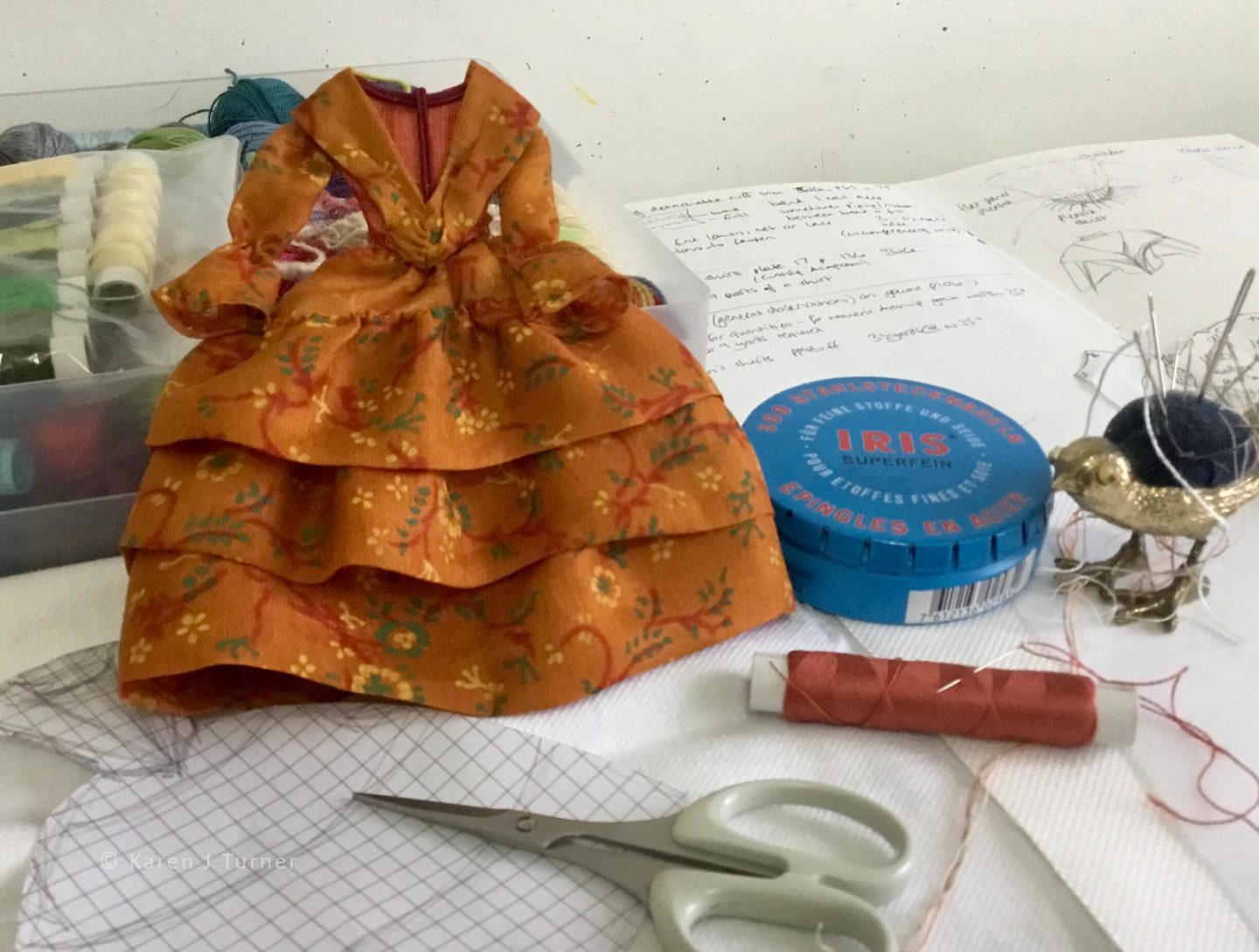 What was the most challenging part of the project?
I didn't particularly enjoy the cross stitch, so it was a bit of a challenge to persevere with that. The little silk day dress was also quite difficult due to the nature of the fabric. I had to use something very fine because of the scale, and the vintage silk was quite springy when gathered into flounces. In the end I had to make a bodice-shaped card template and stitch the body and skirt to it. This was the only way to make it lie convincingly on the page. Sewing tiny pintucks into the little shirt was tricky too.
And what was the most fun?
Definitely the most fun was assembling the pages when all the samples had been worked. I rummaged through my collection and found vintage packs of needles, some old pins and buttons, an antique mother-of-pearl thread winder, and scraps of antique fabrics, and all of these found their way into the completed book. I didn't like the way you can see glue stains on Ellen's book, where she has pasted her samples onto the pages, so I have sewn my samples to cotton rag paper before binding them into book form. Ellen's sampler book would probably only have been seen by her and her teachers, but I think sampler books like these should be more visible and more celebratory of the range of skills a Victorian needleworker would have learned at a very young age. My example is perhaps a little over the top in terms of the way I have assembled the various elements and decorated the pages; Ellen's book is much more modest in presentation, and much more skilled in its execution.
After making the sampler book, has it changed your view of sampler books from the past?
I think if you are an experienced needleworker, you can see at a glance how much work went into samplers and sampler books. Having worked some of the examples, the thing that strikes me most is not so much the degree of skill needed, but more the amount of time everything would have taken. The Workwoman's Guide (written anonymously by 'A Lady' in 1838) gives directions for cutting and sewing several shirts at a time, and lists the various textiles needed by a household. Before sewing machines were readily available, every single item made from fabric would have had to be sewn by hand – clothes, sheets, towels, blankets, quilts, curtains – a monumental amount of work, particularly when you look at how richly decorated some of the dresses were. I am always delighted and fascinated to find hand-sewn seams and hand-embroidered decoration on antique fabrics and linens.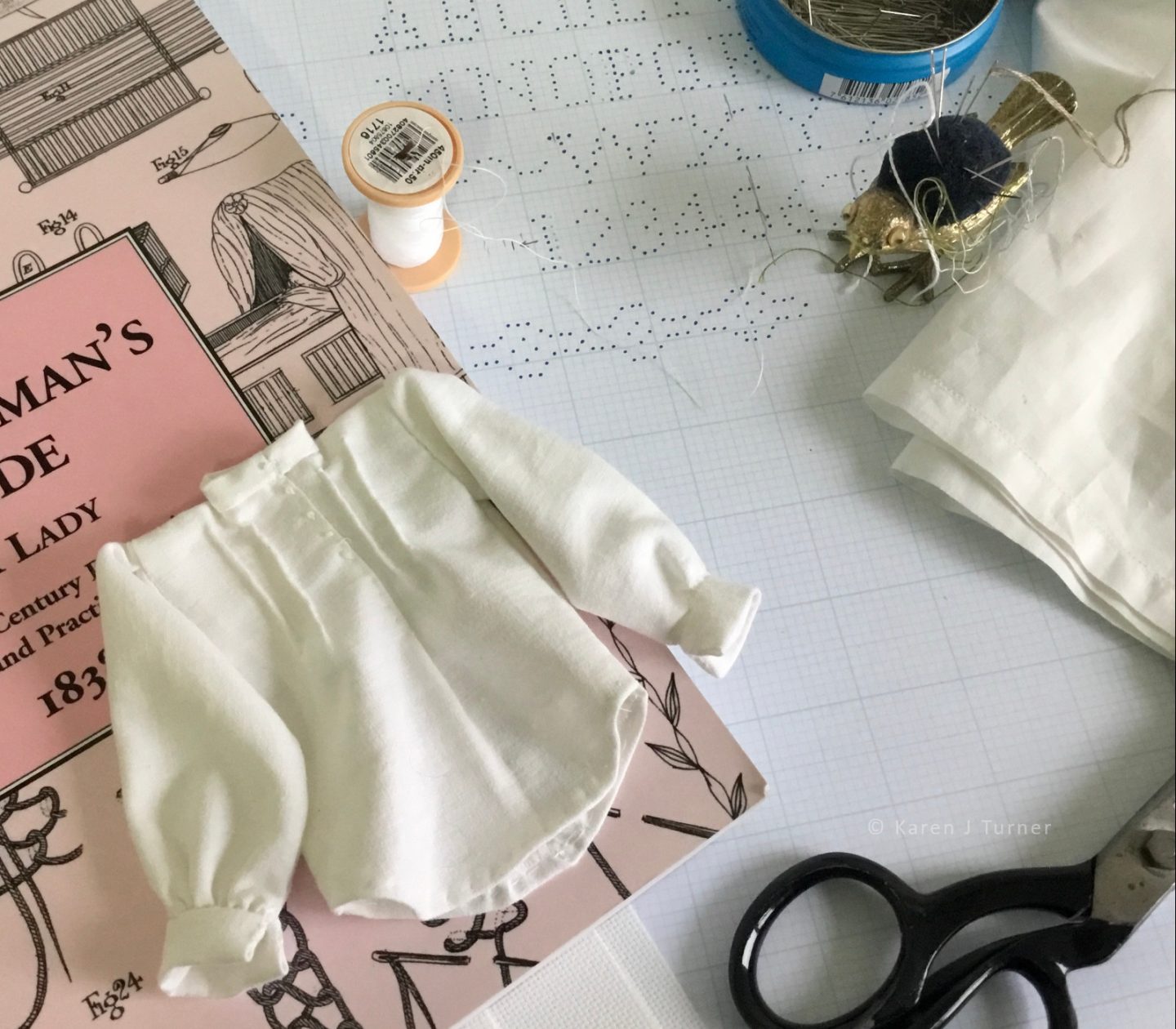 Do you feel like you have got to know the maker of the other sampler book by making your own?
I did find myself often thinking of Ellen as I recreated some of her samples, and wondered what she would make of my attempt. A respondent on social media suggested my sampler book was a kind of love letter to Ellen, suggesting a correspondence between us. I love this idea, and that in fact is why I use old fabrics so much in my work – I love the idea of connecting with weavers and needle workers of the past. I feel I am saying 'look, we are still doing this the way you did it'.
Of course, they usually did it better, and with less light! Ellen has more cross stitch in her book than there is in mine – I didn't have the patience to do any more than I did – and I wondered if she particularly enjoyed it or if she was made to do it. I found that in order to concentrate on where you place the stitches, you have to sustain your focus on the work. Losing concentration for even a few seconds usually resulted in an error. I suspect that cross stitch was a way of getting girls used to sit still and be quiet. I got the feeling that Ellen's favourite thing was plain sewing. She made examples of seams, frills, pleats and hems, and I like to think that she could have set herself up as a dressmaker in adulthood.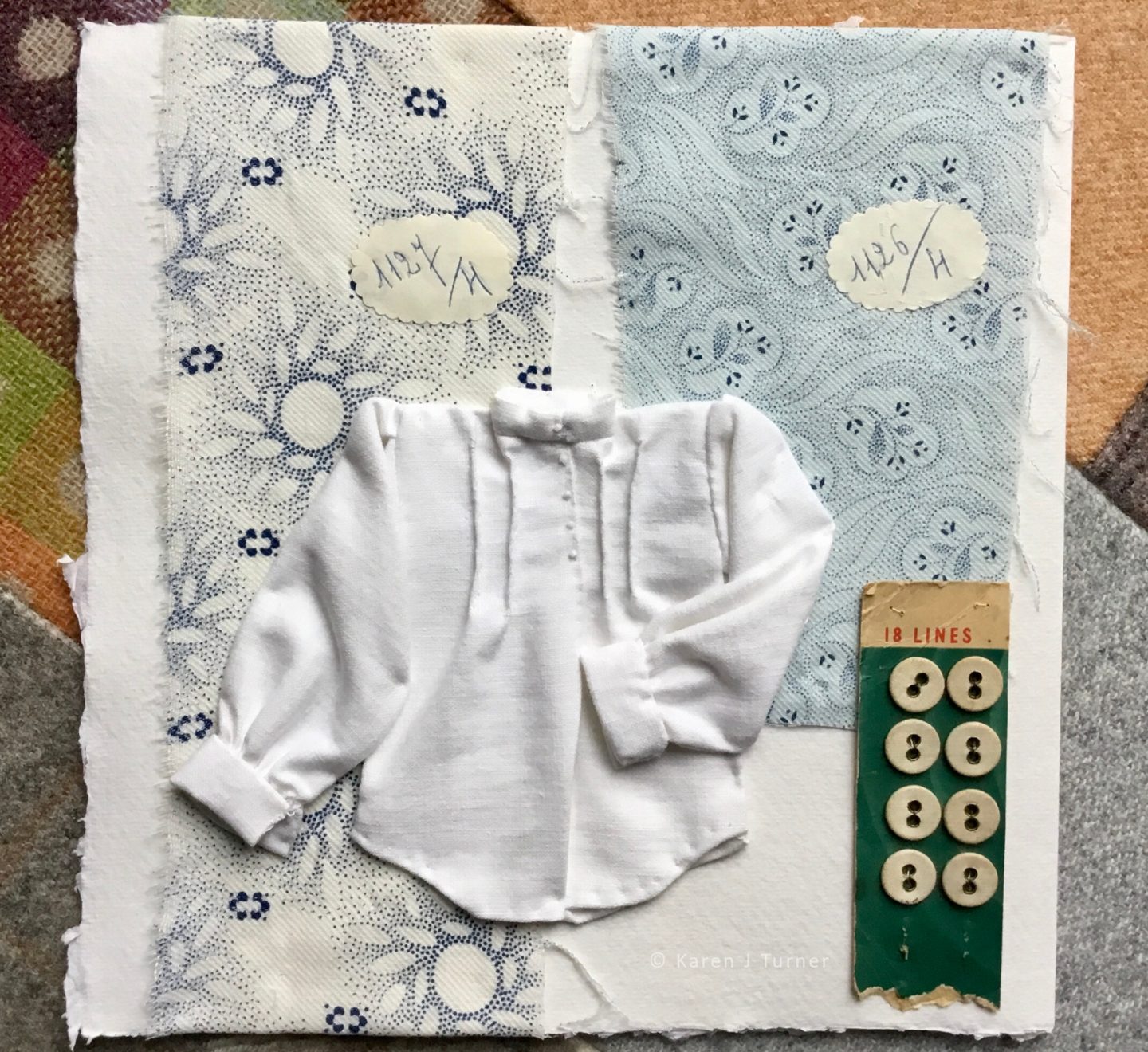 Will the sampler book inspire future stitching?
Having nearly completed this book (I still need to make a cover for it), I will need to reflect a little further on what I will take forward. I use most of these techniques in my work anyway – patchwork, seams, and surface decoration are all things I do by hand every day. I like the thought of making more mixed media books.
Do you have another project in the works, what's next?
I have an ongoing series in progress at the moment called 'Survivors' which are fabric collages made using antique and vintage fabrics, patched together and embroidered in a similar way to what Ellen was doing. Like the very ragged piece of vintage tray cloth on page 5 of my sampler book, we all have our frayed edges and life wears holes in us, but we keep going. I have a part-time day job three days a week, so my free two days are spent reading and researching, as well as making.