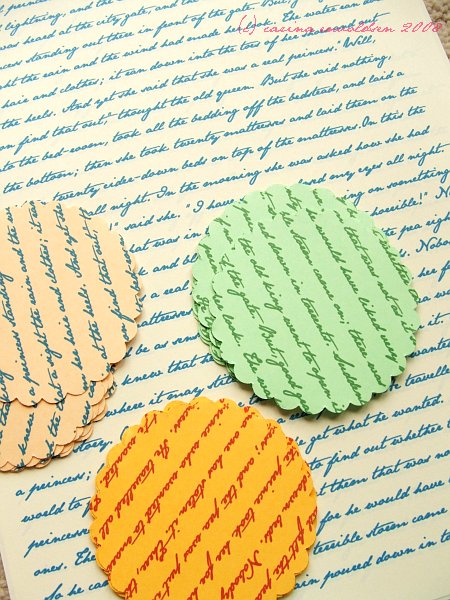 Here's a quick way to make some pretty tags/labels for.. well, anything you fancy, really!
It's REALLY easy and requires no fancy equipment. No fancier than a computer and a printer. And a craft punch (or whatever it is called), but that's not absolutely necessary.
Find some text (or write something yourself), paste it into a document in Word or whatever word processing program you use. I used The Princess and the Pea by Hans Christian Andersen. I guess it doesn't matter terribly what the text says as the idea is to use the text as a decorative element and you won't really be able to read (a lot of) it. Now format the text to your liking; font, size, colour. I used a font called Jane Austen. It's quite pretty, I think! I love handwriting fonts. Maybe because allegedly my own handwriting isn't so, er, legible.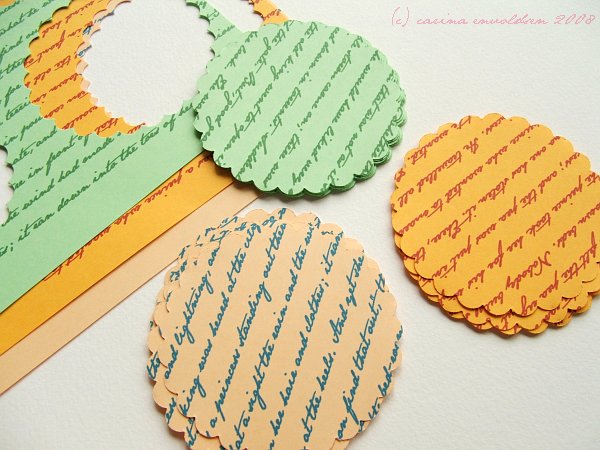 If you do use the craft punch, it is best to make the text go as far out to the edges of the paper as you possibly can on your printer. But even then you may have to cut the edges slightly or you'll get a part of the tag which has too much blank paper. Punch out, or cut out, your tags and you are done!
One word of advice, use card, not printer paper because that might be too thin and would disturb the writing on the back of the tag.