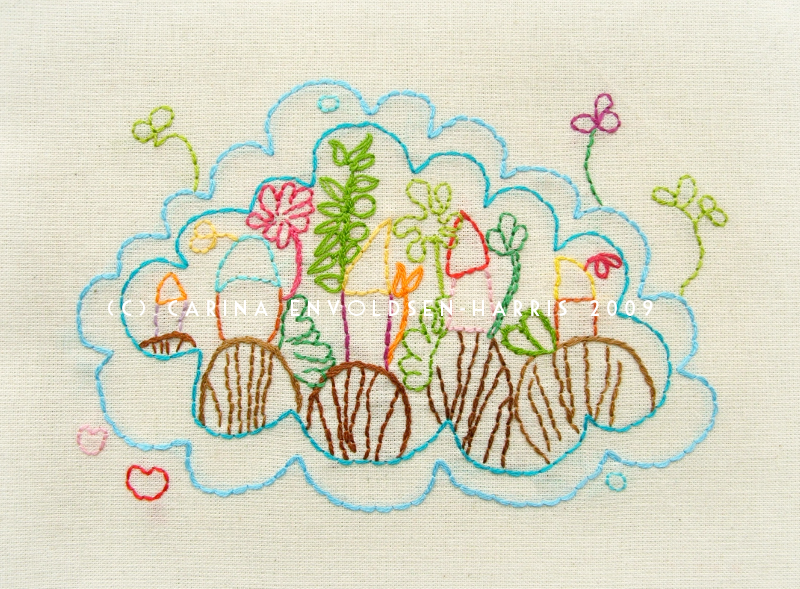 Here it finally is! My first embroidery pattern. I am so happy about it! It is called Happyscape Spring. Oh what else could it be? I love my little abstract fairytale world of Happyscapes! It is my plan to do more of these, embroidery patterns, not just Happyscape ones (although they are fun to make!)
I loved sketching it all out and inking it (well, as ink-y as it can get on the computer, eh?). Going through my stash of embroidery thread to find the right colours. Stitching my version of it. All good.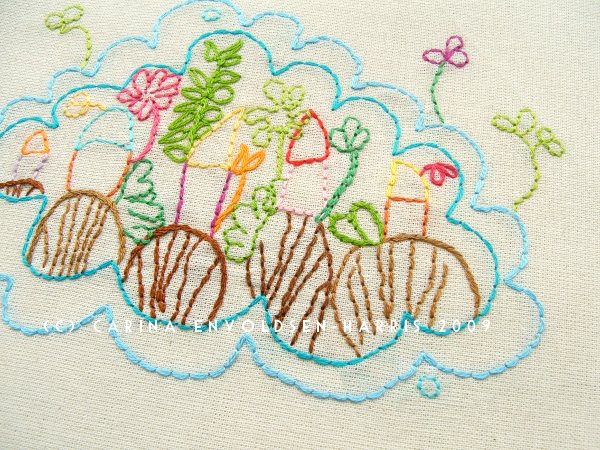 It's a special little world, drifting along in a cloud. Fairies live there, I think. In little smurf-like houses; colourful toadstools. Maybe they will offer you a cup of tea in their fairy tea cups?
It's funny, just a few years ago I never in my wildest dreams imagined draming up my own embroidery pattern. And if you had told me so, I think I would have asked you (in the nicest possible way) to F*** off! But here we are, pattern in hand! I don't know if she would have appreciated the image, but I think my grandma would definitely have appreciated the fact of it and the effort. She was a craft genius and even owned her own yarn shop for a number of years!
The pattern is for sale (Artfire + Etsy) and this is what you get in the pattern:
– the original pattern in 2 sizes
Approx. 6.5″ x 4.5″ and 5.5″ x 3.5″ – – 16.5 x 11 cm and 13.5 x 9 cm
– the same images in reverse
– enlarged elements from the original pattern (both in a 'right' and 'wrong' version)
– extra patterns using these enlarged elements
– instructions for pattern transfer
– suggestions for stitches and colours to use
Want to win a copy of the pattern?! Leave a comment telling me/everyone about your favourite thing about spring. Please fill in the email thingy so I can contact you! You have from now until Monday.