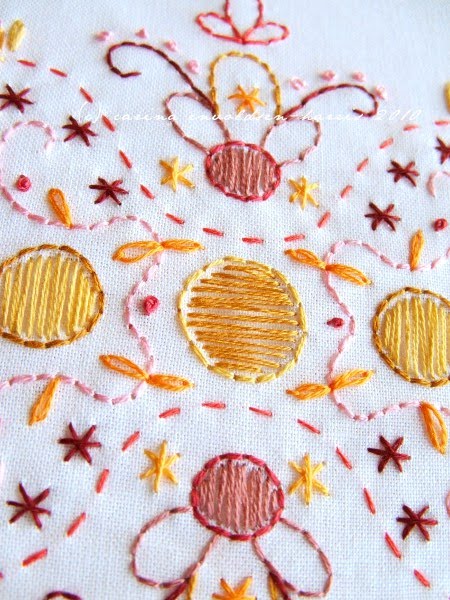 Look what I made today. I am so happy with it. Especially because I went out of my comfort zone a bit. Using colours that (to me, anyway) are a lot more subdued than the ones I normally use. The light was kinda bad today, so the photo has suffered a bit and doesn't show the colours properly.
I have more ideas for similar patterns and when I had the name for this one, it occurred to me how they will go together. Now when I tell you the name, maybe you can guess what theme I have in mind? This pattern is called 'Parterre du Feu'..
And guess what, you can get it for F R E E by following this link: Get Parterre du Feu!
It is a fairly quick pattern to stitch, it should be possible to finish the smaller version over a weekend. ;-) There are 2 sizes of the pattern, with stitch and DMC colour suggestions. If you make the pattern, please share in the Stitching Polka & Bloom embroidery group on Flickr. Which I also hope you will join if you buy any of my patterns.
Hope you like-y! :-)
The small print…

Please note that the pattern is for personal use only. You are not allowed to sell it or anything embroidered with it. If you like the pattern, feel free to link to this post, but please do not distribute the pattern yourself.