This is the advance copy of my new book, Romantic Motifs. Isn't it pretty? My publisher let me have a lot of say in the look of the cover, so I am really chuffed with how it turned out. :-)
And, OhEmGee, the book is real! I can touch it!!! Yay! This is pretty much how that feels: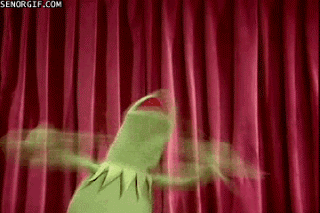 You can pre-order a signed copy of Romantic Motifs in my shop OR order a signed copy with extras: a 8″ square fabric panel with a new pattern printed right onto it, as well as a paper version of the pattern.
The book has lots of motifs with a romantic feel, but you can use them for many other things. Hearts, flowers, birds, butterflies. Flowers that make the shape of a heart. It's all in there. And all the patterns are included as iron ons, yes! So it will be super easy to transfer the patterns to your project, yay!

So many French knots on this page. It took forever to stitch. But I think it's worth it. :-)

This page. Oh boy. It's one of the first stitched pages, but it was the last to be finished. My original plan was to do the frame in satin stitch, but it just didn't work. The warp/weft of the fabric made it look wonky. So after a couple of tries, I had to put it aside while deciding what to do.
It's not my original vision for this page, but I really, really love the chain stitch frame. Satin stitch would have been so pretty, but maybe, just maybe, I actually prefer the extra texture from the chain stitch. :-)

A couple of the projects. The centre of a table cloth and an embellished apron. From IKEA. It's amazing what a bit of embroidery can do, huh? :-)
. . . . . . . . . . . . . . . . . . . . . . . . .