My new pattern, Calavera Chihuahua is finally here! I had the idea for the pattern over a year ago while working on sketches for a book that didn't happen in the end. For boring contractual reasons, I can't use the designs, I submitted for that book, for myself. (Publishing is a funny, complicated beast.) So I am very pleased with Carina of a year ago who decided to not share this design with them, because that means I can use this one, yay!
I don't know why it has taken me *this* long to finally make and stitch the pattern, but atleast it's here. And just in time for Dia De Los Muertos. It's funny how I keep coming back to this sugar skull inspiration, I've never even been to Mexico. It just keeps appearing in my sketchbook.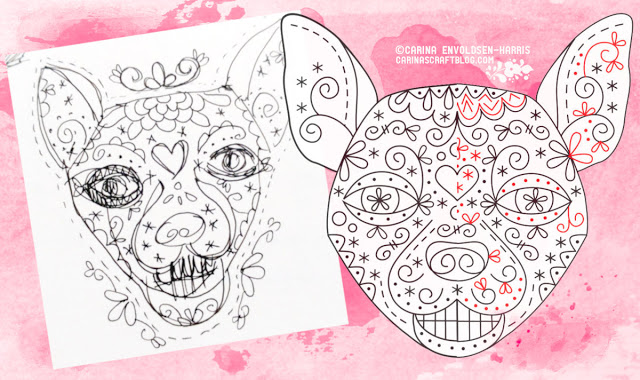 Speaking of sketchbook, here's a picture of my original sketch, that dog looks really fierce and unfriendly! It looks a bit nicer in the pattern version. Although, he is still baring his teeth. The pattern actually has two versions, the one you see in my embroidered sample and a version where he's sticking his tongue out instead of baring his teeth. Slightly less scary. ;-)
On the left in that picture I've included a half'n'half picture of the initial version of the pattern with the final version. All the stuff in red is what I added as I was stitching the sample. I've been asked before why I stitch the samples for all my patterns and not just release the pattern without. Well, this is why! Or part of the reason why, anyway.
By stitching the pattern, I pick up those places where a stitch or a section doesn't quite fit. Whether because it's too large or it just doesn't go with the stitching surrounding it. By now, I do have a pretty good idea of what will work where but I still need to get my hands on it and try the pattern to make sure it's exactly how I want it.
Sure, I could become a pattern factory and churn out pattern drawings by the dozen, like you see some people doing on Etsy. But that's just not me. I need to know that the pattern works, so I have to do this quality control with each one. I hope it comes across when you stitch one of my patterns. :-)
. . . . . . . . . . . . . . . . . . . . . . . . .