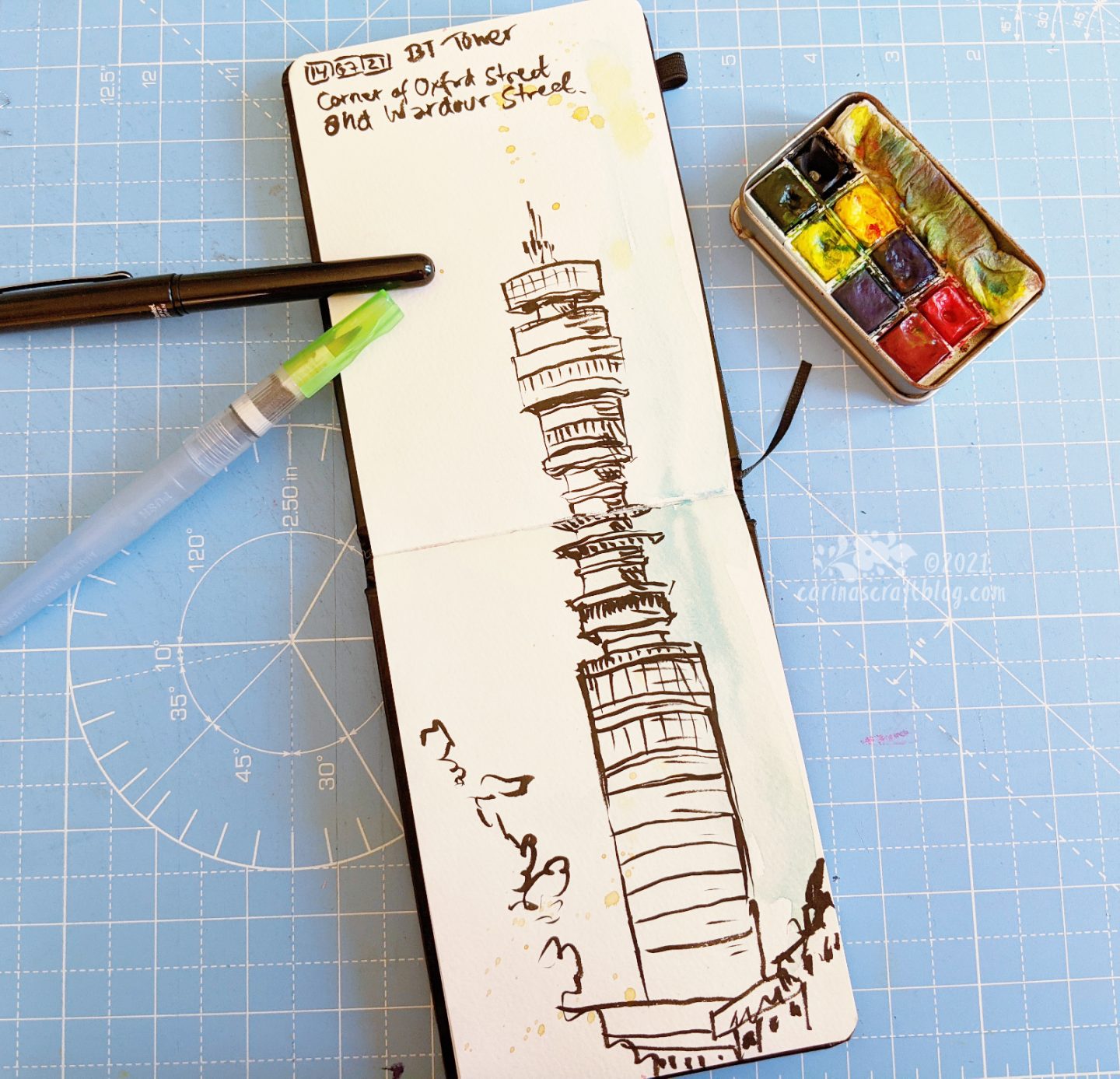 Last Wednesday I taught embroidery at The Village Haberdashery and afterwards I went 'into town' (just a couple of stops on the Tube) to Oxford Street so I could pop into Scandinavian Kitchen and buy a few Scandi treats. And then I went for a little walk in the Soho-ish area to do a bit of sketching.
The top sketch is the BT Tower. It has a very distinct shape and I really like how it was framed by the trees and the buildings in the street. There was no way it would fit into my A6 landscape sketchbook without turning the book to make a very long portrait style sketch! :-)
I'm always a little conflicted when I need to do this. I want to sketch the tall building or tree or whatever. But tall things don't fit into landscape style sketchbooks very well. So usually the choice is turn the book 90 degrees or only draw a section of the thing. I kinda prefer that all my pages turn the same way (makes it easier to film a sketchbook flip through too!) but I also want to not just sketch landscapes or horizontal things. I guess it's every sketcher's conundrum!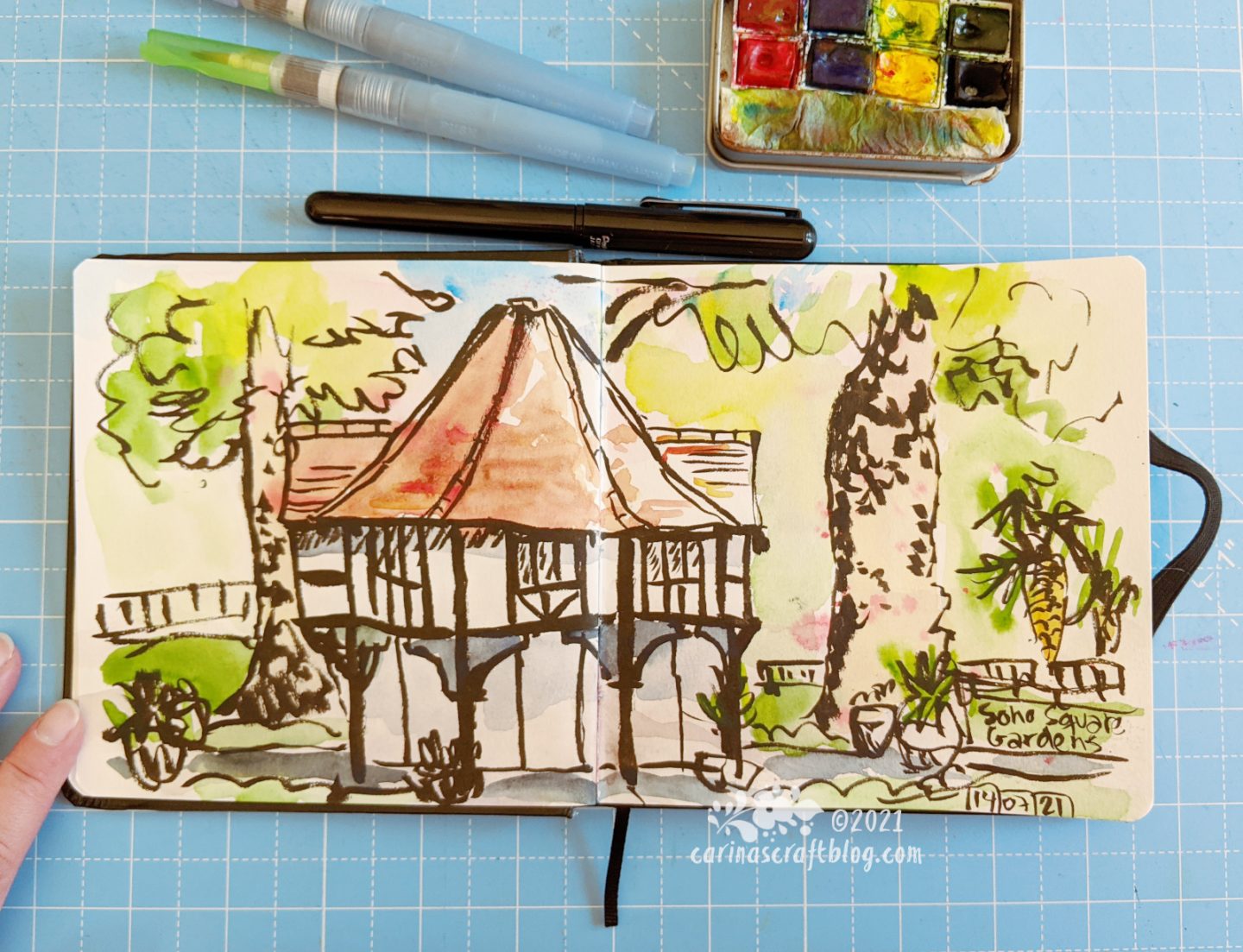 I have recently started using a Pentel Brush Pen which can make both fine and really thick lines. It is also a little unpredictable which I really like. And it is waterproof which is a good thing. I love the effect of the brush pen in this sketch (I added the watercolour at home).
This building in Soho Square Gardens is a Tudorbethan (I love that word!) mock "market cross" building which hides an electricity substation. London is so quirky sometimes! :-)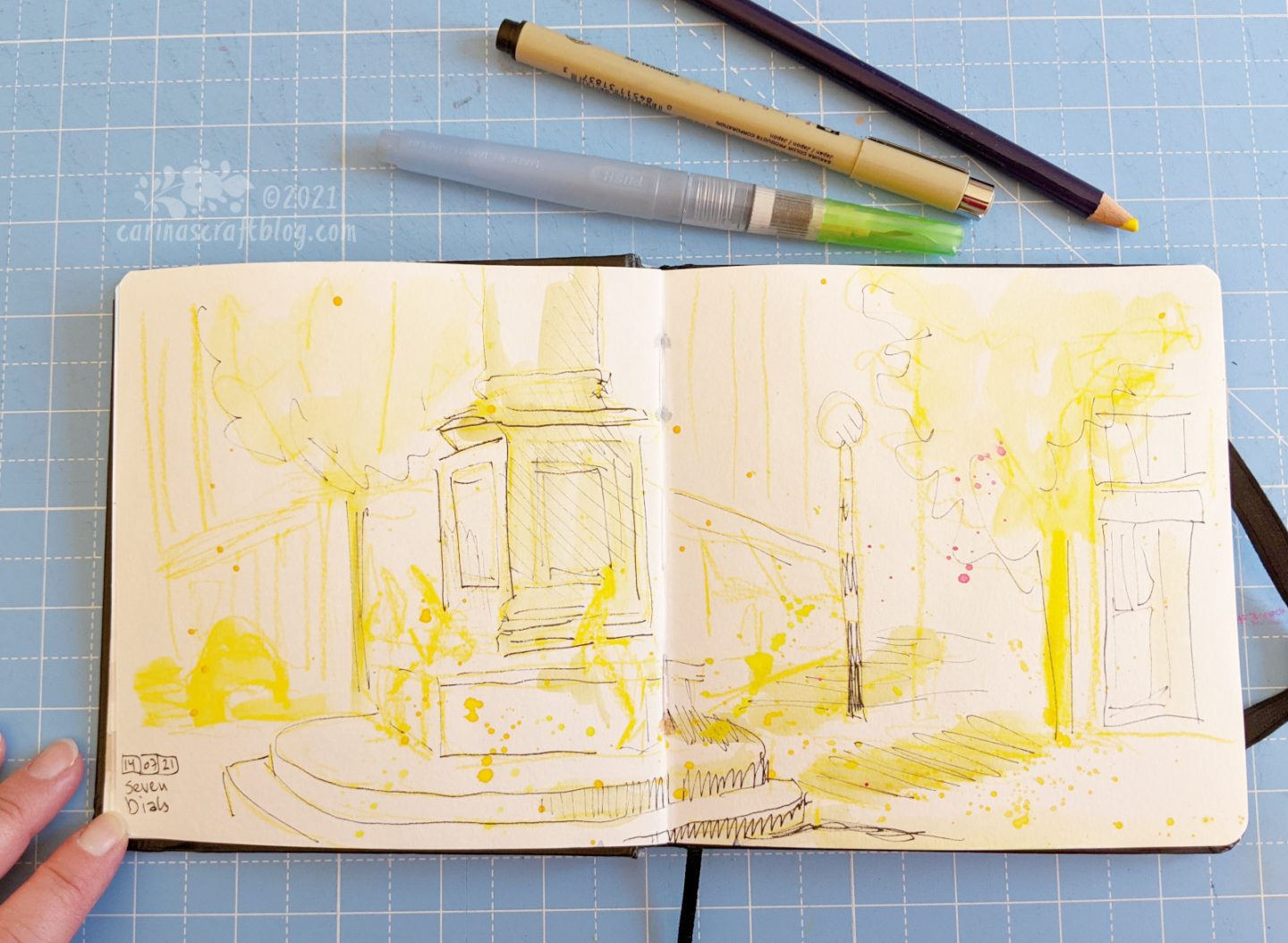 Seven Dials. Seven roads meet at this junction. I was a bit scared of the perspective here so I started the drawing with a yellow watercolour pencil. Then I added black pen for some of the details. And used the water brush to flood some of the areas in drawn in watercolour pencil.
When I'm a bit nervous about a drawing, I often start with a watercolour pencil or a very light pen or a pen in a crazy colour. That way I have an excuse if the drawing sucks. "Well, I used a chartreuse pen, that was crazy, there was no way that would work; it's totally not your fault that the drawing sucks!"
Obviously, those drawings where I have given myself permission to fail are usually the ones I like best! :-D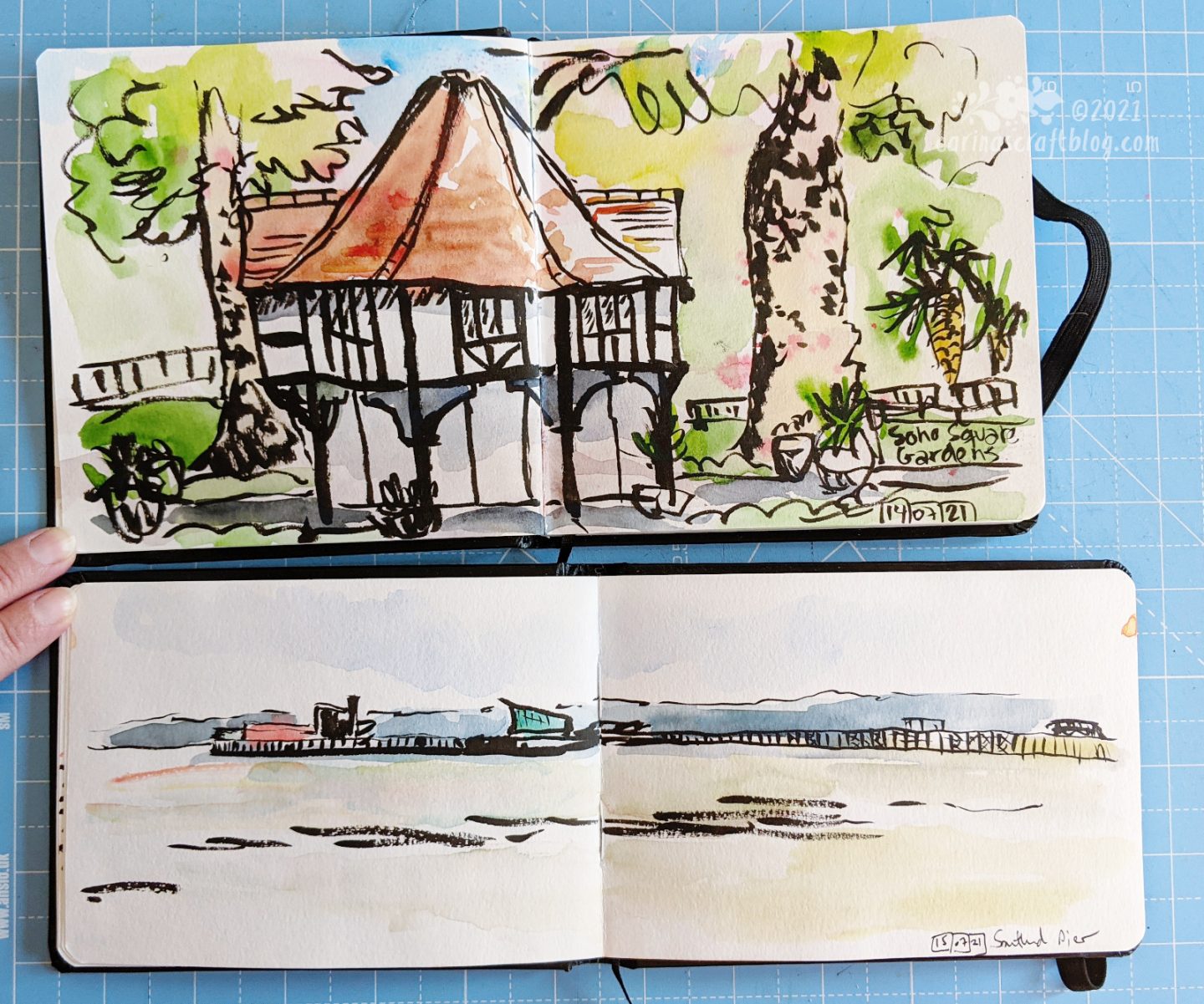 There's that Soho sketch again. :-)
The bottom sketch is from a day out to Southend-on-Sea last Friday. I had to sketch the famous pier! I used the same brush pen for the pier sketch. I really like it, some of the lines are a bit scratchy, some are thick and bold and some are really fine.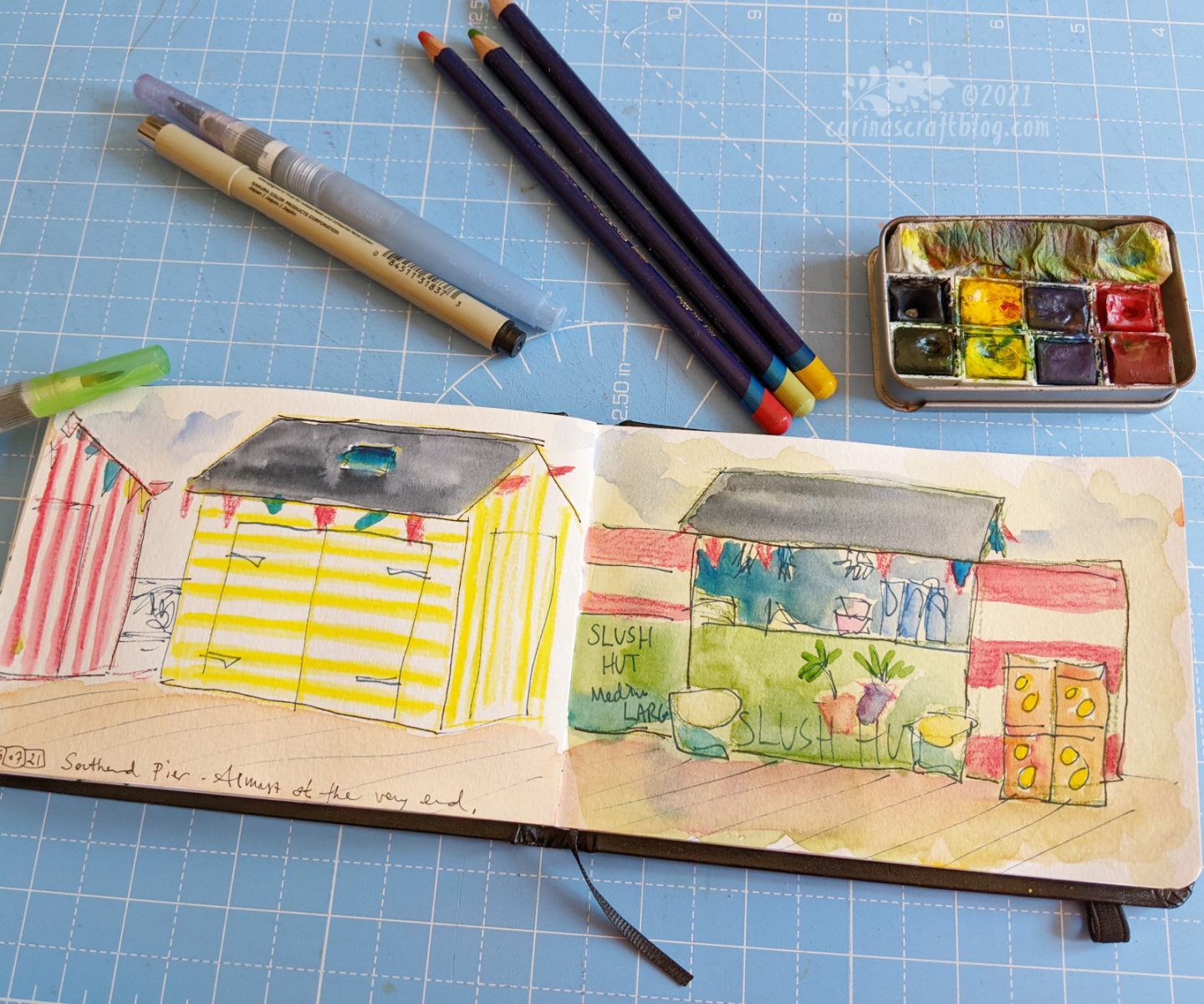 This is from the end of the pier. First I drew the little huts in watercolour pencil, one each in red, yellow and green. Then I added black fineliner details. I used a water brush to accentuate some of the watercolour pencil lines and added some watercolour when I got home.