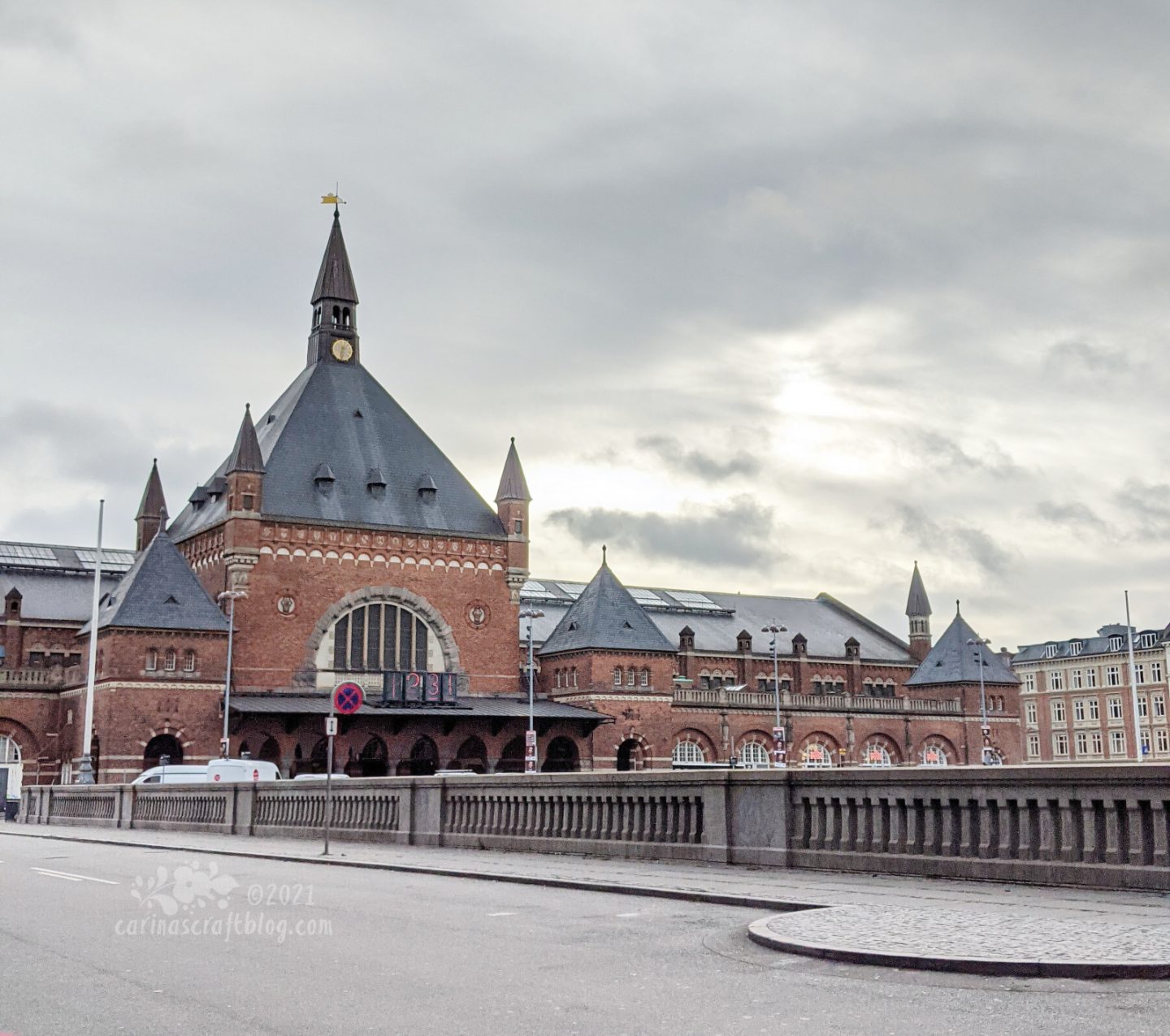 Part One of my trip is here. I spent a few days visiting my parents who live just outside Århus, the second largest city in Denmark.
I had to fly home from Copenhagen airport so I thought I'd make a feature out of this slight nuisance! I took the train to Copenhagen. An inexpensive option if you book in advance. I paid around £15 for a single ticket including a booked seat and that is a journey that takes around 3 hours. With nice seats, excellent wifi and an electricity outlet for each seat. (So if you need to travel across Denmark, it is worth looking into the DSB Orange ticket options.)
Anyway, I arrived at the Copenhagen central station and was met there by one of my dearest friends who I hadn't seen in seven years! We spent a lovely afternoon walking through Copenhagen and putting the world to rights. :-)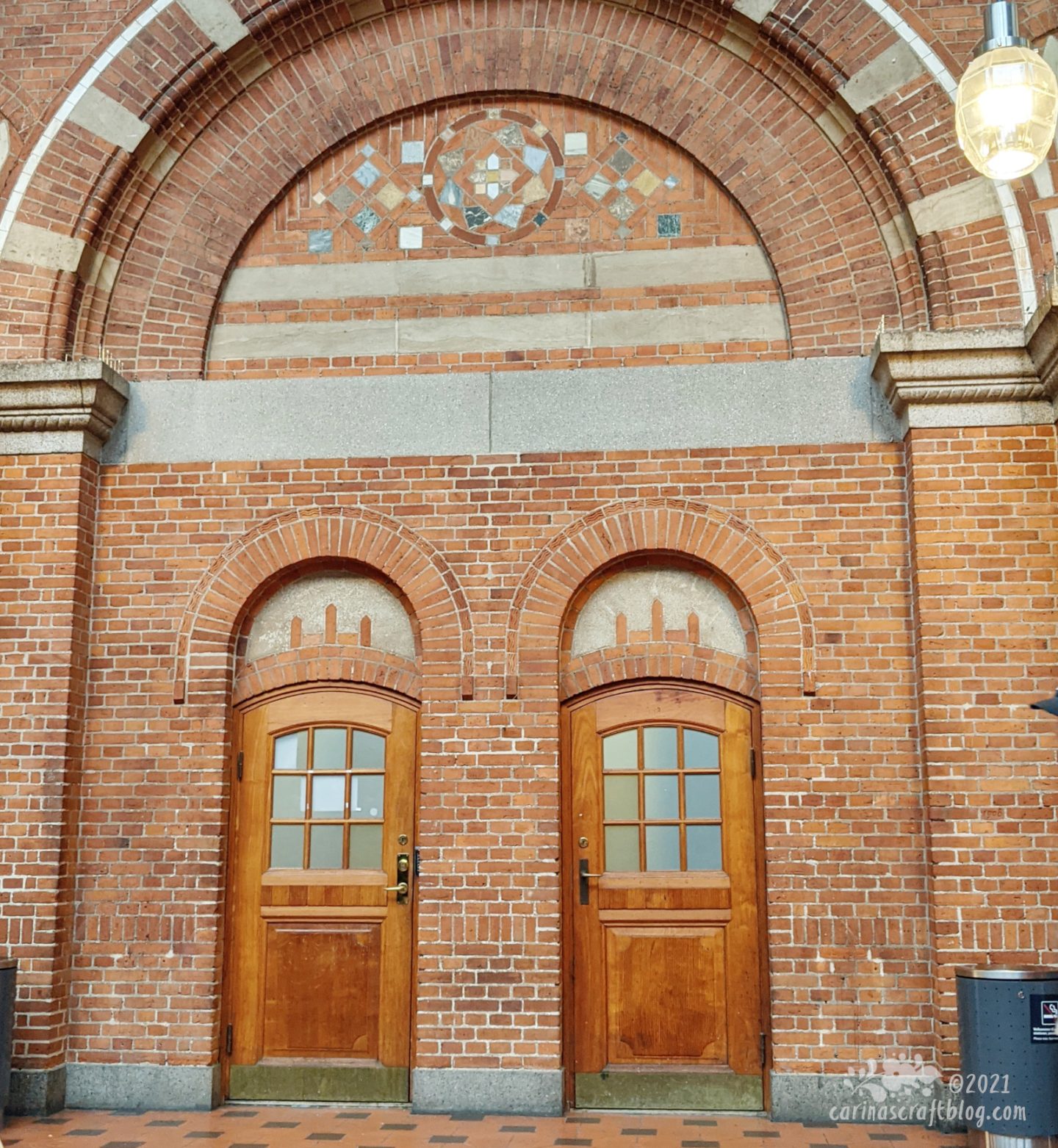 I like this detail above some doors in the train station.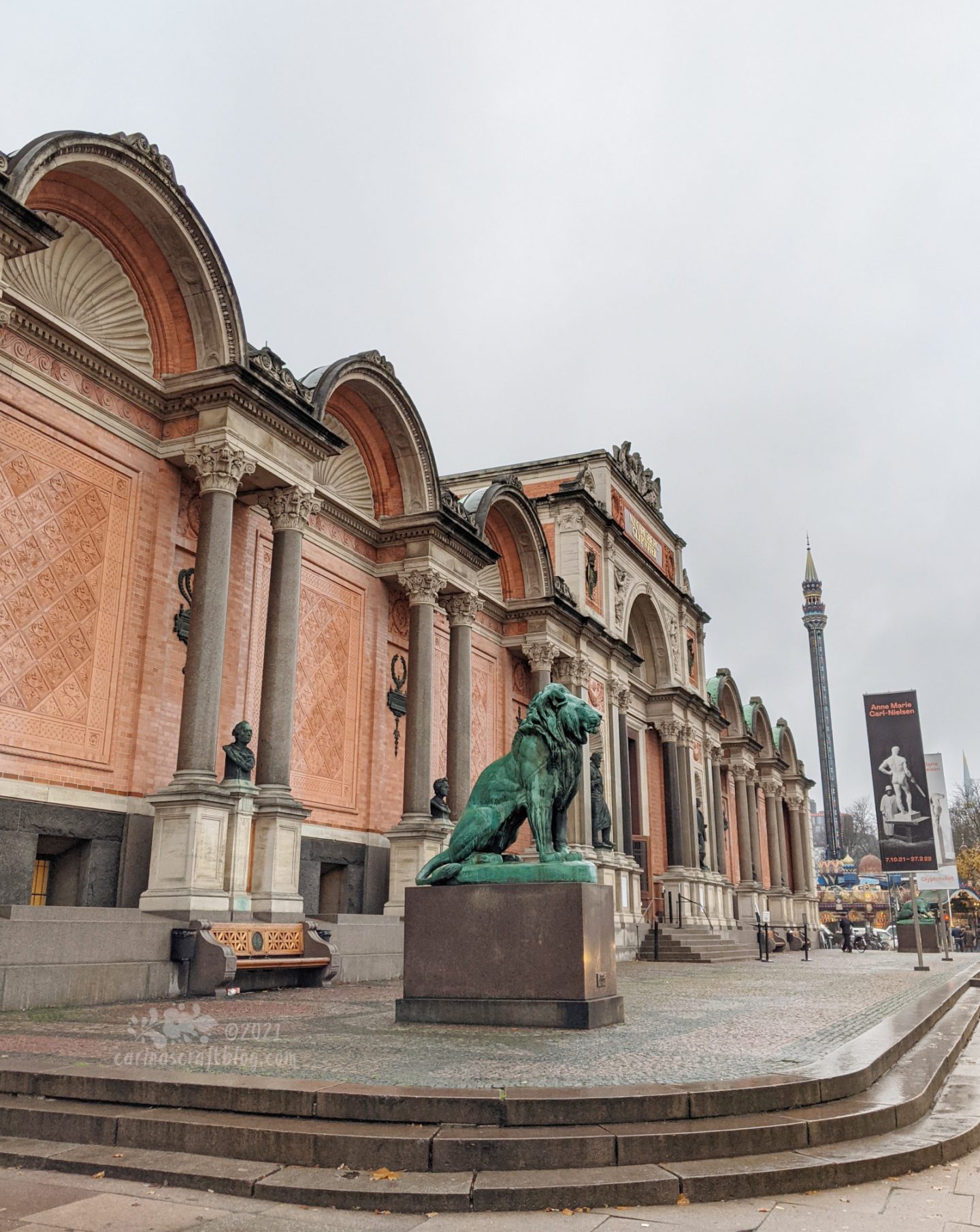 This is the Glyptoteket museum which is amazing. If you like "works of art and archaeological objects from Ancient Egypt, the worlds of Ancient Greece and Rome, Etruscan Culture, as well as Danish and French art of the 19th century" then you'll love this museum. And it is a beautiful building as well. Sadly I didn't have time to visit this time.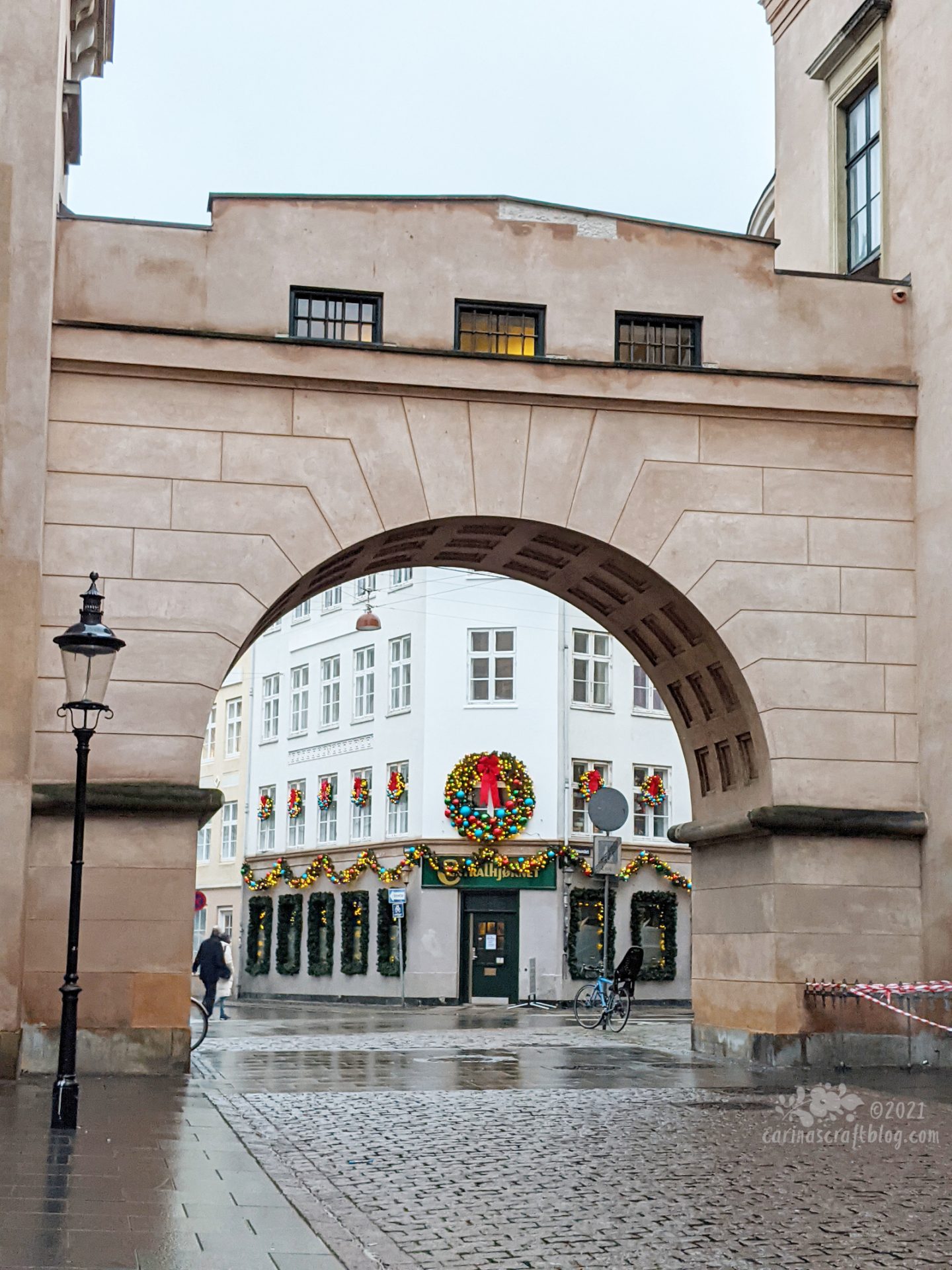 I'd seen a sketch somewhere of the arches at the ends of this small street (Slutterigade) so I wanted to come and see it. Unfortunately, it was too cold and wet to sketch it (and I was busy chatting to my friend!) so I may have to 'cheat' and draw it from my pictures at some point.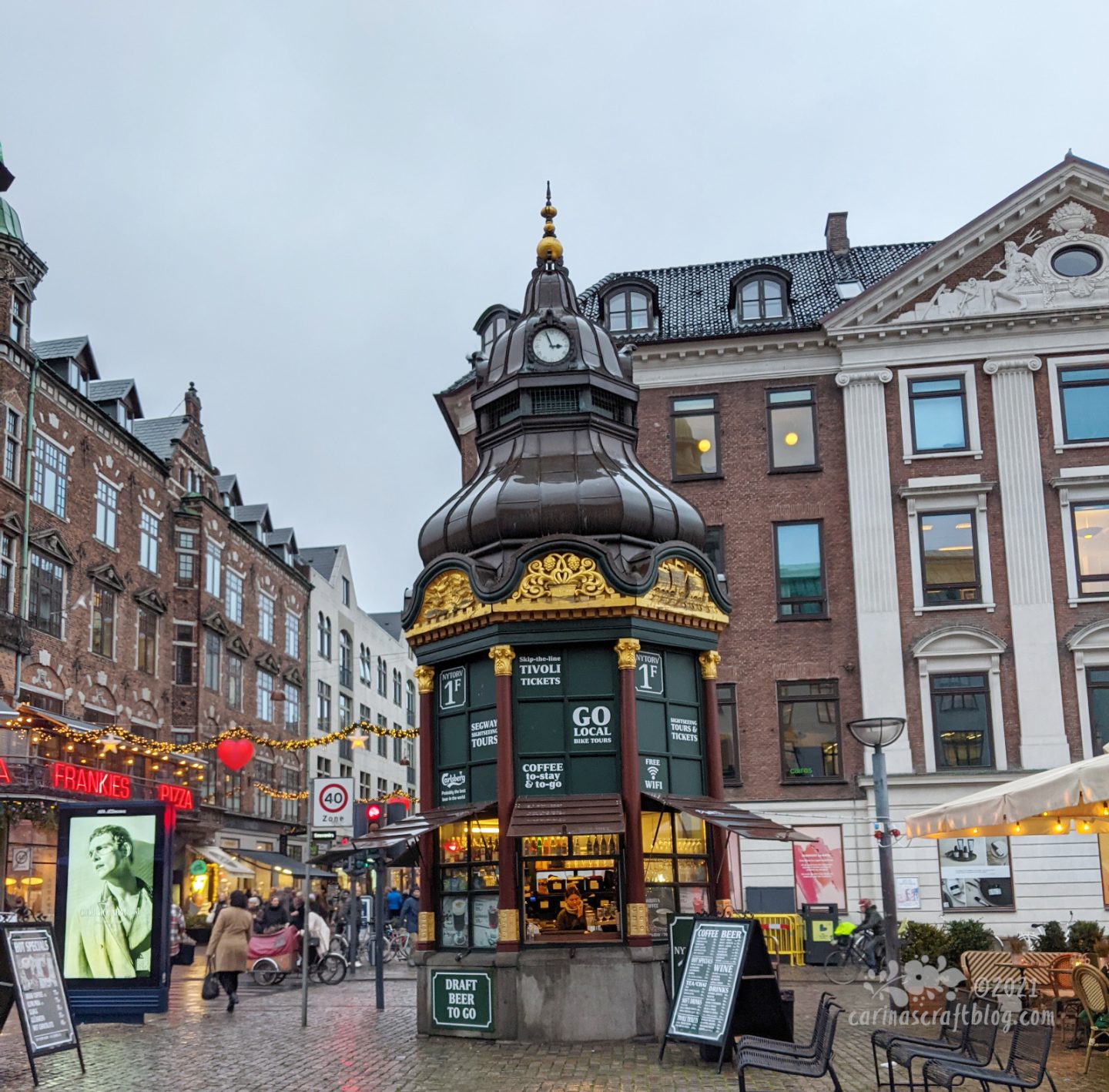 There are a few of these kiosks dotted around the centre of town. I'm not sure what their original… Ok, I had to look it up and it turns out that these little kiosks were originally used for payphones back in the early part of the 20th century. They have also been used as a news agents but now it's a small café and I think you can also buy tickets for Tivoli and things like that.
More about the telephone kiosks because I'm sure you're just itching to know more! Wikipedia and In Search of the Old Telephone Kiosks of Copenhagen. Of course, you know I'm going to have to seek out all the remaining kiosks when I'm in Copenhagen next! :-D
This kiosk is in Nytorv, btw.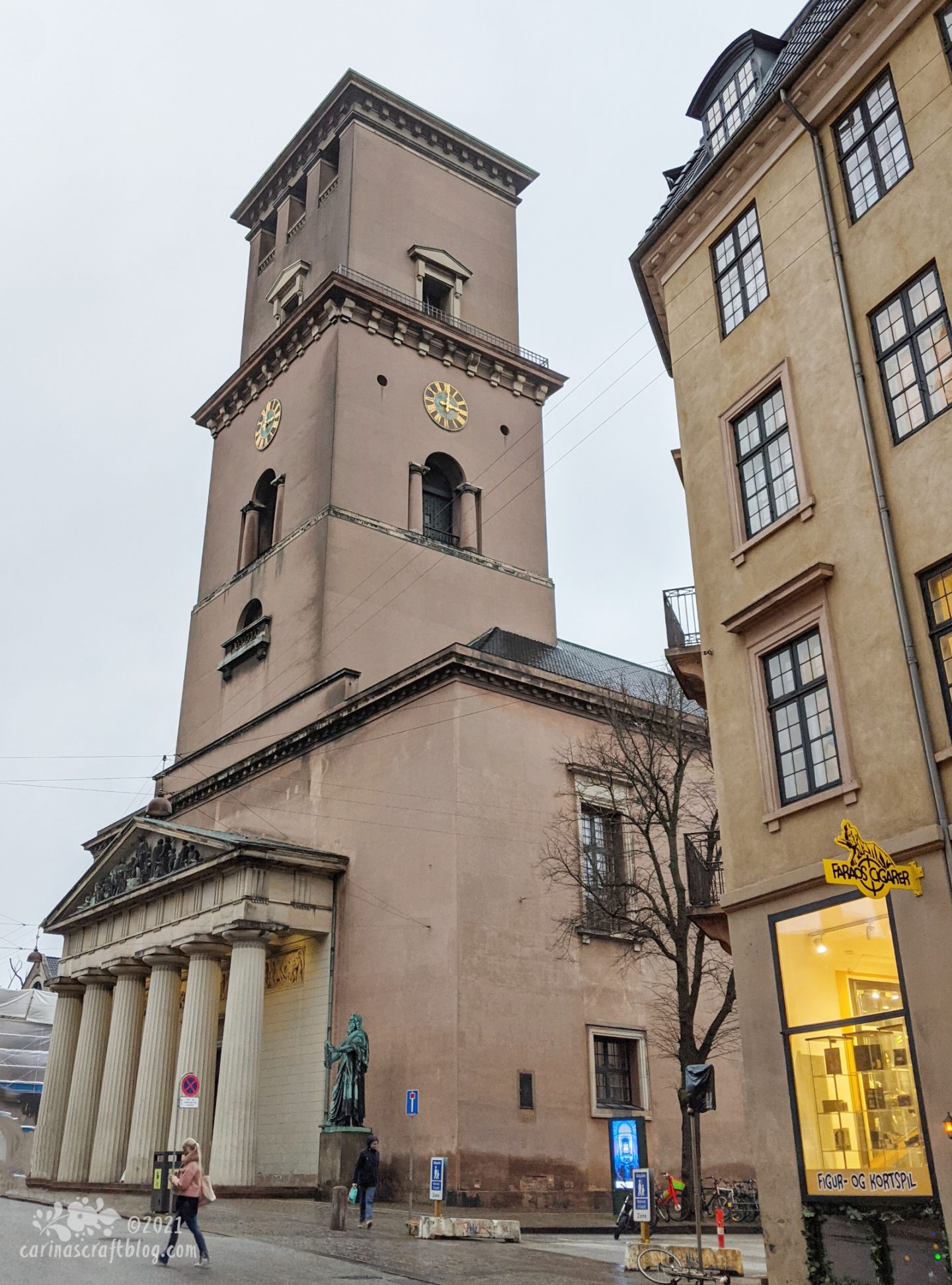 Moving a few minutes north from Nytorv to pass the Vor Frue Kirke (Church of Our Lady.) It is actually the cathedral of Copenhagen. Aside from the portico the exterior is quite stark and inside it is quite simple too. But it is a beautiful simplicity and it's worth a visit.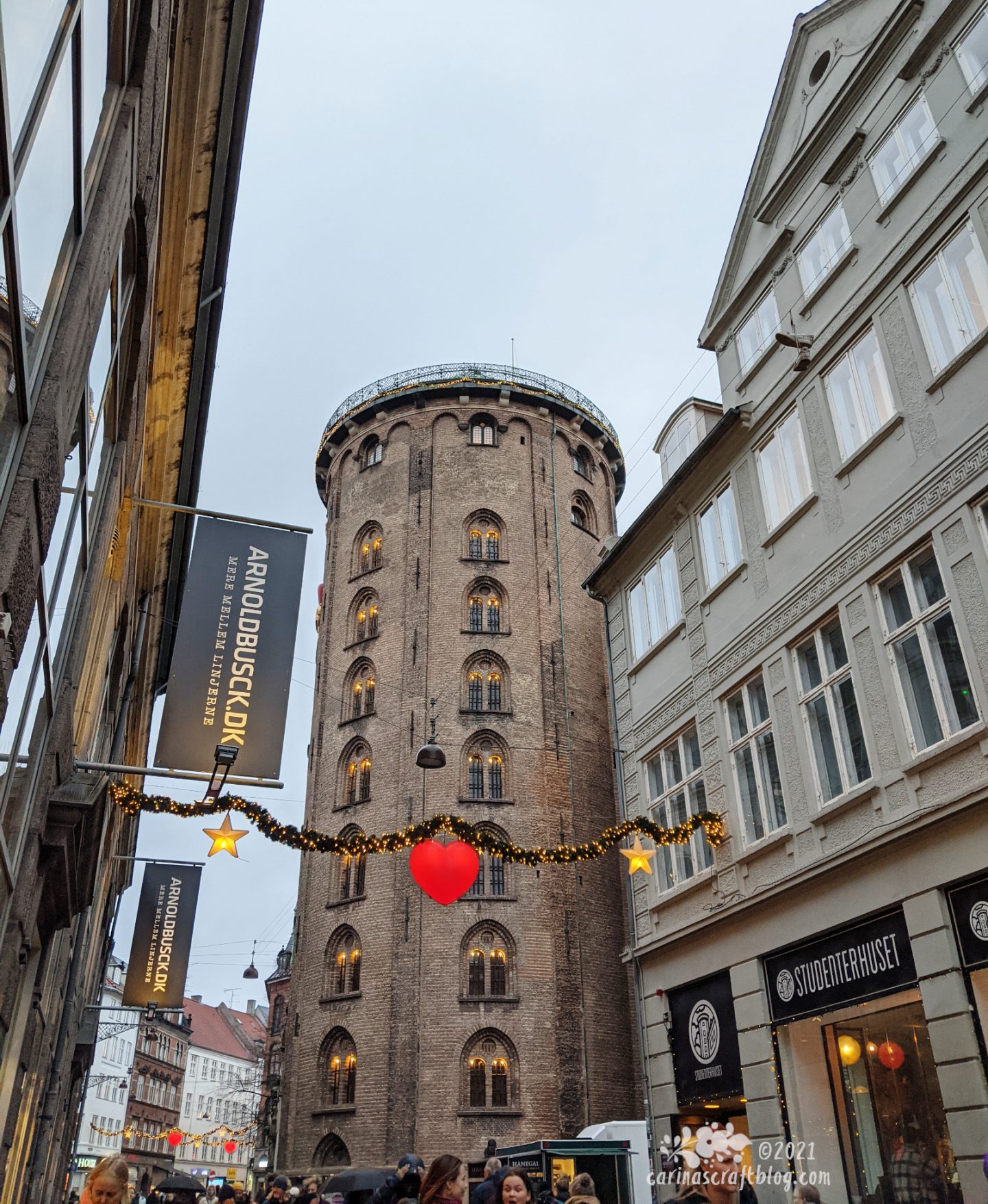 This is Rundetårn, literally the Round Tower. For obvious reasons! This was an astronomy observatory built by King Christian IV. The tower is attached to a church but it was never a church tower. The tower has an equestrian staircase which means that you can ride a horse, or indeed go up in a horse drawn carriage! Apparently Peter the Great rode up the staircase back in the day. :-)
There is a great view from the top of the tower (if you're ok with heights).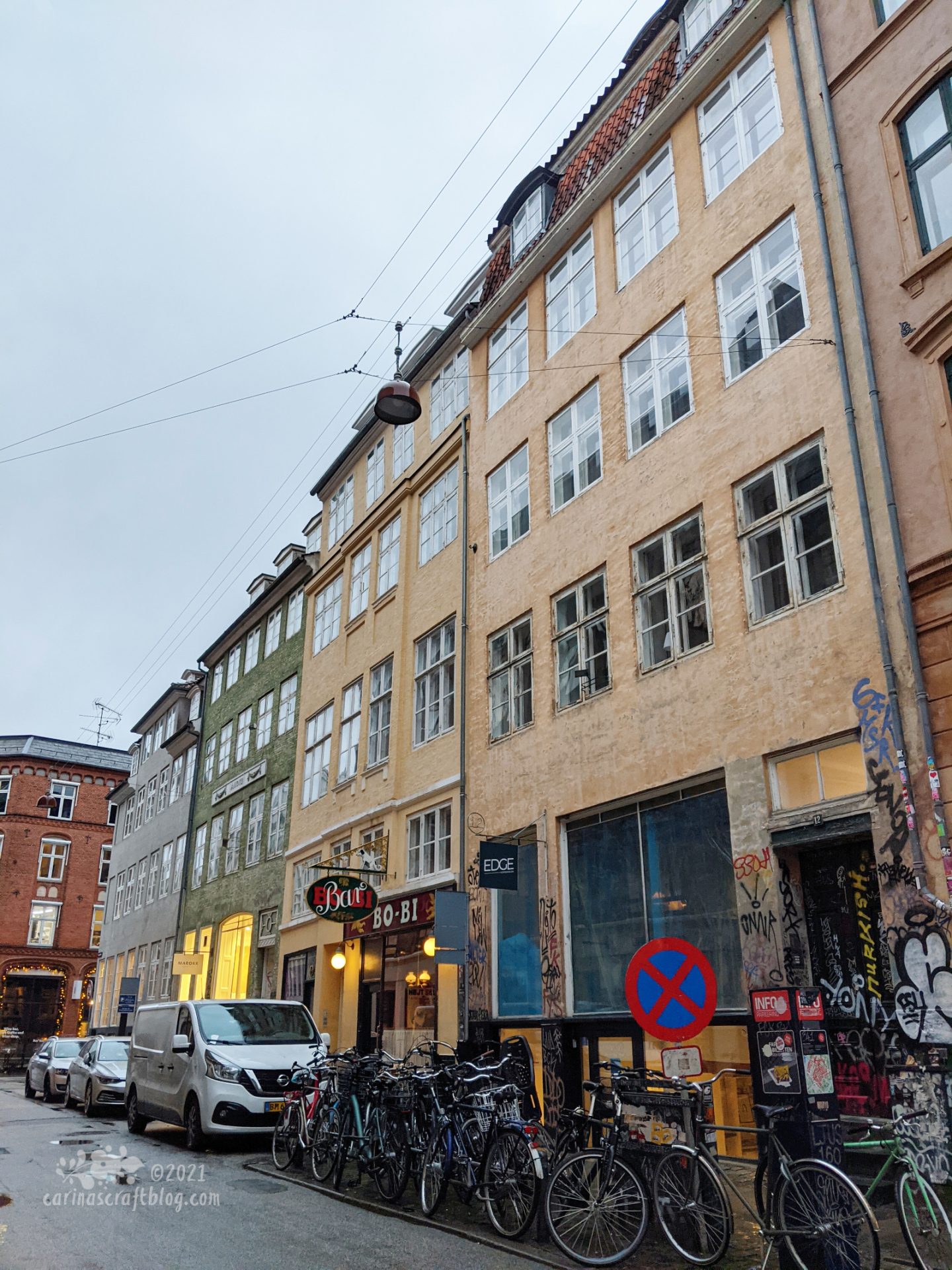 This is just a random street in Indre By (inner city) and it just feels quintessentially Copenhagen to me. The houses, the little shops, the bikes, the graffiti… :-)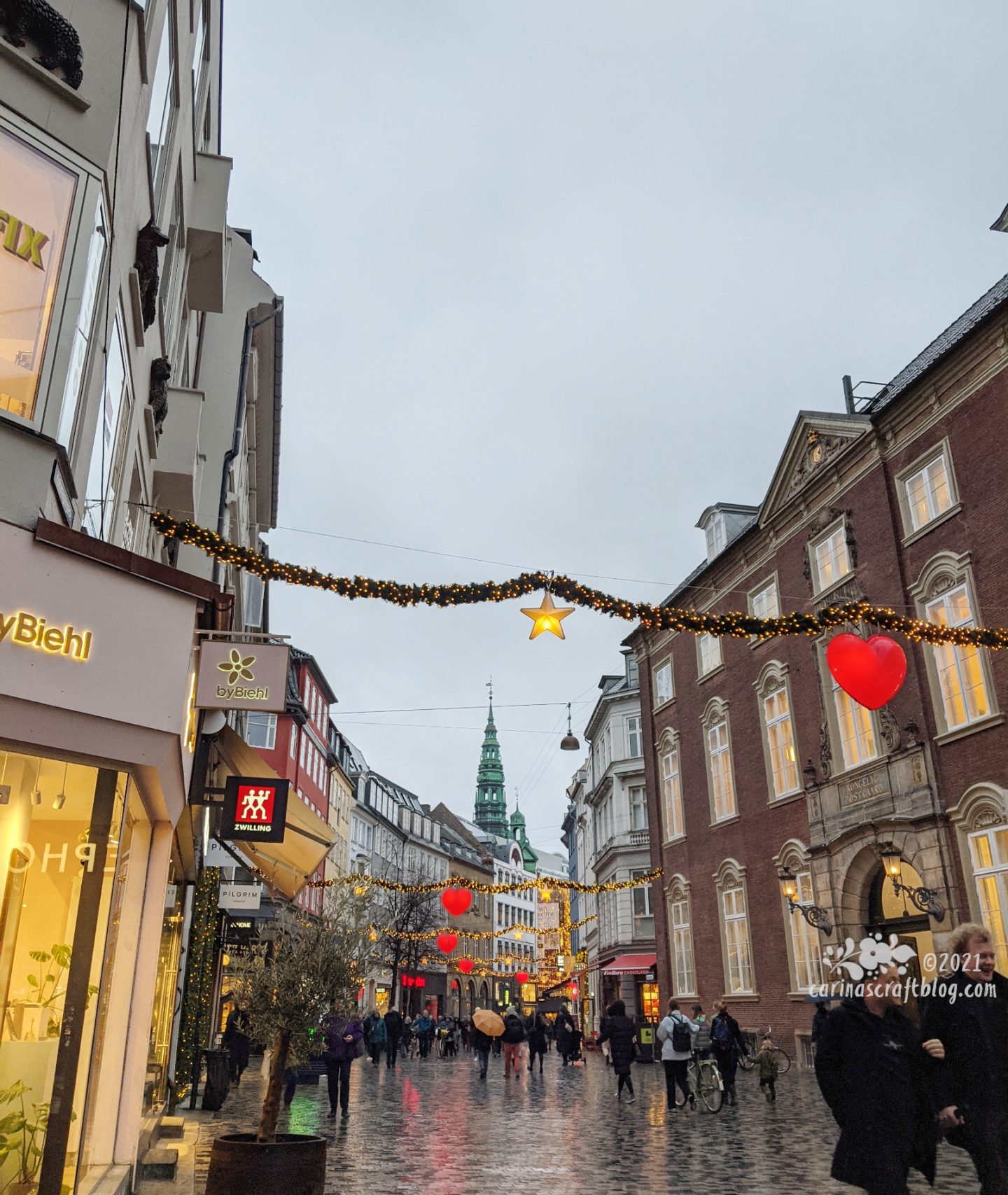 This is in Købmagergade, one of the main shopping streets in central Copenhagen.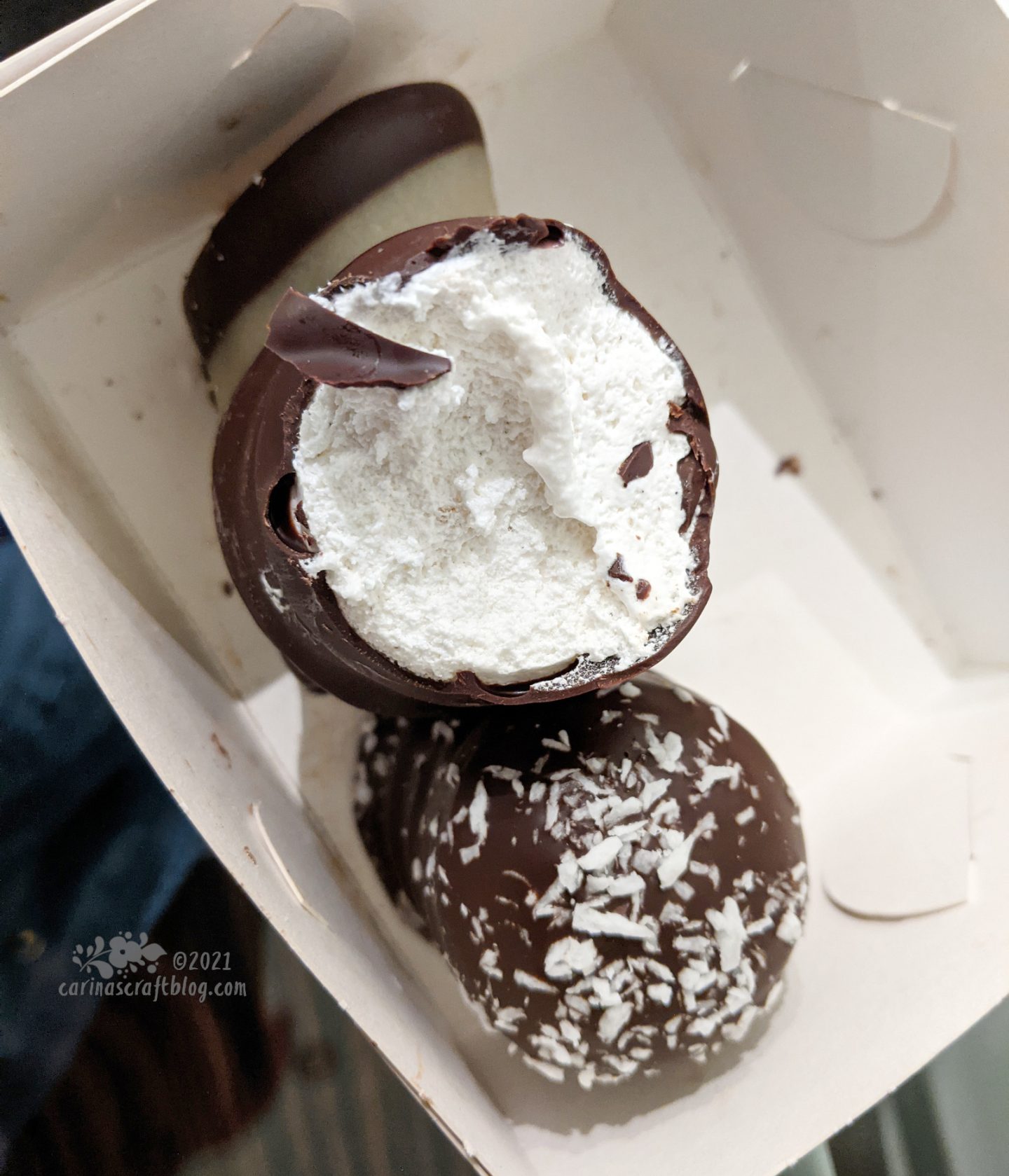 These are flødeboller. They are chocolate covered marshmallows. Only they are not really marshmallows, it is a lot softer and fluffier than marshmallows, more like a sturdy foam. Look, it's difficult to explain!
But I haven't had any flødeboller since I went vegan about ten years ago because they are usually made with egg and milk products. But in Copenhagen there is a small place called Glean which makes vegan flødeboller so obviously I had to visit them and buy a couple.
I ate them that evening in my hotel room and let me tell you, they were delicious! Definitely coming back next time I'm in Copenhagen. :-)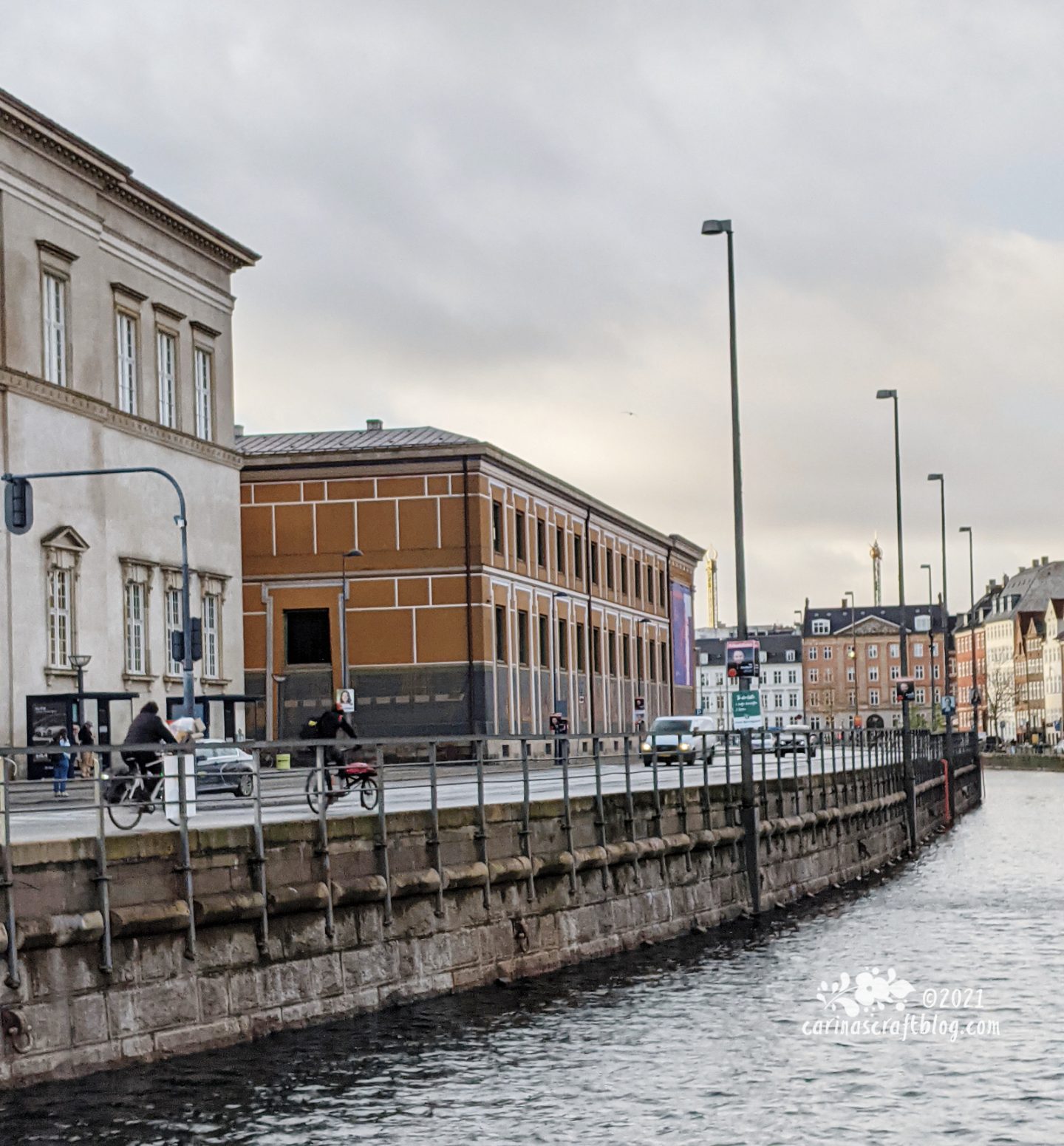 My flight back to the UK wasn't until the early evening so I had some time in the morning to explore. I took the Metro to Gammelstrand and walked across the bridge to Slotsholmen, home of the Danish parliament and also this building in the middle of the picture.
That building is the Thorvaldsen Museum, another of my favourites in Copenhagen.
The museum is dedicated to the work of neo-classicistic sculptor Bertel Thorvaldsen who spent most of his life living and working in Rome (there is even a piazza there named for him). The museum has a collection of Thorvaldsen's works in marble as well as plaster models and Greek and Roman antiques and other things he collected.
The collection is beautiful but so is the building itself. Lots of ceiling frescos and floor mosaics all very much inspired by the finds in Pompeii. Oh and the museum was designed by the father of Thorvald Bindesbøll who is famous for designing the Carlsberg logo which is pretty much unchanged. :-)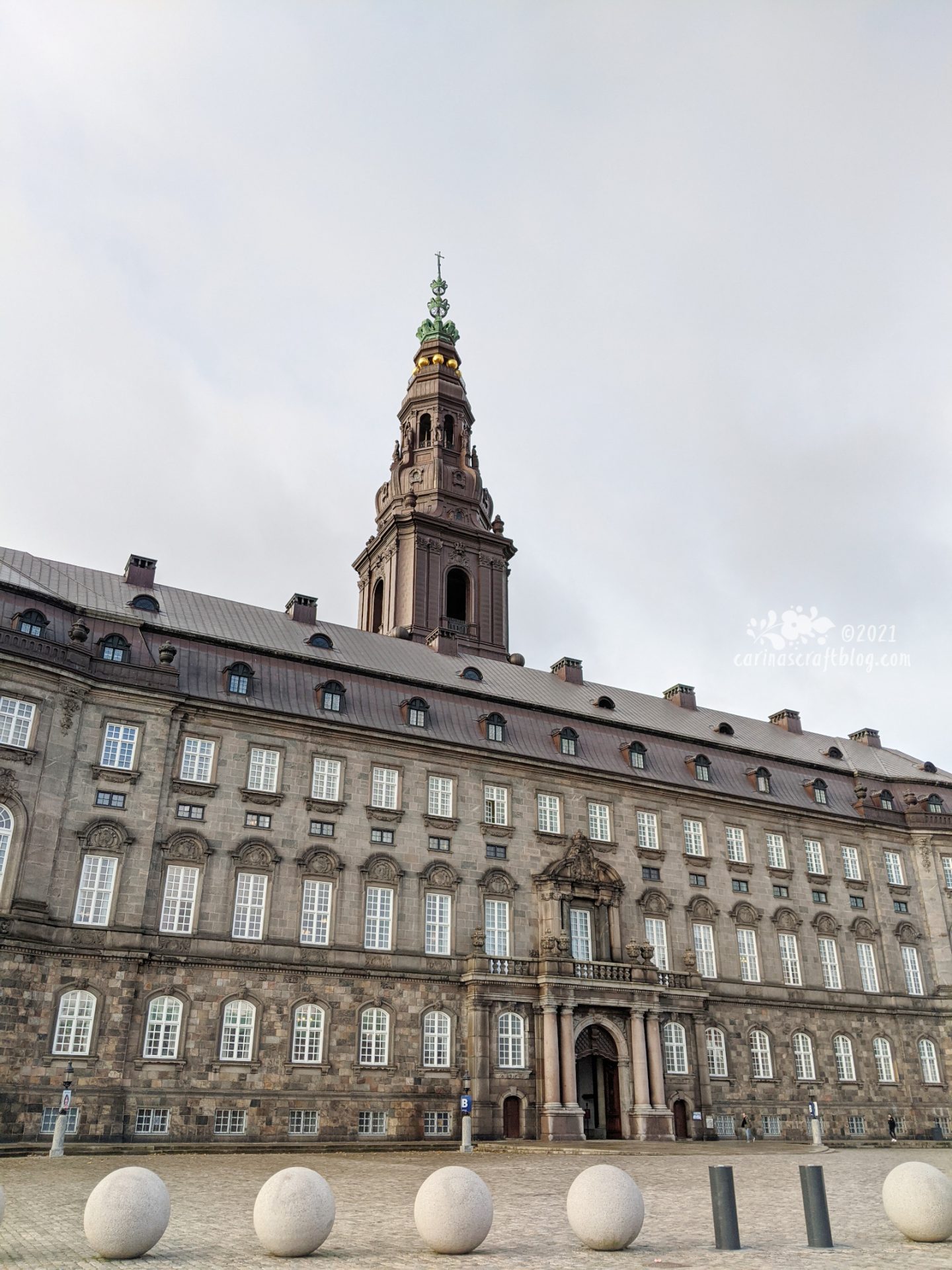 Fans of Borgen may recognise this building? :-)
Yes, it is Christiansborg Palace, the home of the Danish parliament.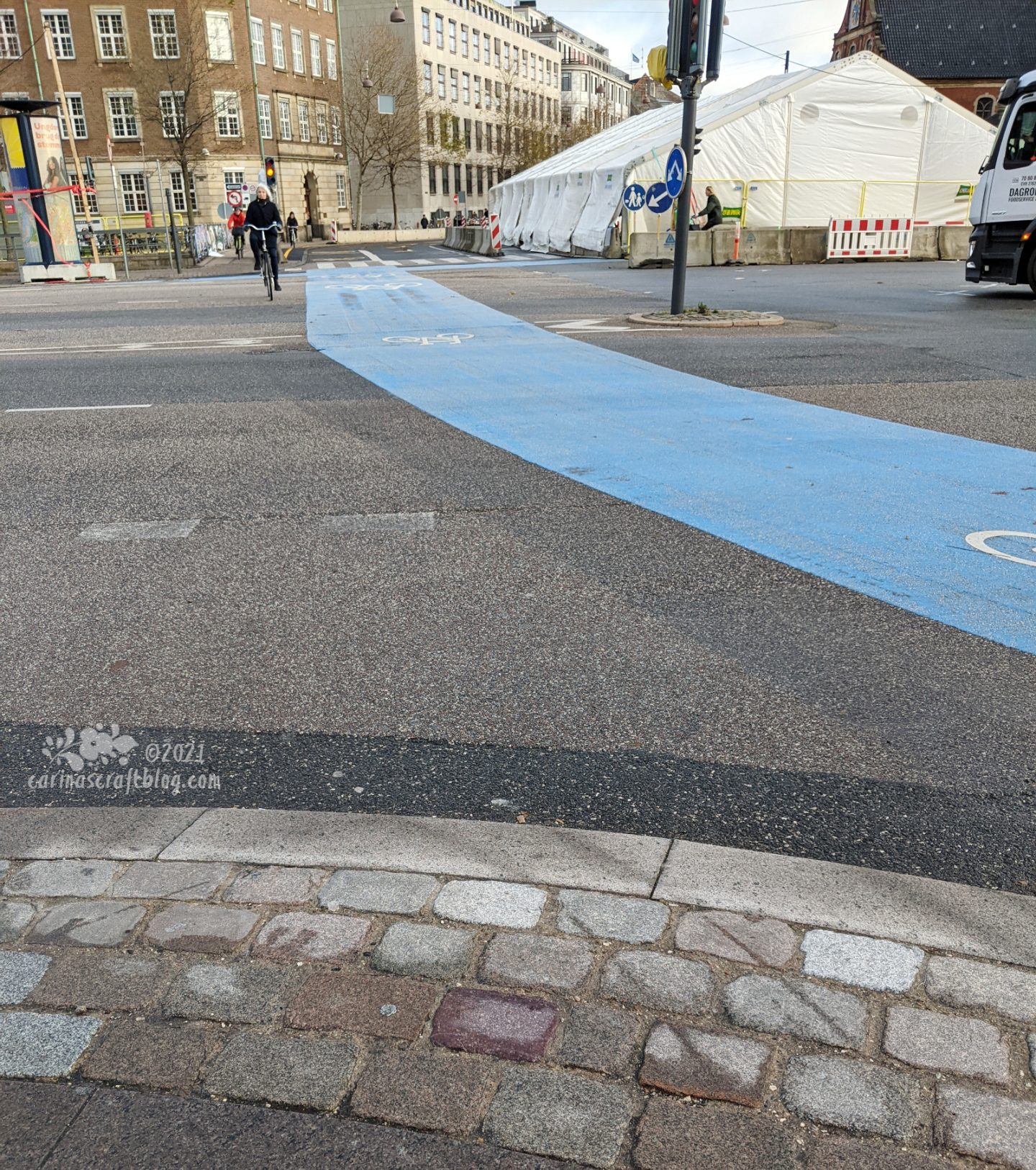 In large/busy junctions there are painted lanes to help cyclists to safely cross them. Which is a very good idea I think. Although that lady in the photo has decided to ignore it! :-D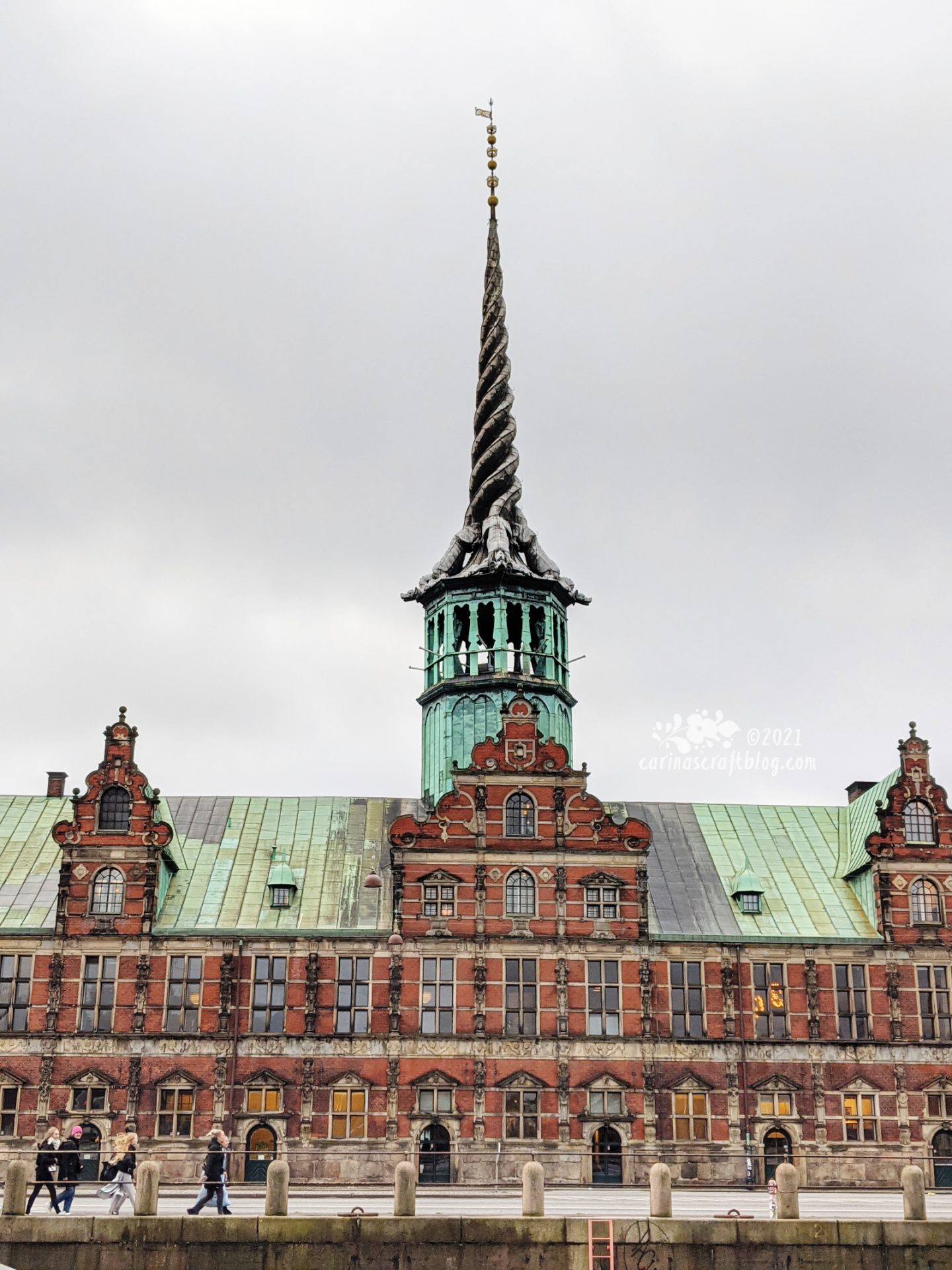 This is Børsen, the stock exchange. It was also built in the reign of King Christian IV. I love this building.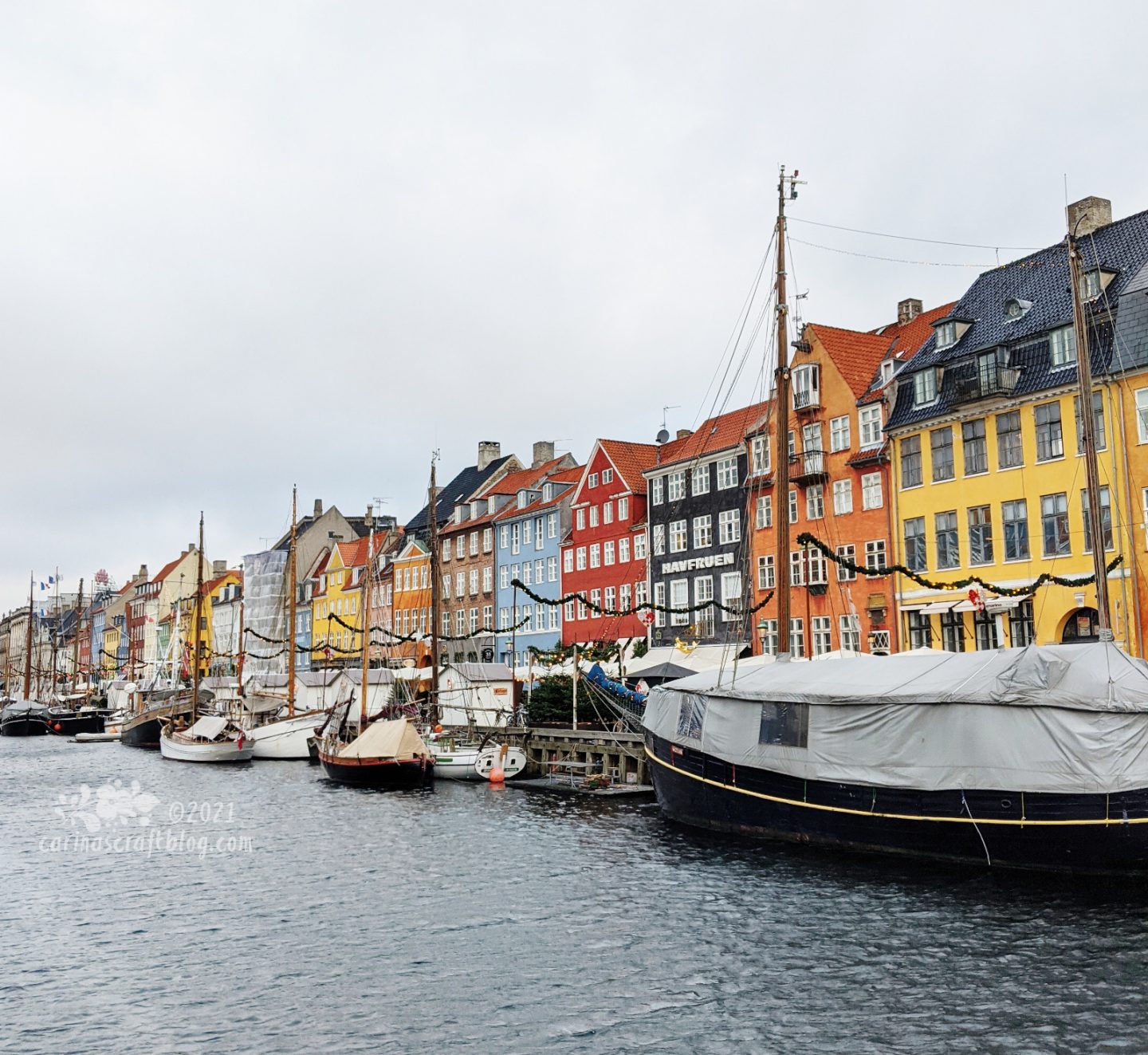 A short walk took me from Børsen to Nyhavn which I bet you have seen pictures of! It is a very tourist-y view of Copenhagen. Everyone takes pictures of it and you can't really blame 'em. It is so colourful and picturesque. :-)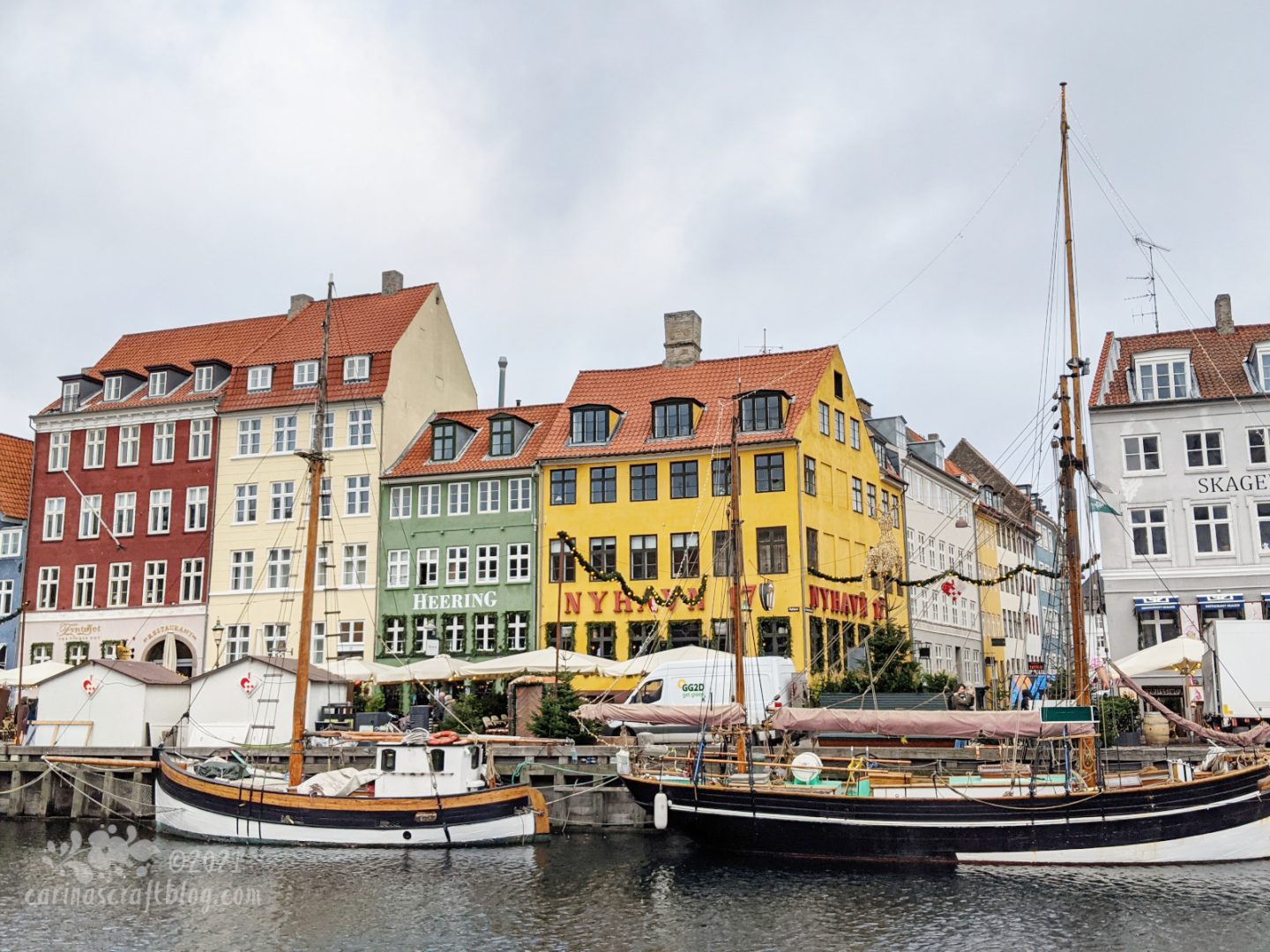 All those colours, so pretty.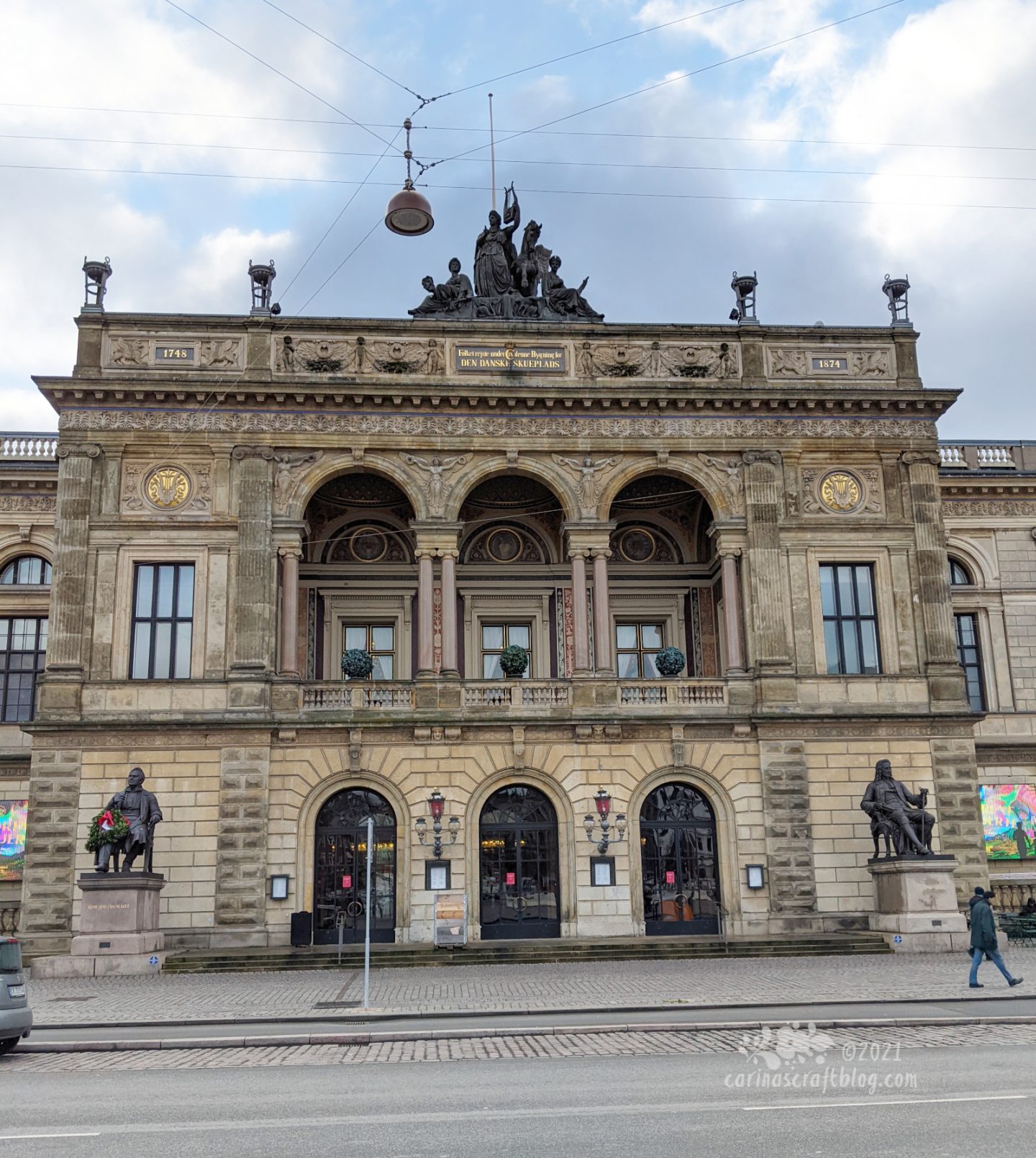 Nyhavn is right by Kongens Nytorv (The King's New Square) where you find Det Kongelige Teater (The Royal Theatre).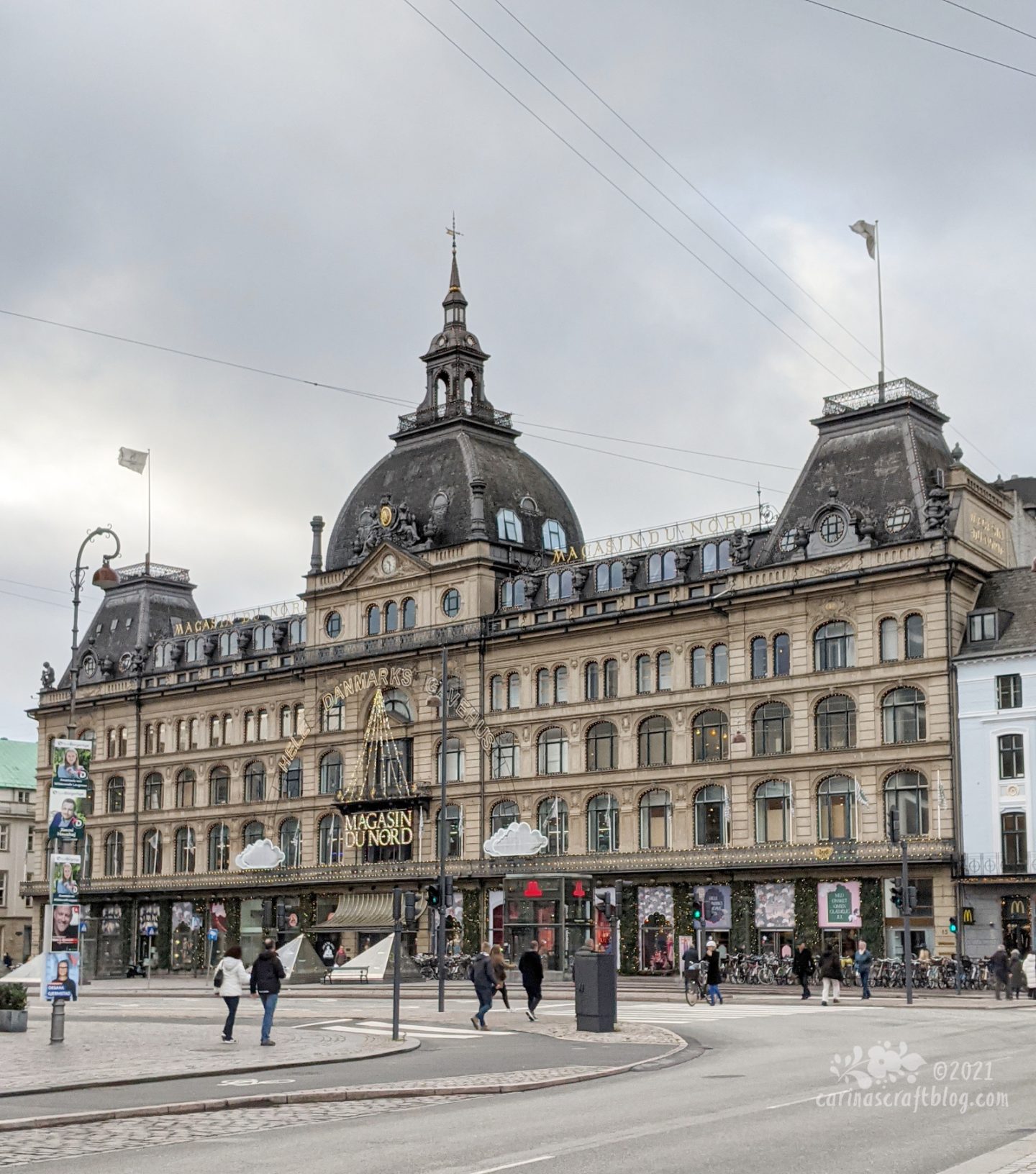 In Kongens Nytorv you also find Magasin du Nord, the fanciest department store in all of Denmark. It may not be as big or as posh as Harrod's in London but if you find yourself in Copenhagen with some serious cash to spend, this would be a good place to start. :-D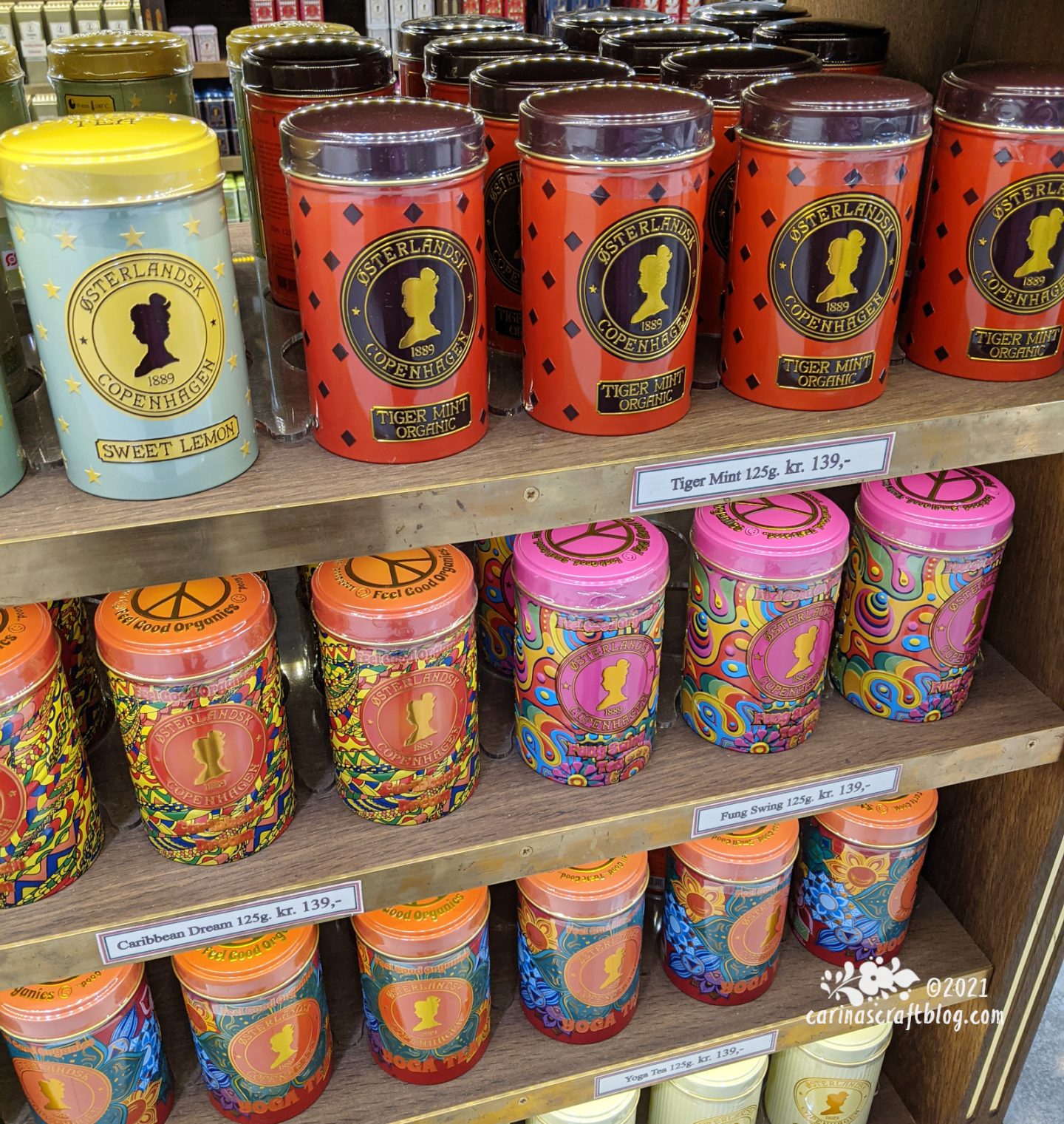 You could for example buy some tea in funky coloured tins.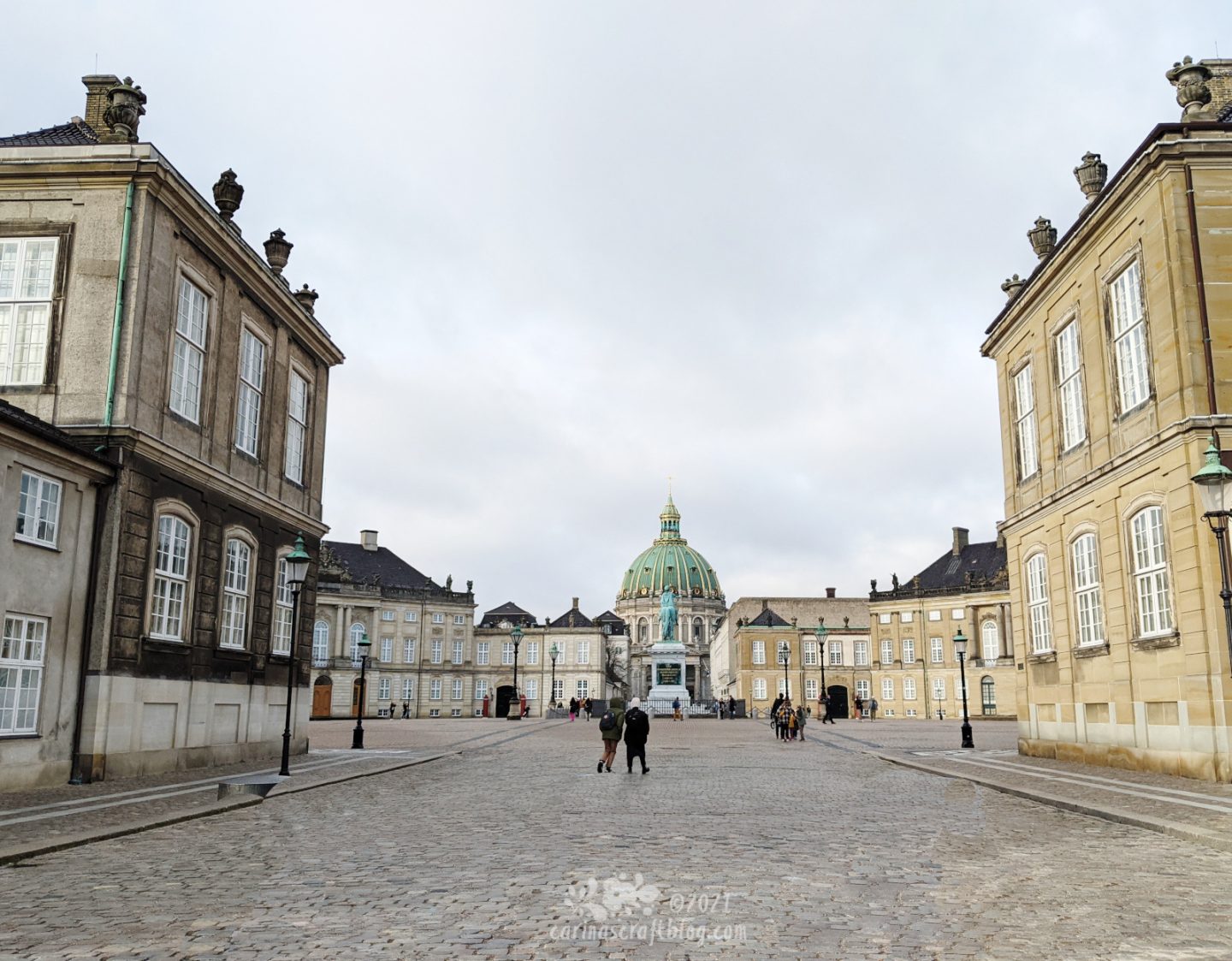 Another short walk from Kongens Nytorv took me to Amalienborg. This is where the Danish Queen lives when she's in Copenhagen. She only lives in one of the four mansions, the others are used for various state functions. And I think the Crown Prince and his family uses one of the mansions.
I really like how the plaza is open to people on foot or on bikes.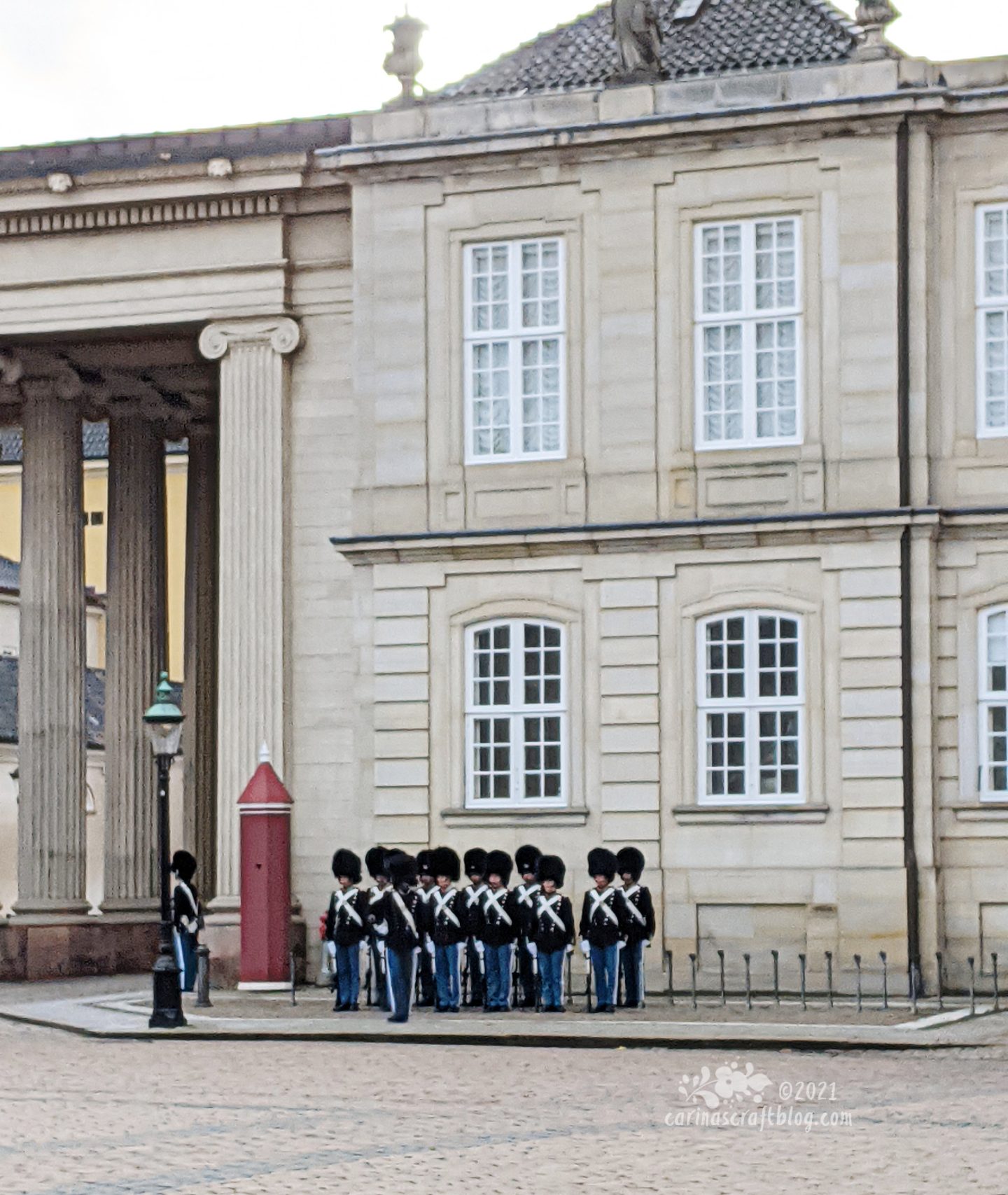 But make no mistake, the Queen is well protected by Livgarden! I did a couple of sketches while I hung around waiting for the changing of the guard at noon. It turned out it wasn't a day where it was accompanied by a band so I decided to leave before they finished. Too cold to stand around!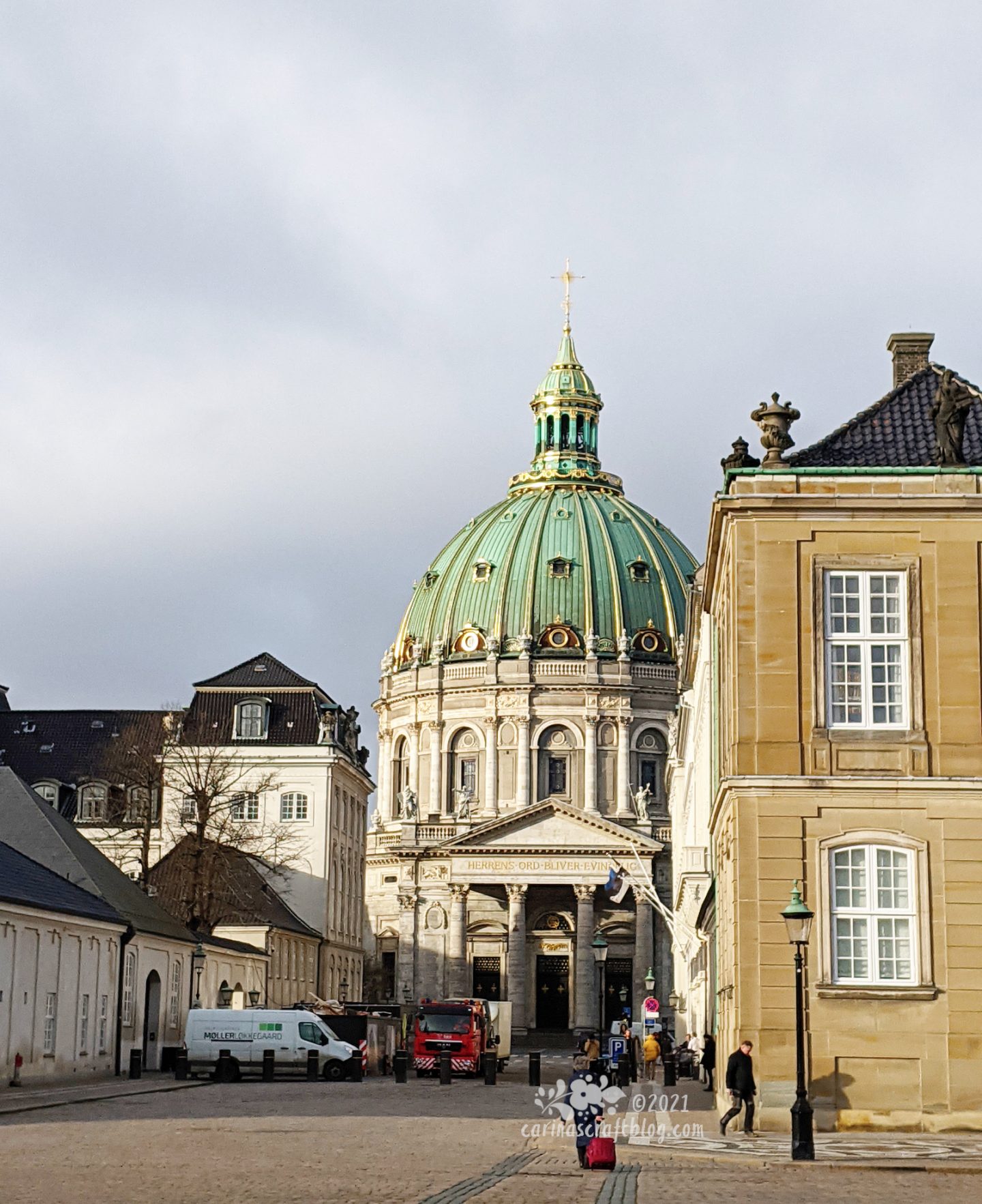 This is the Frederikskirke (Frederik's Church) but everyone calls it Marmorkirken (the Marble Church) and that is also the name of the Metro stop next to it.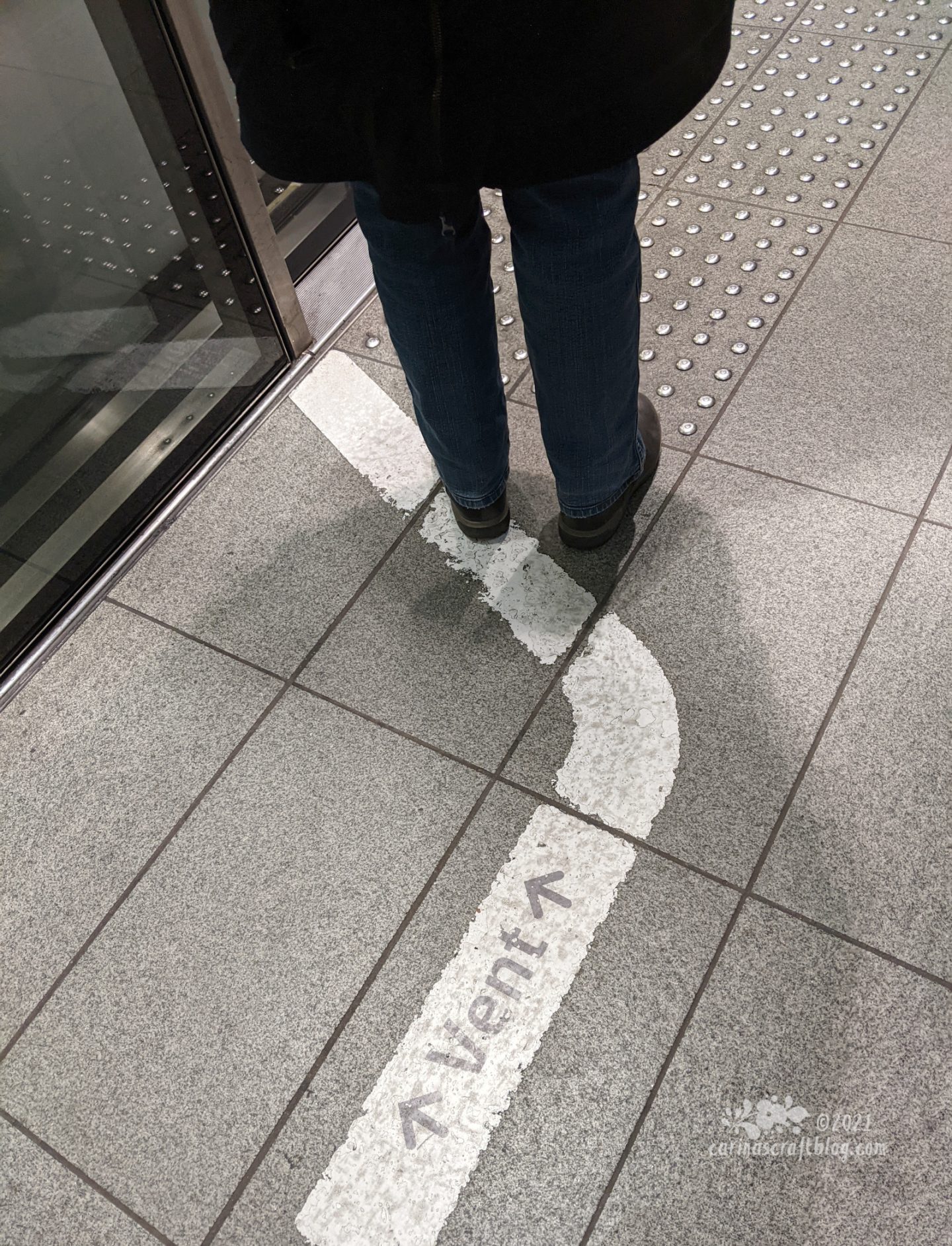 Speaking of the Metro. It made me chuckle that there are these markings by the doors to the Metro trains to tell people to wait at the side. Like they don't know how to get on and off a train? :-D (Vent = wait.)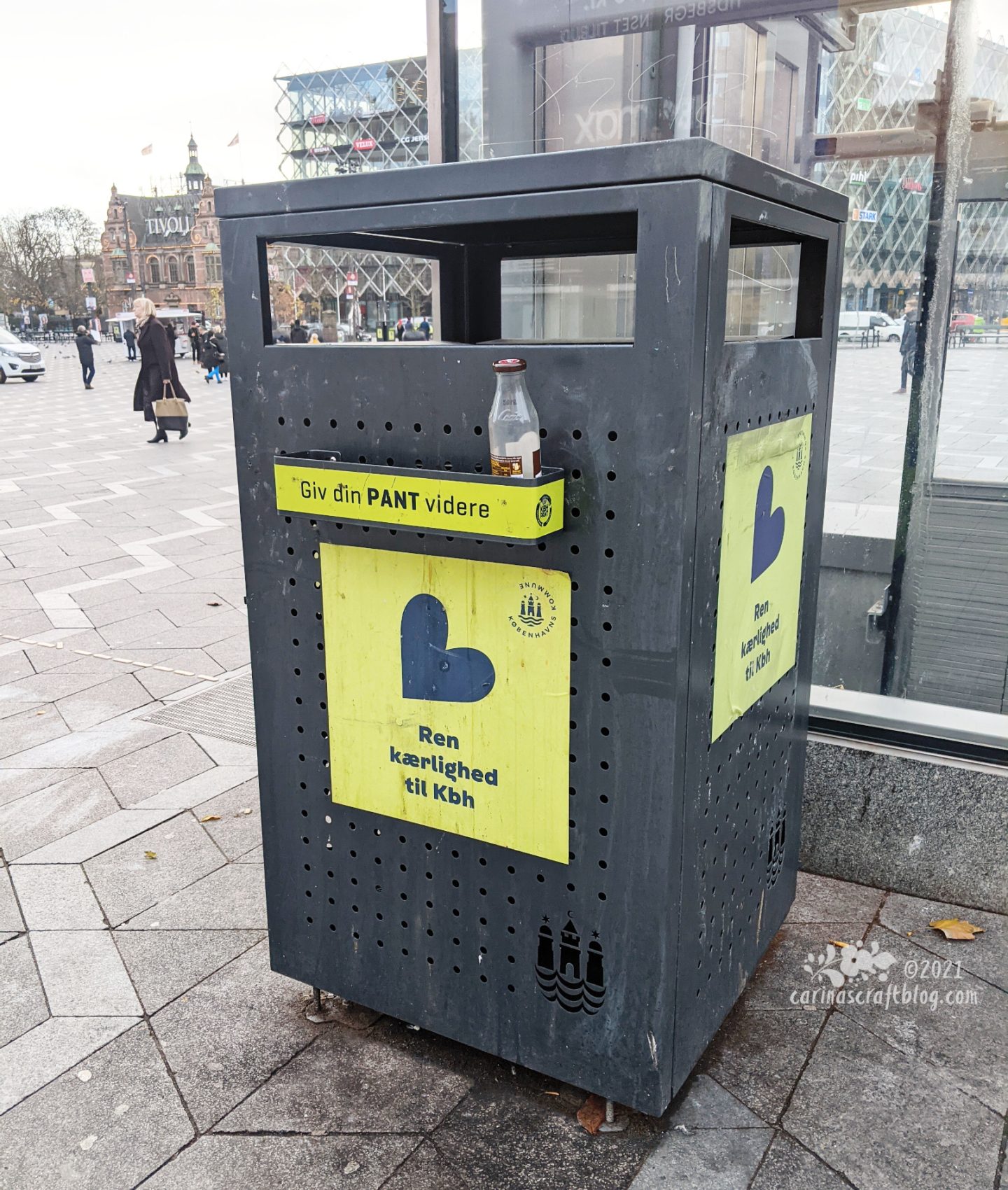 I had noticed several bins had a small rack attached to it and when I saw this it finally dawned on me what they were for!
So, in Denmark you pay a small fee (called pant) every time you buy a bottled drink. This is to get people to recycle the bottles and not just throw them away. After all, you wouldn't throw money in the bin, would you? You get the money back when you return it to a machine made for this purpose. There is a machine in most supermarkets. You get a voucher which you can use to pay for your goods in the supermarket or you can get it changed for cash.
Well, some people can't be bothered to carry around an empty bottle until they can take it home or to a supermarket so they do get thrown in the bin. As far as I know, most of those do still get recycled. But houseless people will look for the bottles in the bins, which makes sense; if you have very little money, the pant money comes very handy!
Rummaging through rubbish is obviously not the most fun thing to do, and can probably be unsafe too. And that's where the racks come in: someone who can't be bothered to carry the empty bottle will put it in the rack and someone else can pick it up without having to rummage through the rubbish.
Such a neat solution! The text on this particular rack, Giv din pant videre, means something like 'pass on your bottle fee'.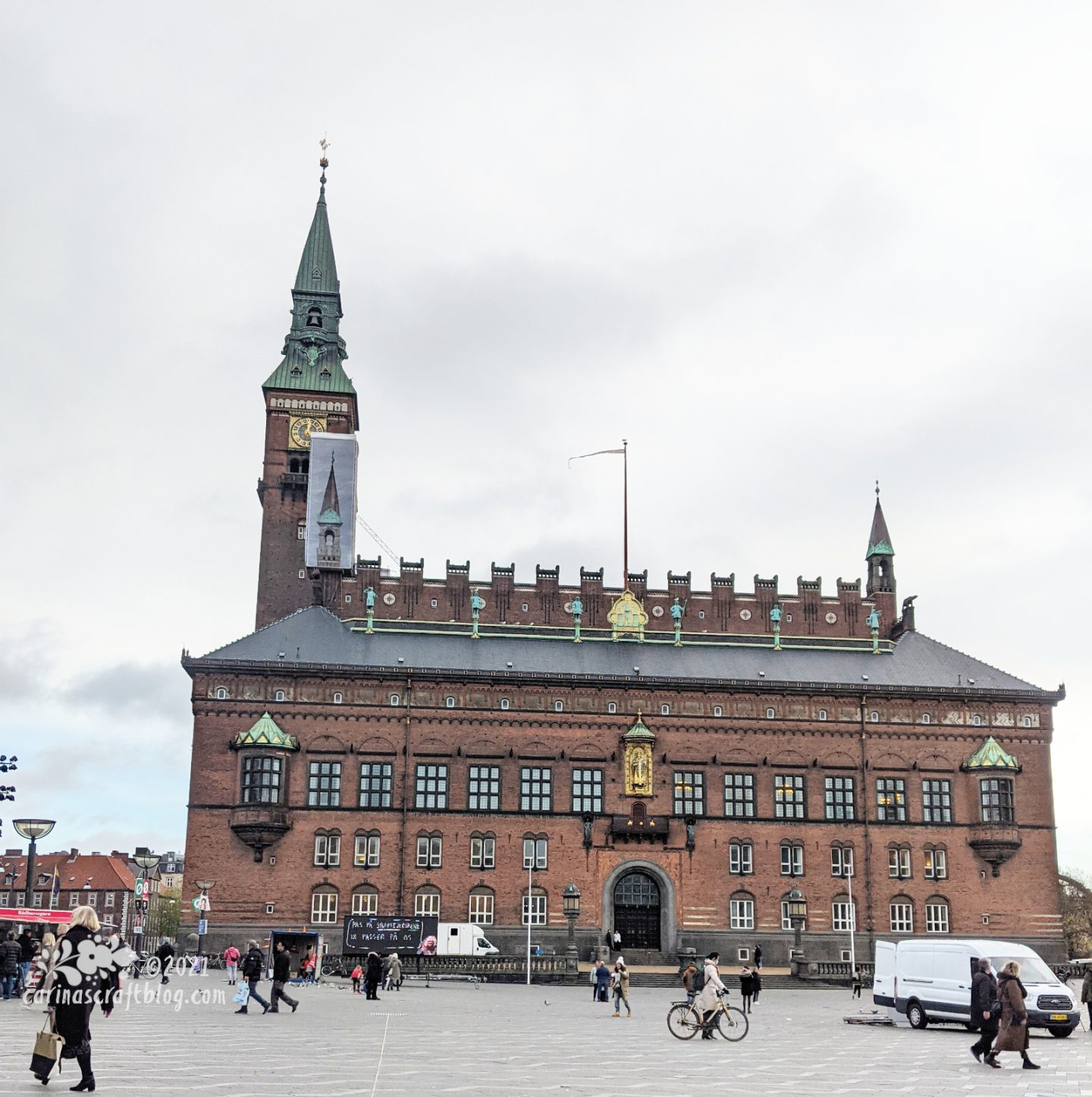 The Town Hall in Copenhagen.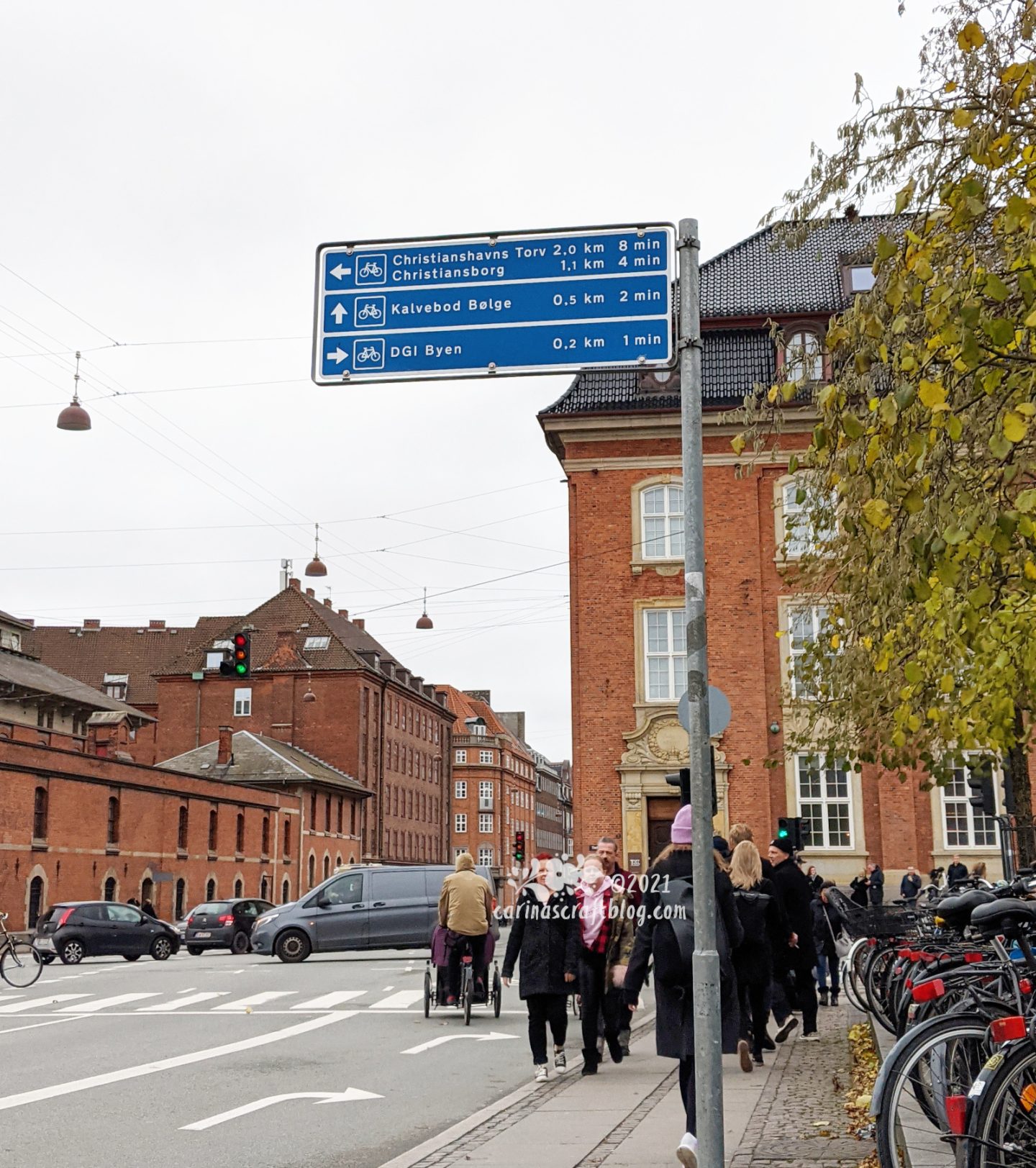 One more bicycle related photo: street signs that tell you how far a destination is and how long it will take to get there by bike.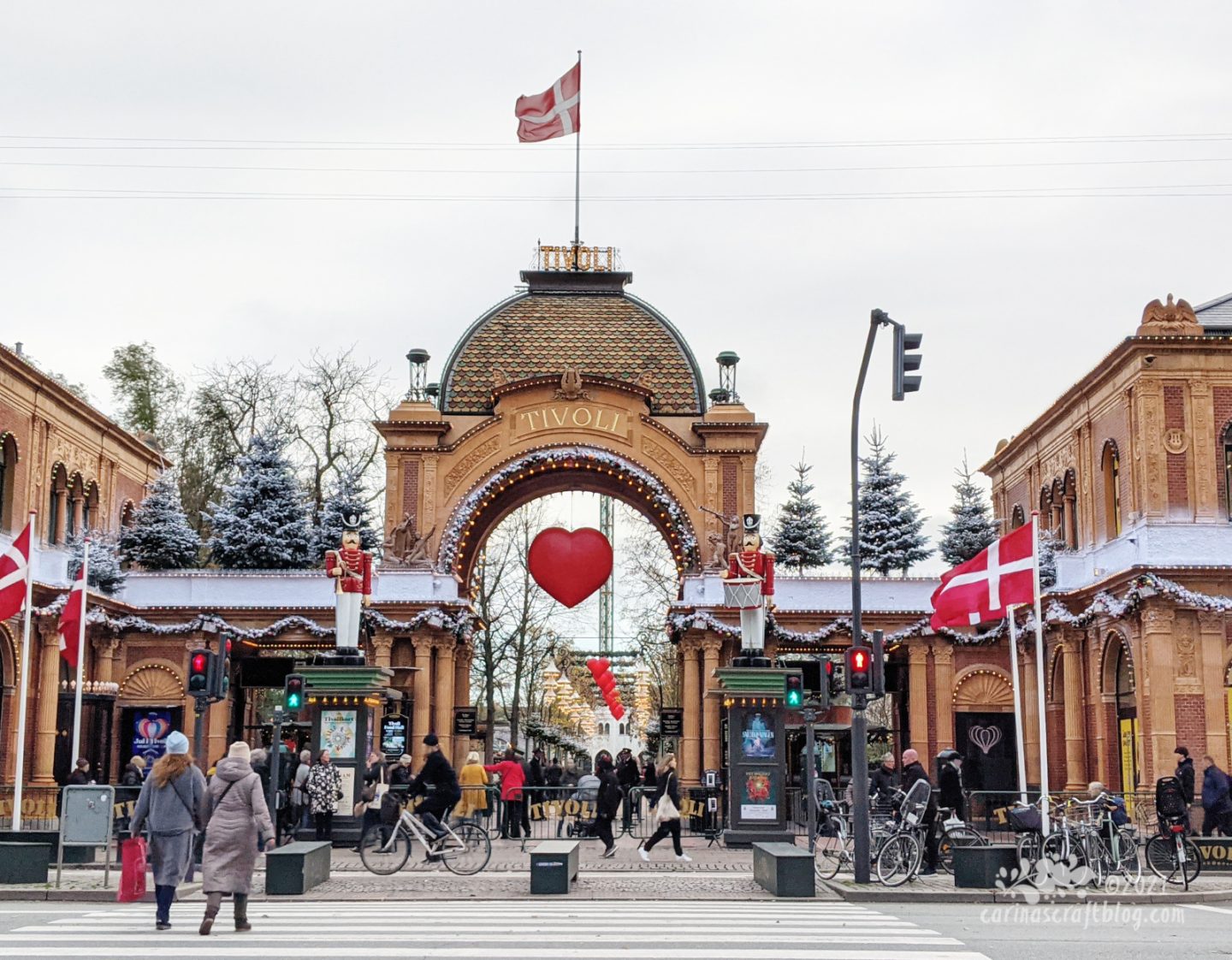 And finally, the entrance to the Tivoli amusement park, all decorated for Christmas.
I hope you enjoyed this virtual trip to Copenhagen! :-)