Last week I was in Denmark!! I arrived almost exactly 22 months since I was last there. It was SO good to be back. To see my parents and my friends and familiar buildings and buying Danish foods. And to be honest, I sorely needed a break from the UK. It was so nice to turn on the news and not seeing the buffoon currently occupying No 10 or his corrupt cronies.
Anyway! I thought I'd share some pictures of Denmark with you. I think I'll split them in two since my trip was kind of in two parts. Today we'll start in my hometown of Århus (or Aarhus as they spell it these days to make it easier for tourists and international business, although the spelling doesn't help with the pronunciation! ;-D )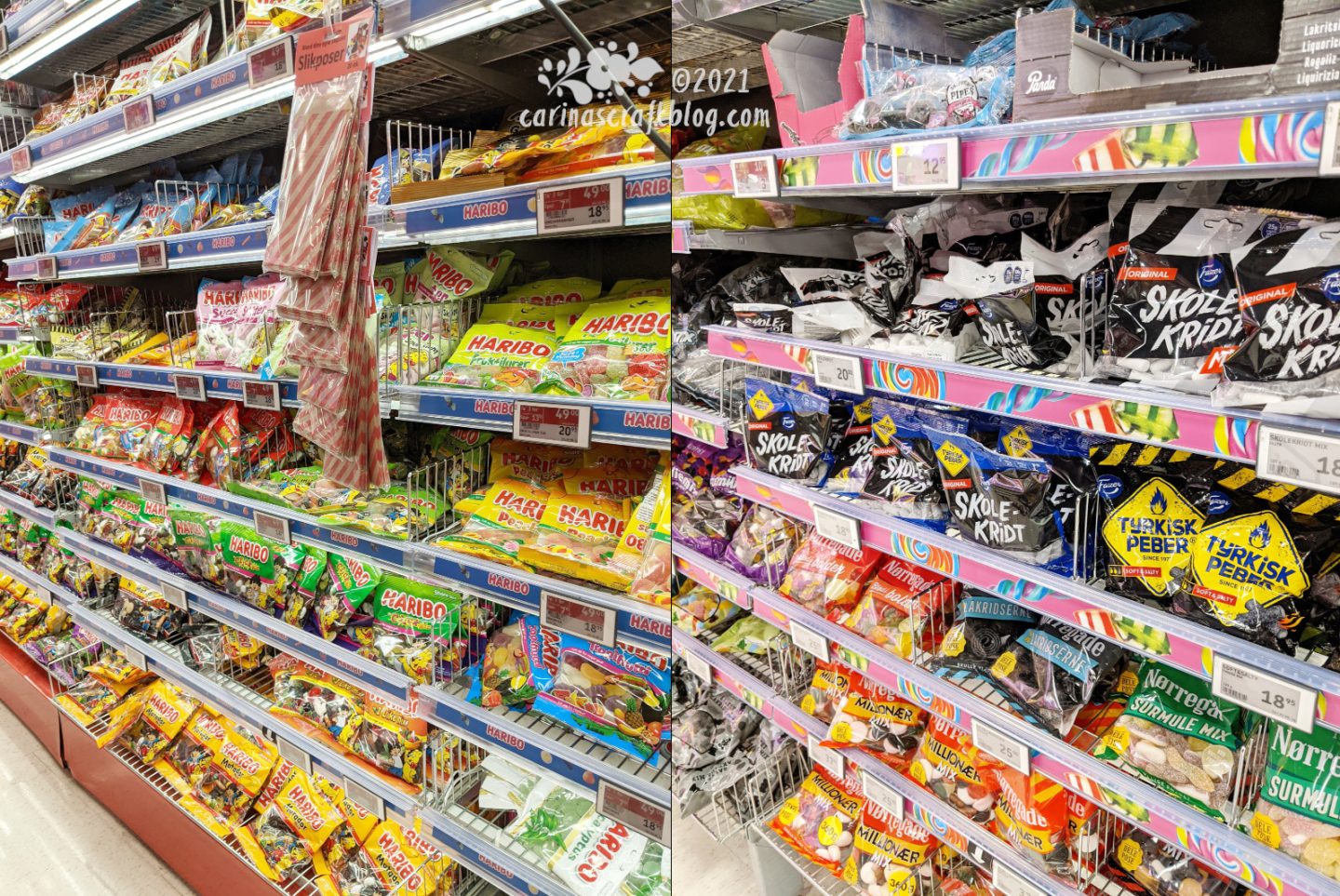 First I had to do a bit of shopping: liquorice sweets, pålægschokolade, the world's best pita bread, marzipan and various treats for Tony. As you can see on the left, people in Denmark really like Haribo sweets! This wasn't even all of it. :-D
We Danes also REALLY like salty liquorice. There are many different kinds. Soft ones, boiled sweets, some with filling or coatings. Mmmm…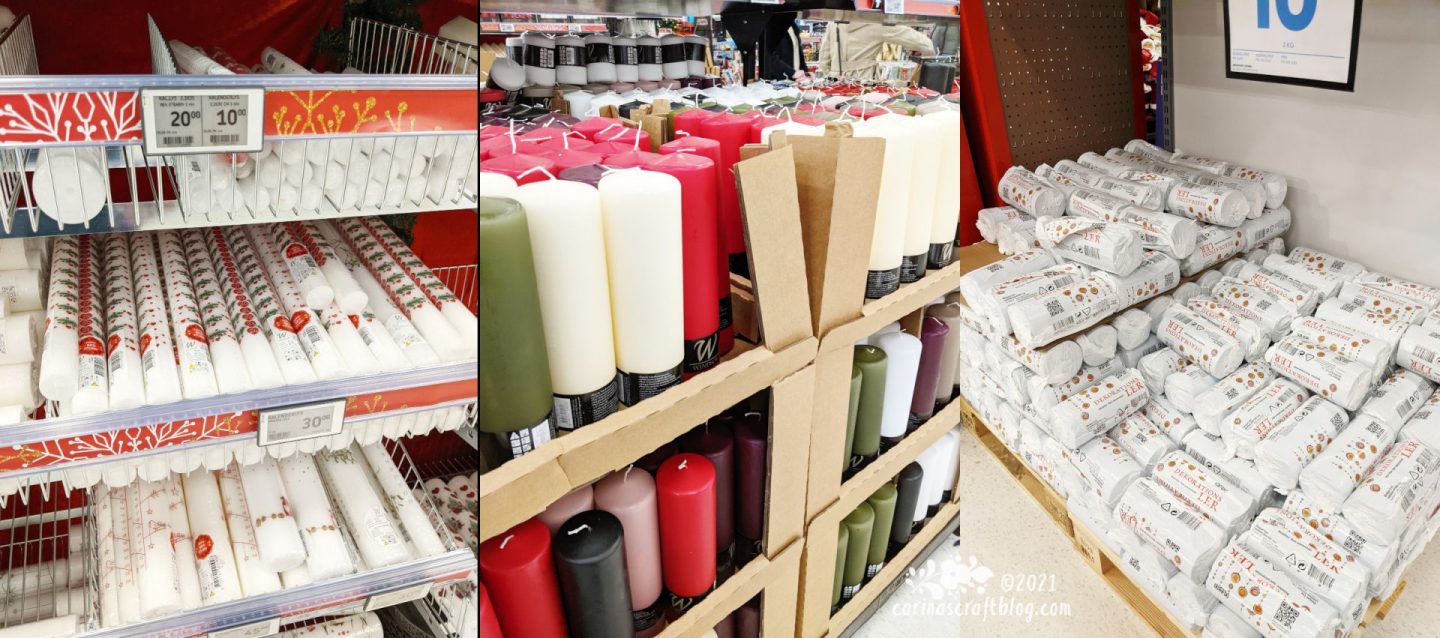 Candles are A Big Deal in Denmark all year round. You can't spell hygge without candles! In December the candle dial gets turned way up! Most people have some type of advent calendar candle, like the ones on the left. The skinny ones are the traditional ones. But there are lots of different ones. Pillar advent candles, tapered triangular ones.
In December a lot of people make juledekorationer, 'Christmas decorations', using candles. Usually it is a pot or bowl where you put a block of clay. You stick a candle into the clay and then you decorate the clay with various fir branches, pine cones, dried orange slices, baubles and other things.
The decorations can be made with the calendar candles or just any old candle. Usually they are made with the large pillar candles so they will last longer. Because you can't re-do a decoration once the clay is dry. The decorations can also be larger so they will accommodate four pillar candles to count down the four Sundays in Advent.
It is not uncommon for kids to make the juledekorationer at school to bring home.
In November and December pretty much every supermarket sells packs of clay for people to use in their dekorationer. It is not clay that is suitable for making pottery! :-) People will often go to the local forest and forage for the pine cones etc to use in the dekorationer, ending the excursion with warm glögg and æbleskiver. :-)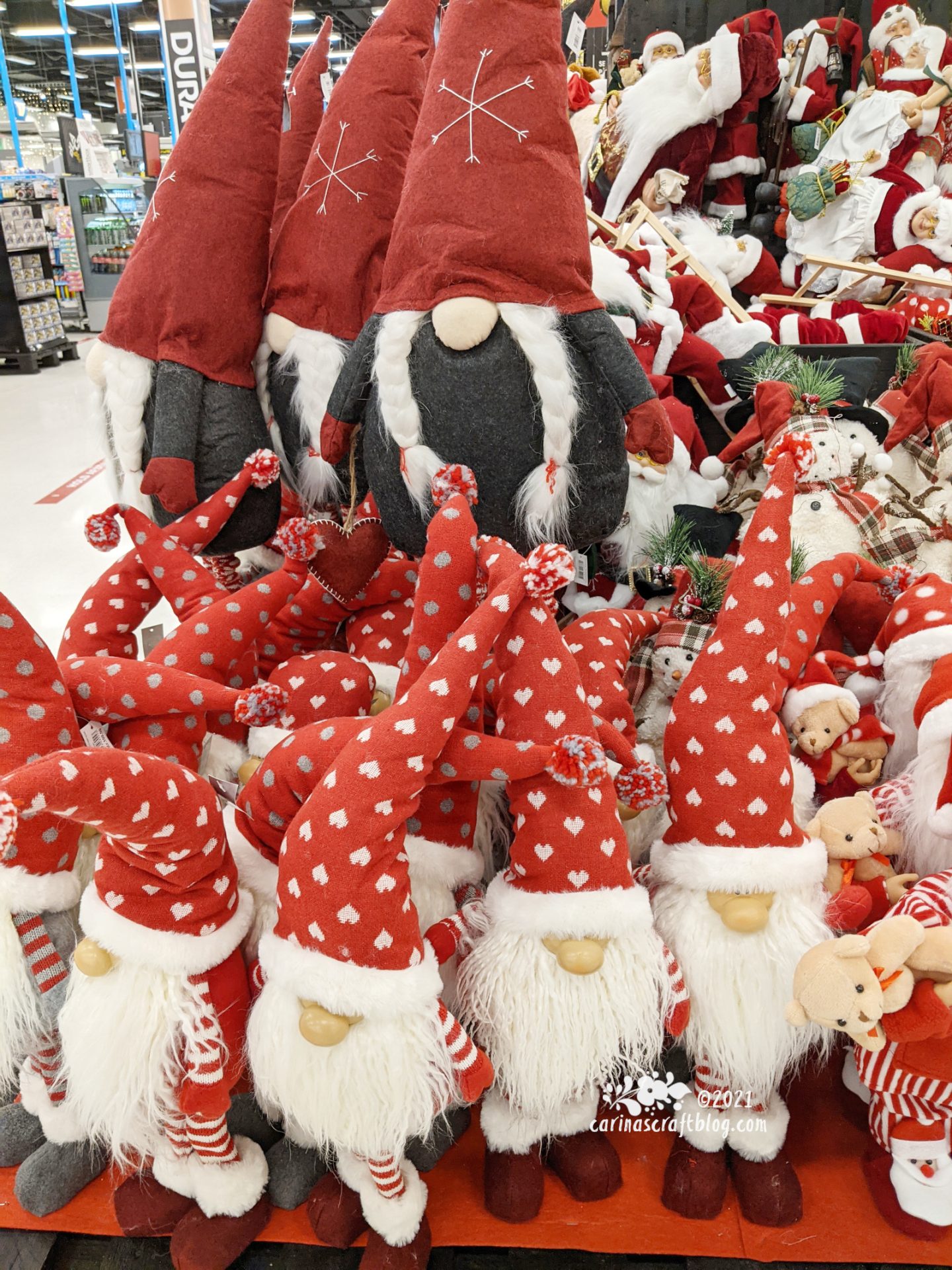 Nisser are a big deal in Denmark too. I have seen nisse translated as pixie or gnome but really they are neither. A nisse is the embodiment of the spirit of a place, usually a farm. And it was important to keep a good relationship with the resident nisse or he would get up to all kinds of mischief like ruining the milk or getting the corn wet. On Christmas Eve people put a bowl of rice porridge out for the nisse to keep him sweet. :-)
You can of course buy made-in-China nisser of all sizes and shapes in most shops in November and December! ;-)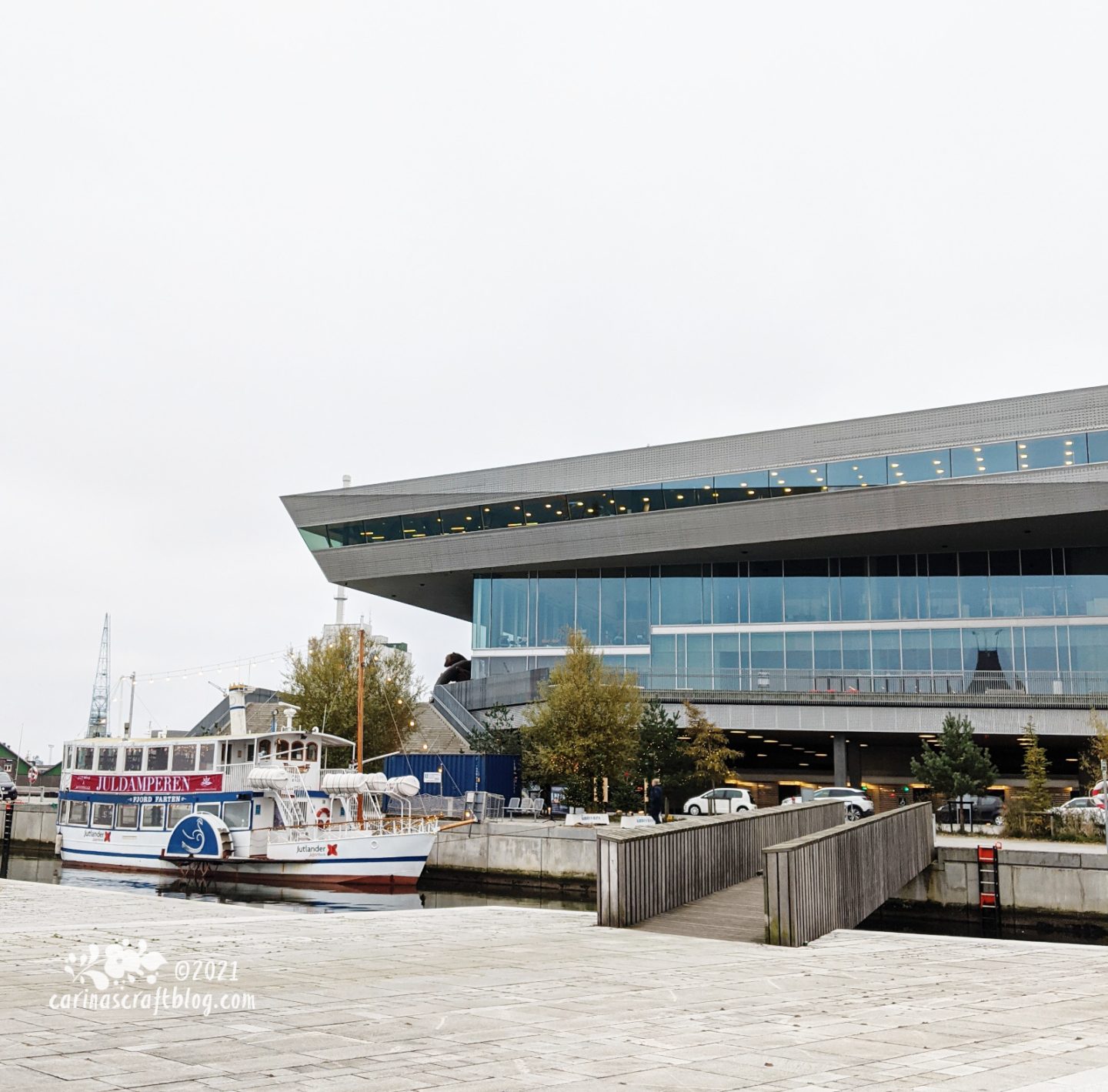 Anyway. I spent a whole day wandering around in Århus, taking pictures and making a few drawings too. This is the recently built main library in Århus. It is also a culture centre and it is right by the harbour.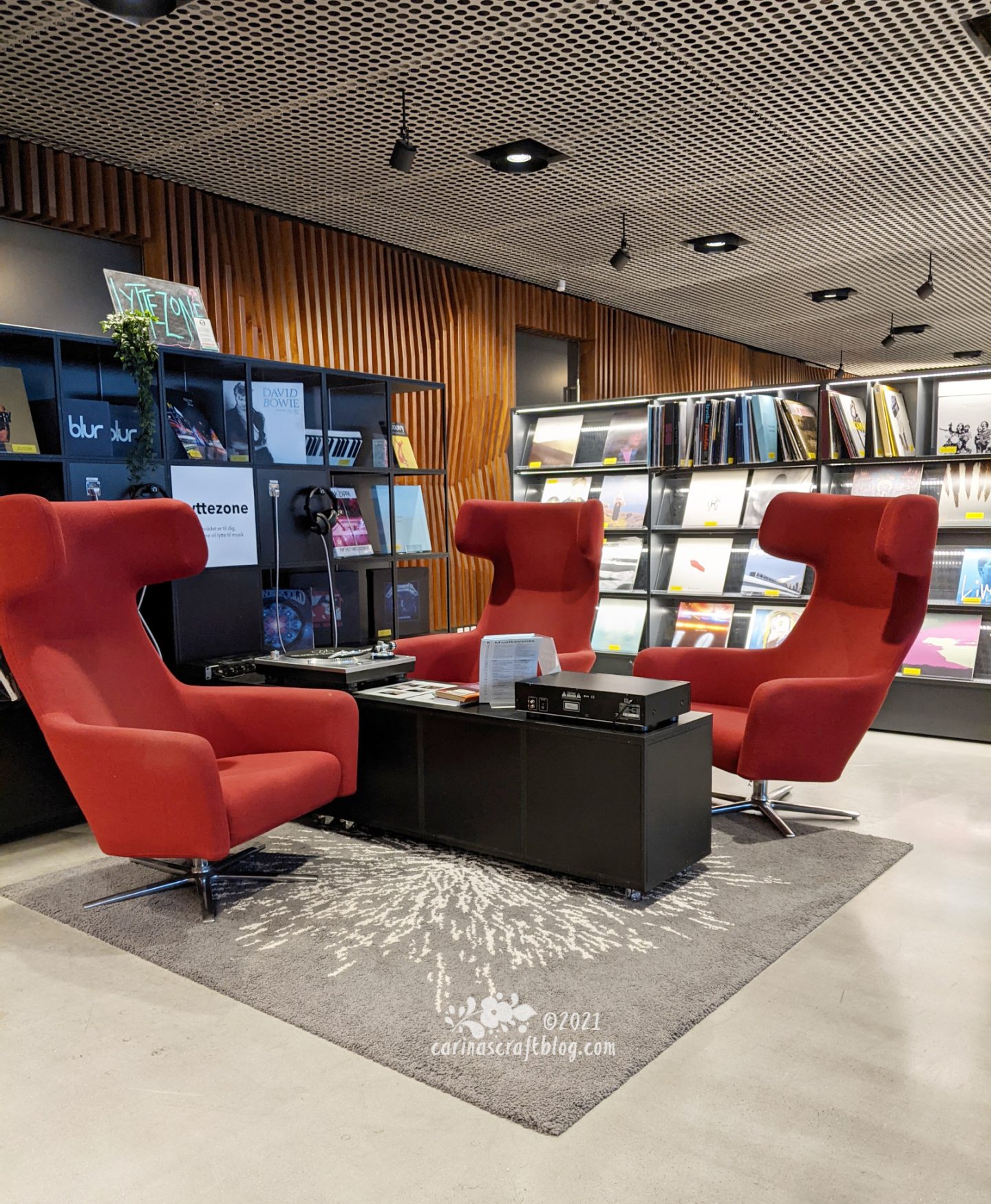 You can of course borrow books at the library but there are also plenty of places where you can just sit and read, or, in this case, listen to records. Doesn't it look cosy? :-)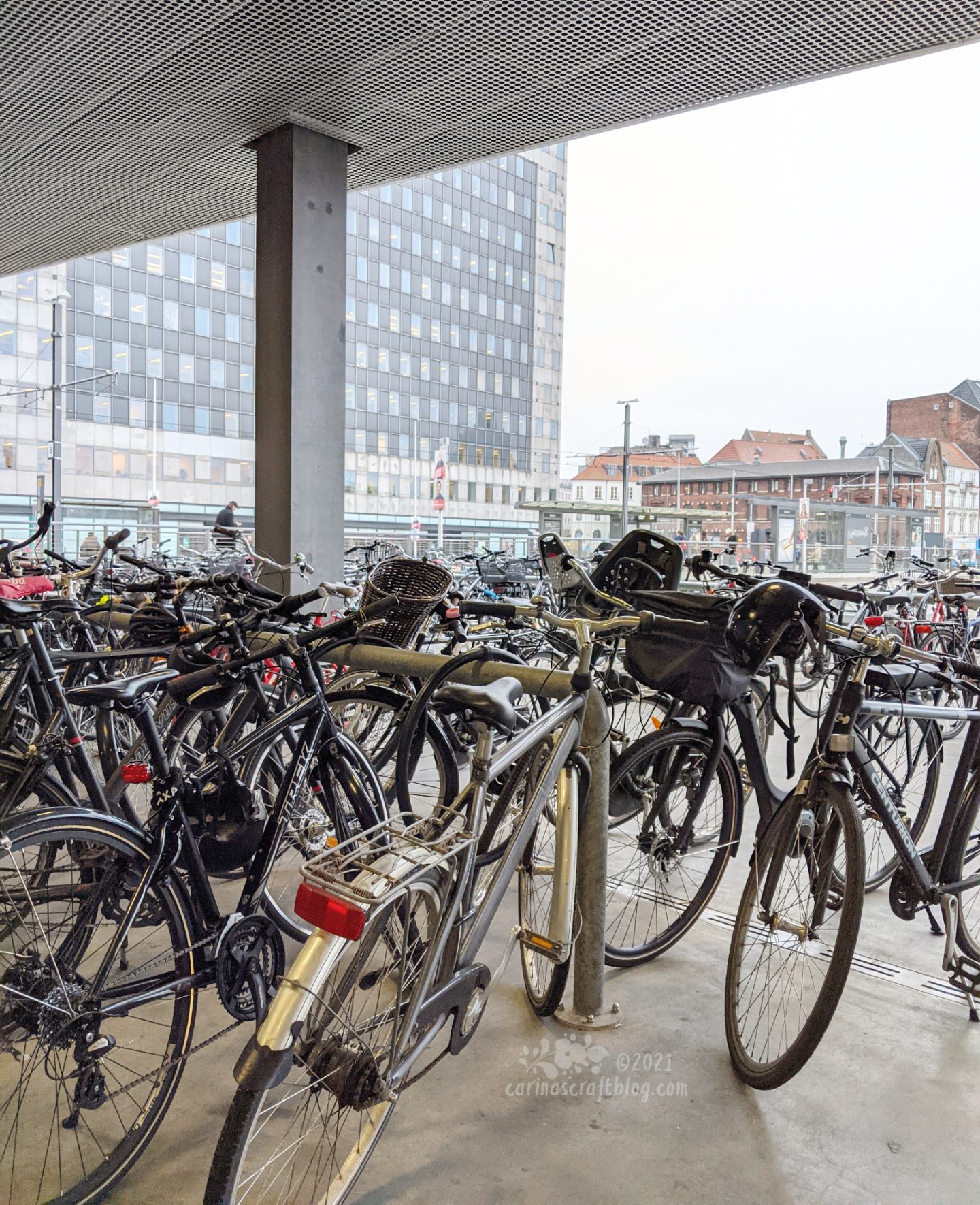 I had to include a picture of bicycles! :-)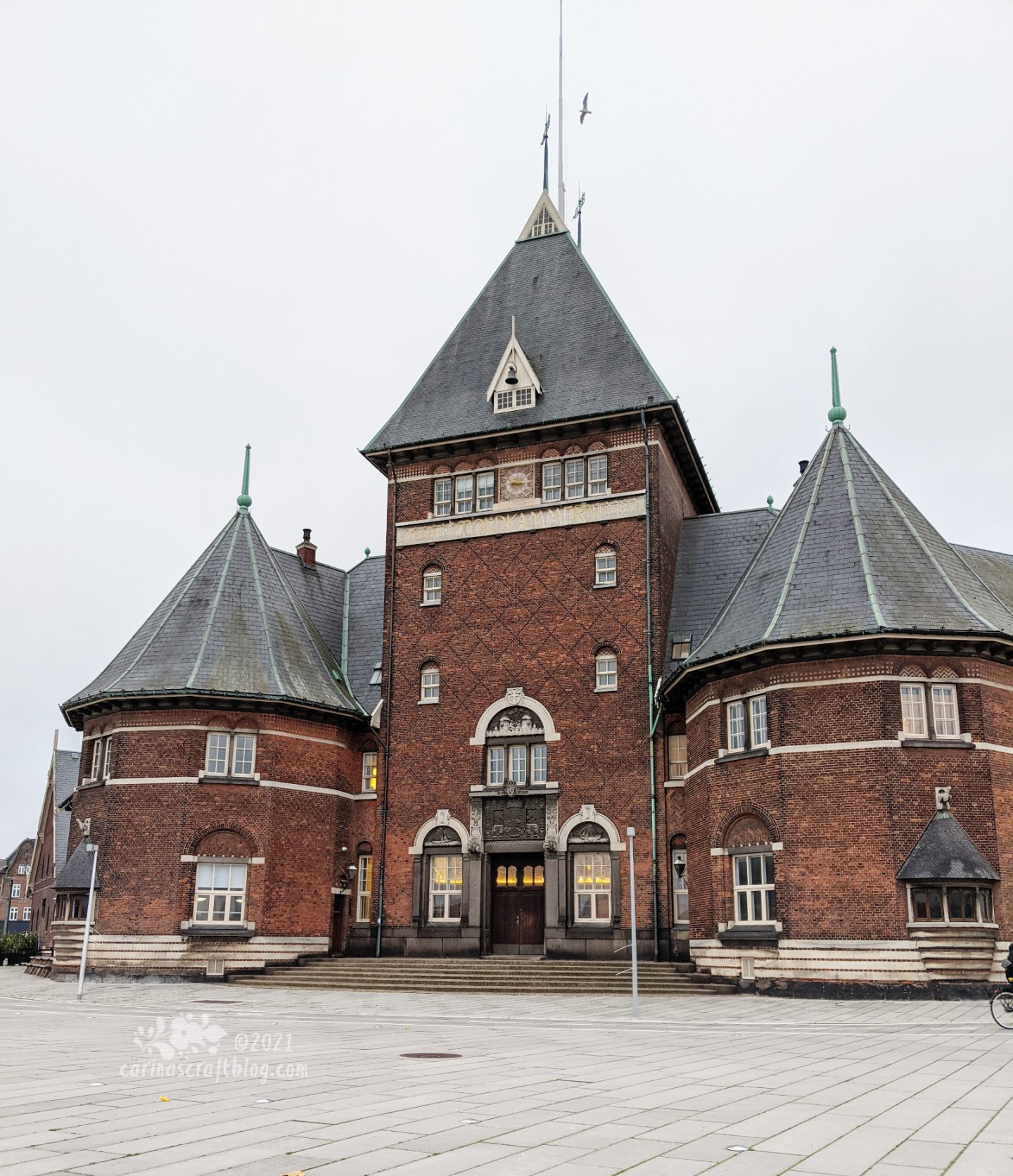 This is the old customs building in Århus. It is right next to the library. It is a beautiful building. A real landmark in Århus. I think at one point there was talk about tearing it down but thankfully it wasn't!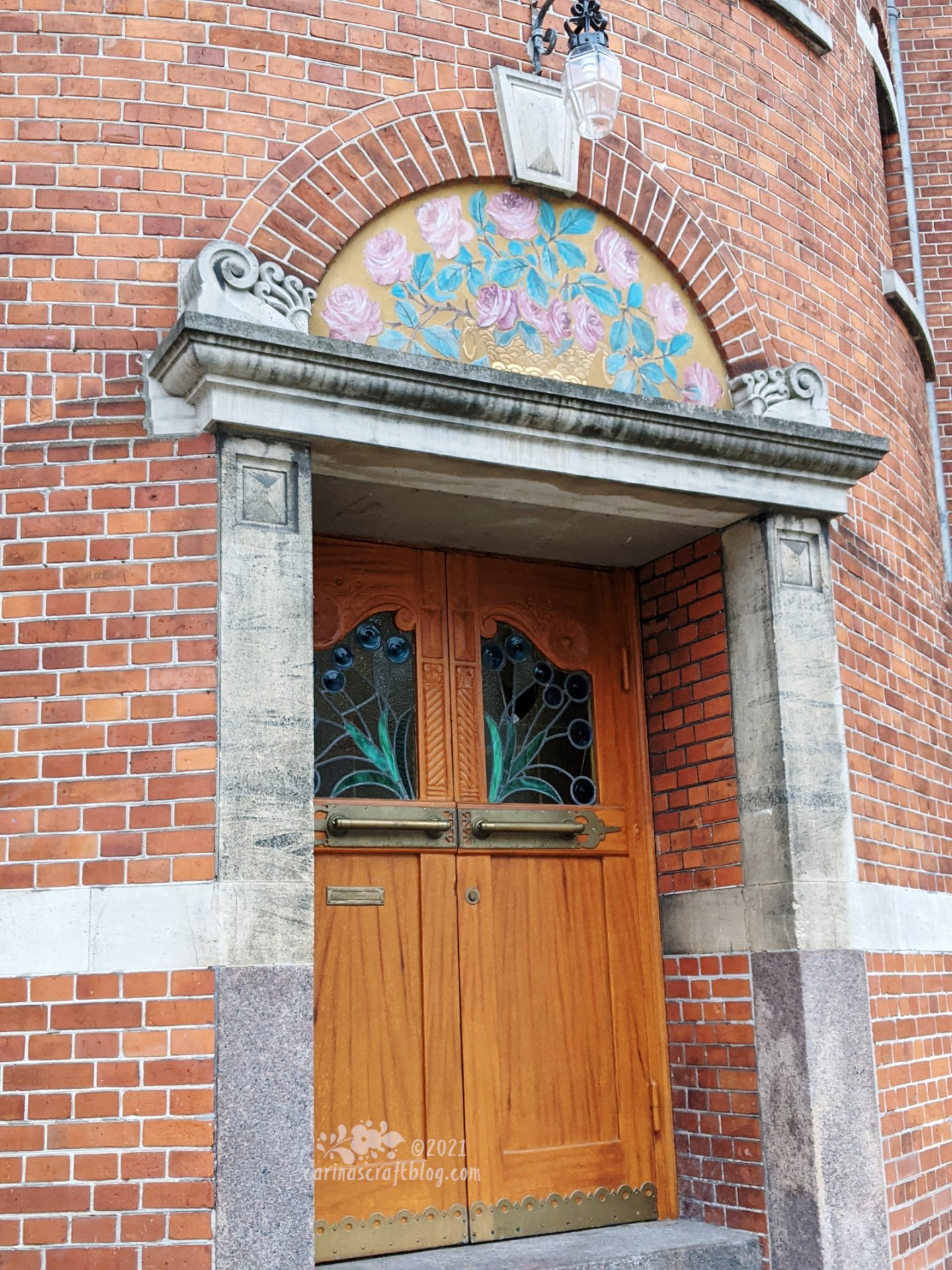 A side door on the theatre in Århus. The architect who designed the theatre also designed the customs building, and Marselisborg Slot (the Queen's local pad.)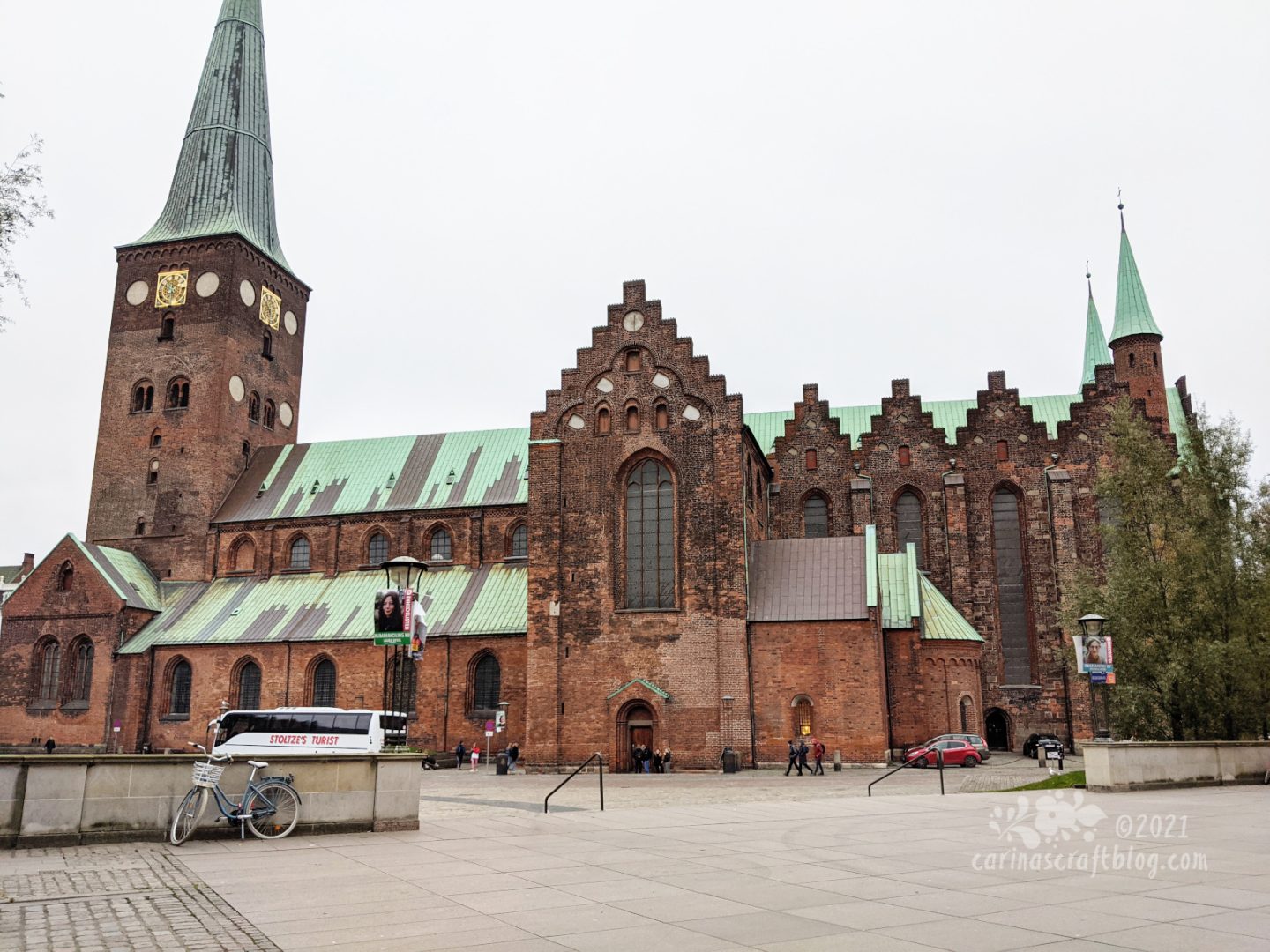 The Århus Cathedral. I think it is a beautiful building. I love the different colours in the roof where they've had to replace some sections. I wonder how long it will take for those to turn green…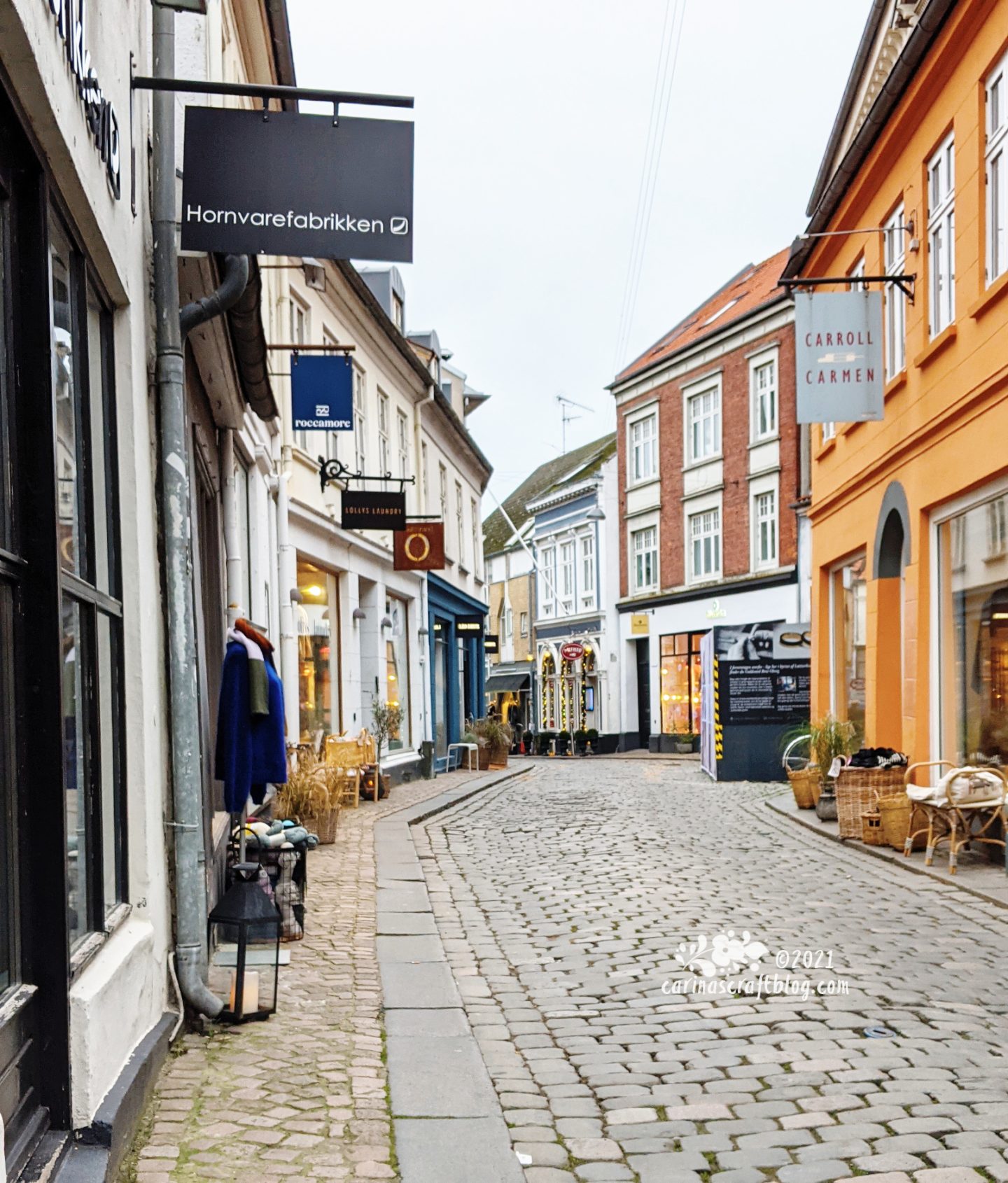 Just a random street in the Latin quarter. Cobbles and bricks and painted facades. The sort of street I'd never really have noticed before I moved away. Now it just feels so quintessentially Danish. :-)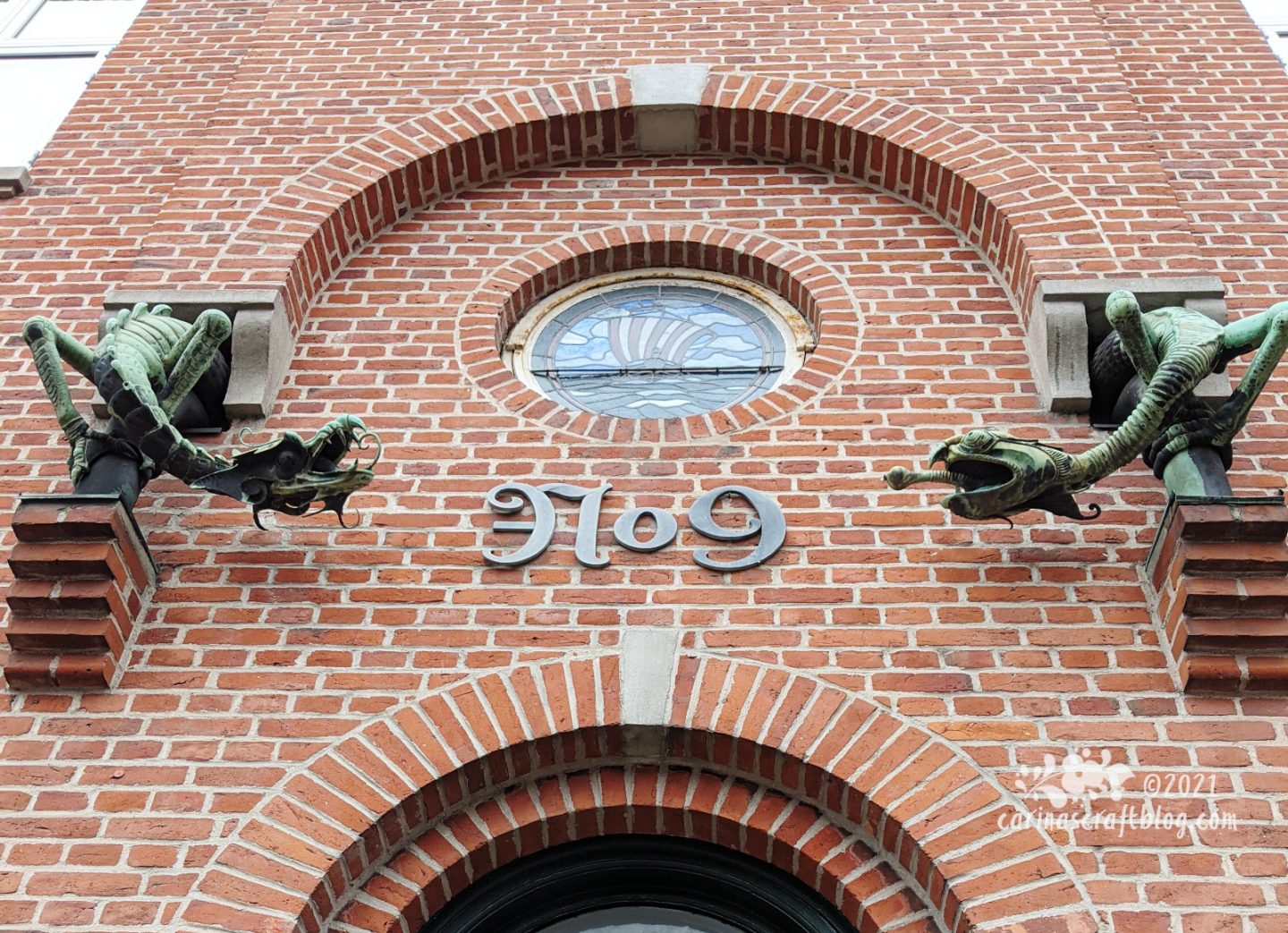 One of my favourite architectural details in Århus. These little dragons (or whatever they are) hissing at each other above a door. I wonder how many people actually notice them?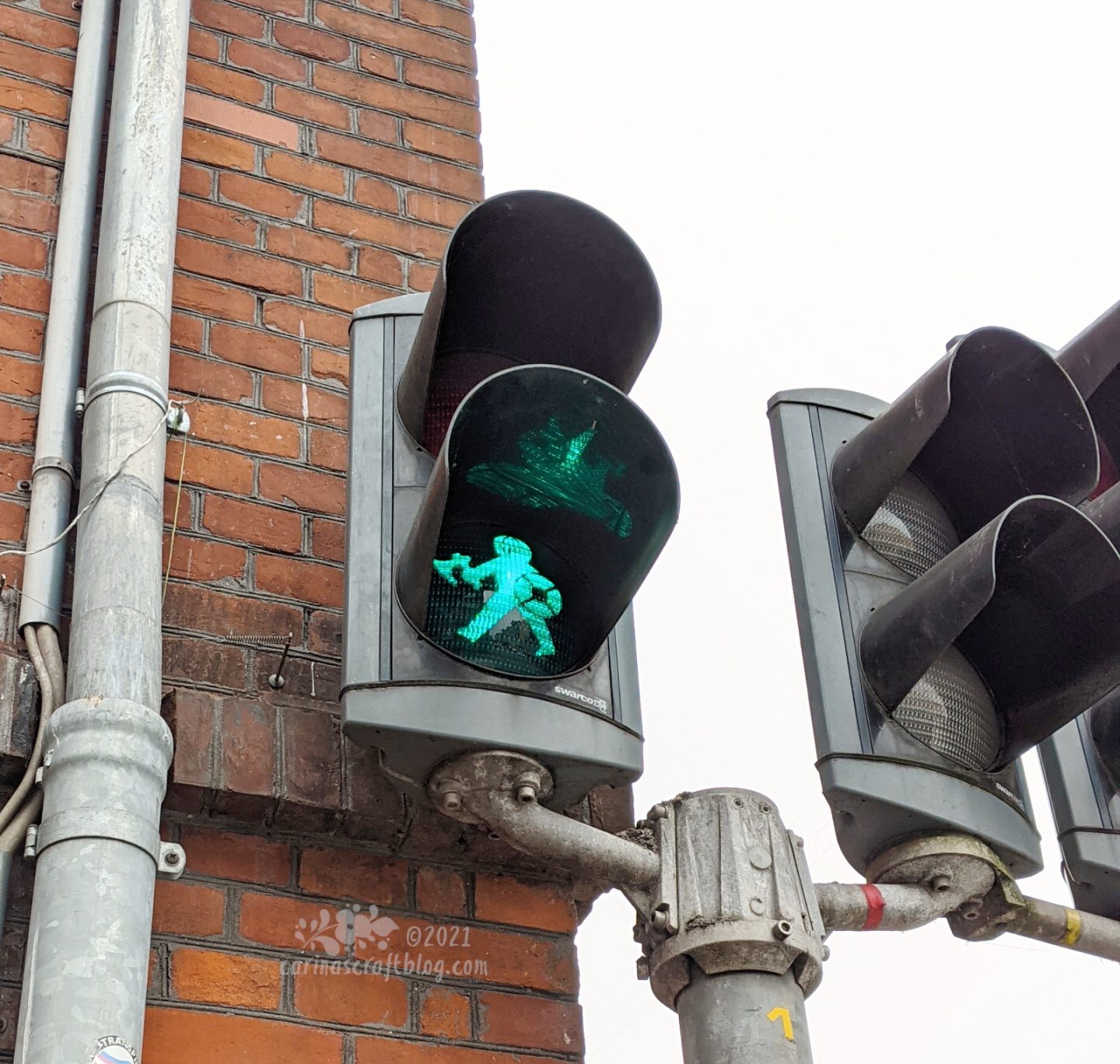 Some of the lights in pedestrian crossings in Århus have had a makeover, wee Vikings are now overseeing the pedestrian traffic. This is to celebrate the Viking heritage of Århus.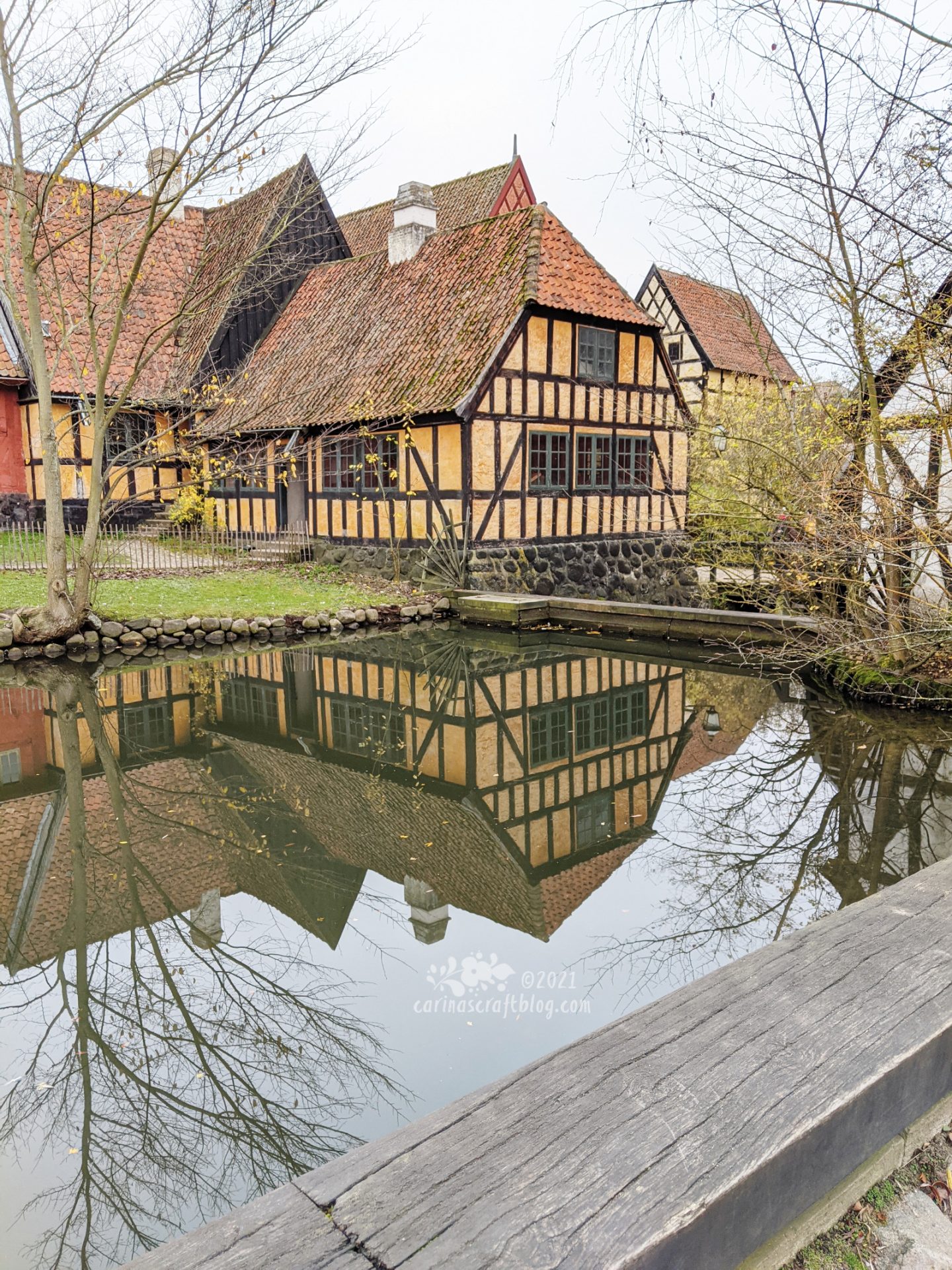 In Århus is a rather magical place called Den Gamle By. It is an outdoor museum where old buildings from around Denmark have all been collected and rebuilt to form a mini town that shows the architectural history of Denmark. It is beautiful and I can highly recommend it if you go to Århus.
I don't usually visit Den Gamle By when I go to Århus, but this time I thought I'd Do All The Things! So I got myself an AarhusCard which gives you unlimited travel on public transport and entry to lots of museums.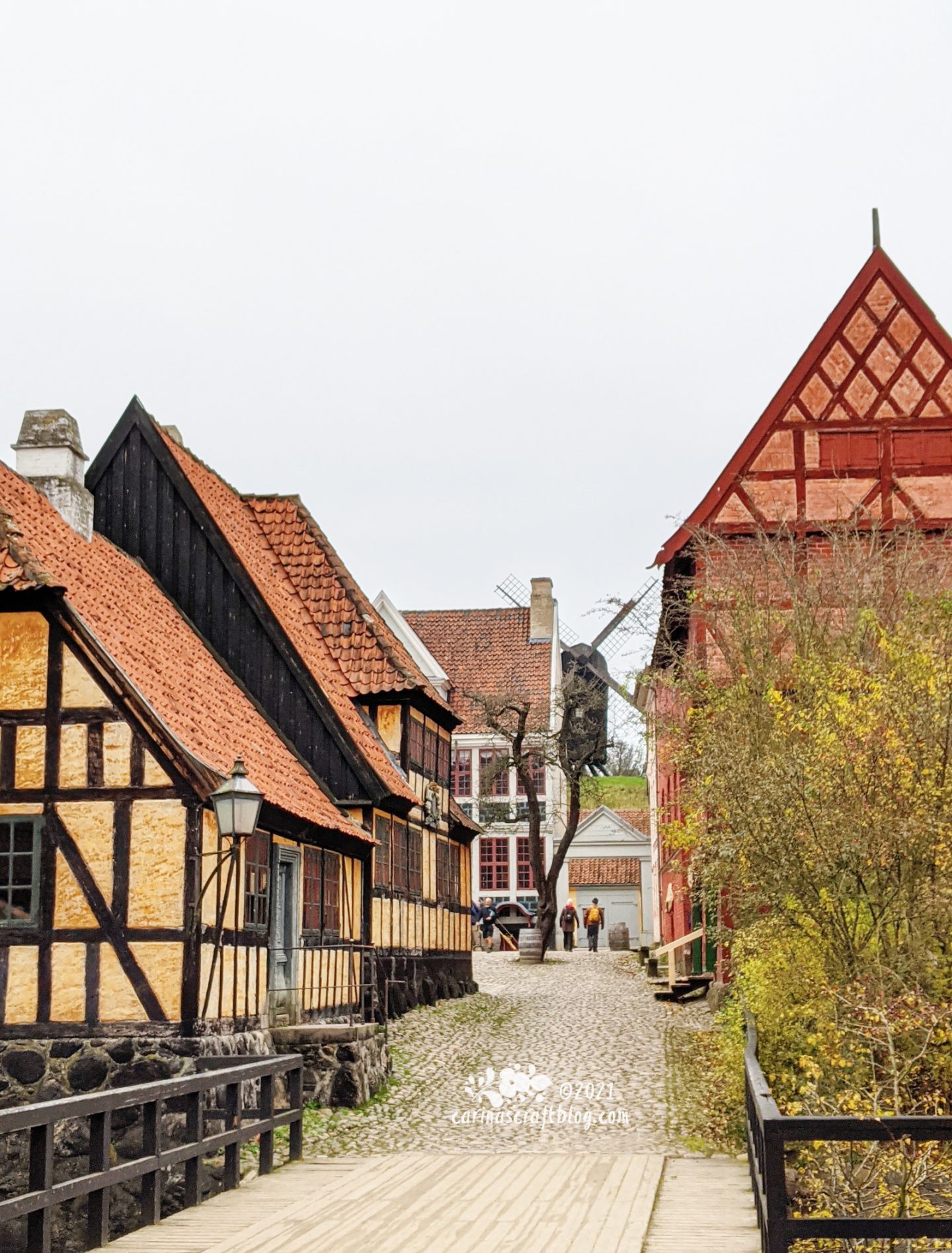 I love this view across the bridge, towards the old windmill.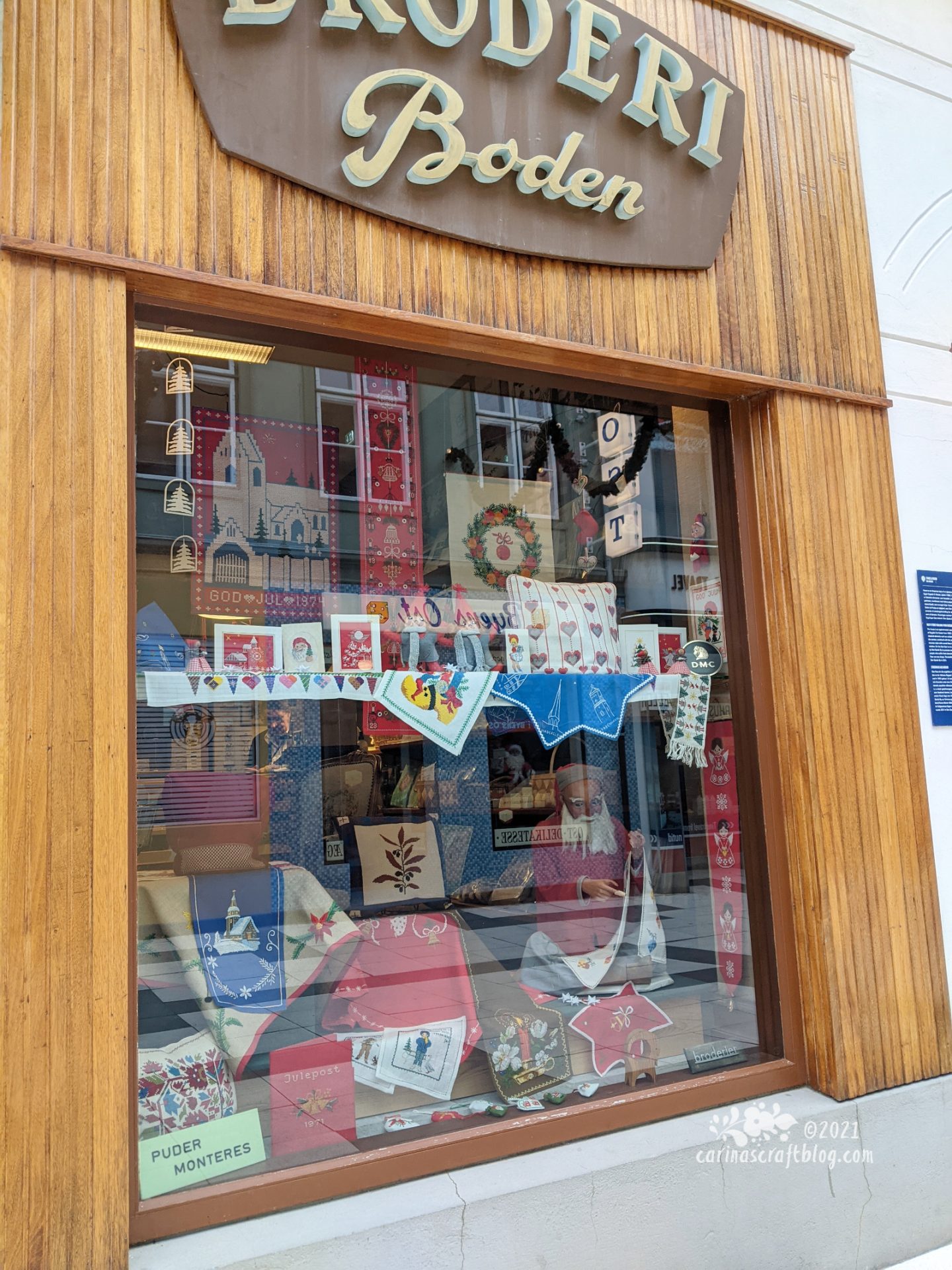 In recent years, at Den Gamle By they have started adding buildings and streets from the 20th century. Among them this embroidery shop which reminds me so much of the craft shop my paternal grandparents owned in the early 1980s. All The Feels!! :-)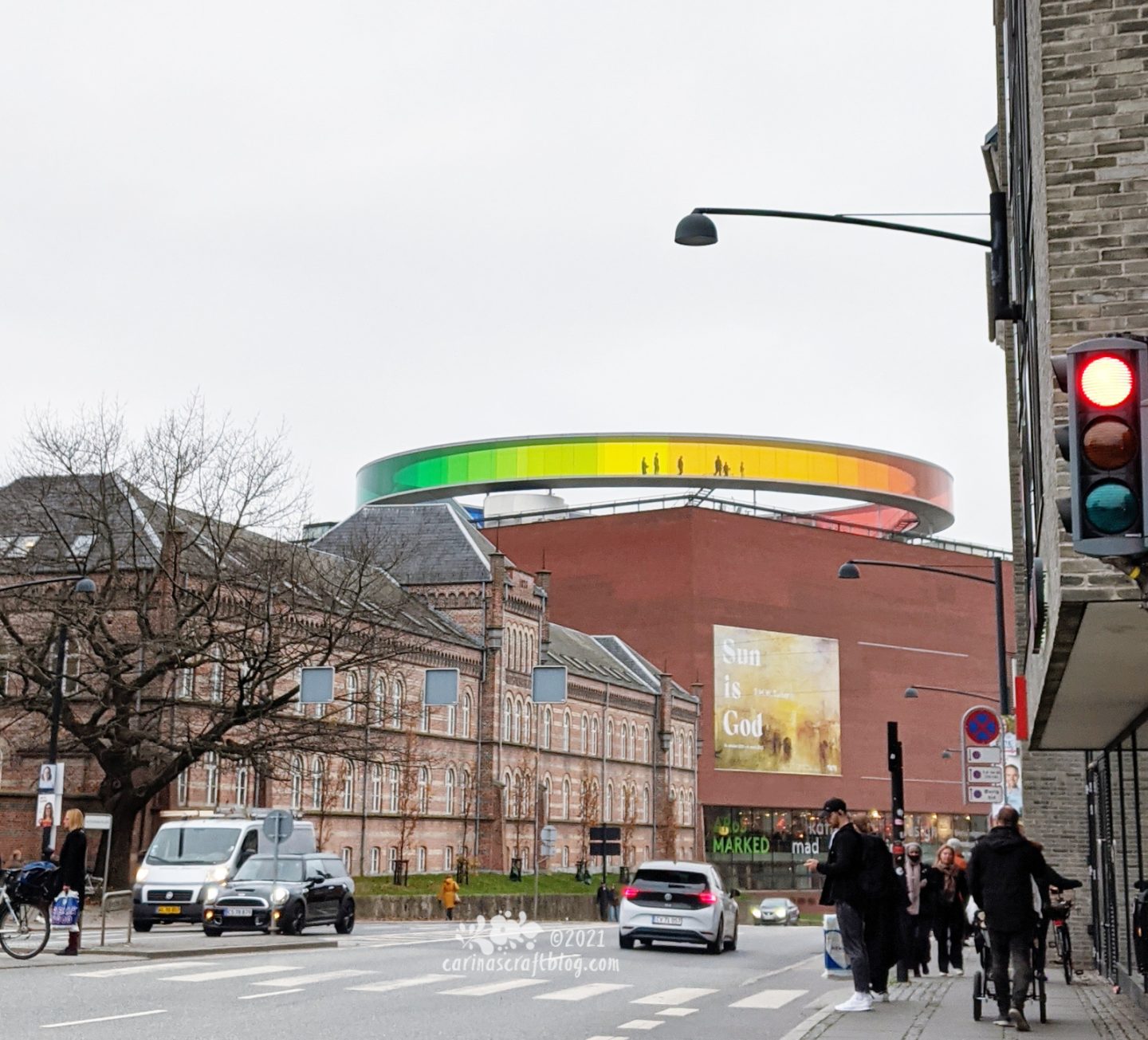 From Den Gamle By I took the bus to Aros, the art museum. Fun fact, my dad lived in the building on the left as a child because my grandad was an officer and that building was part of the barracks.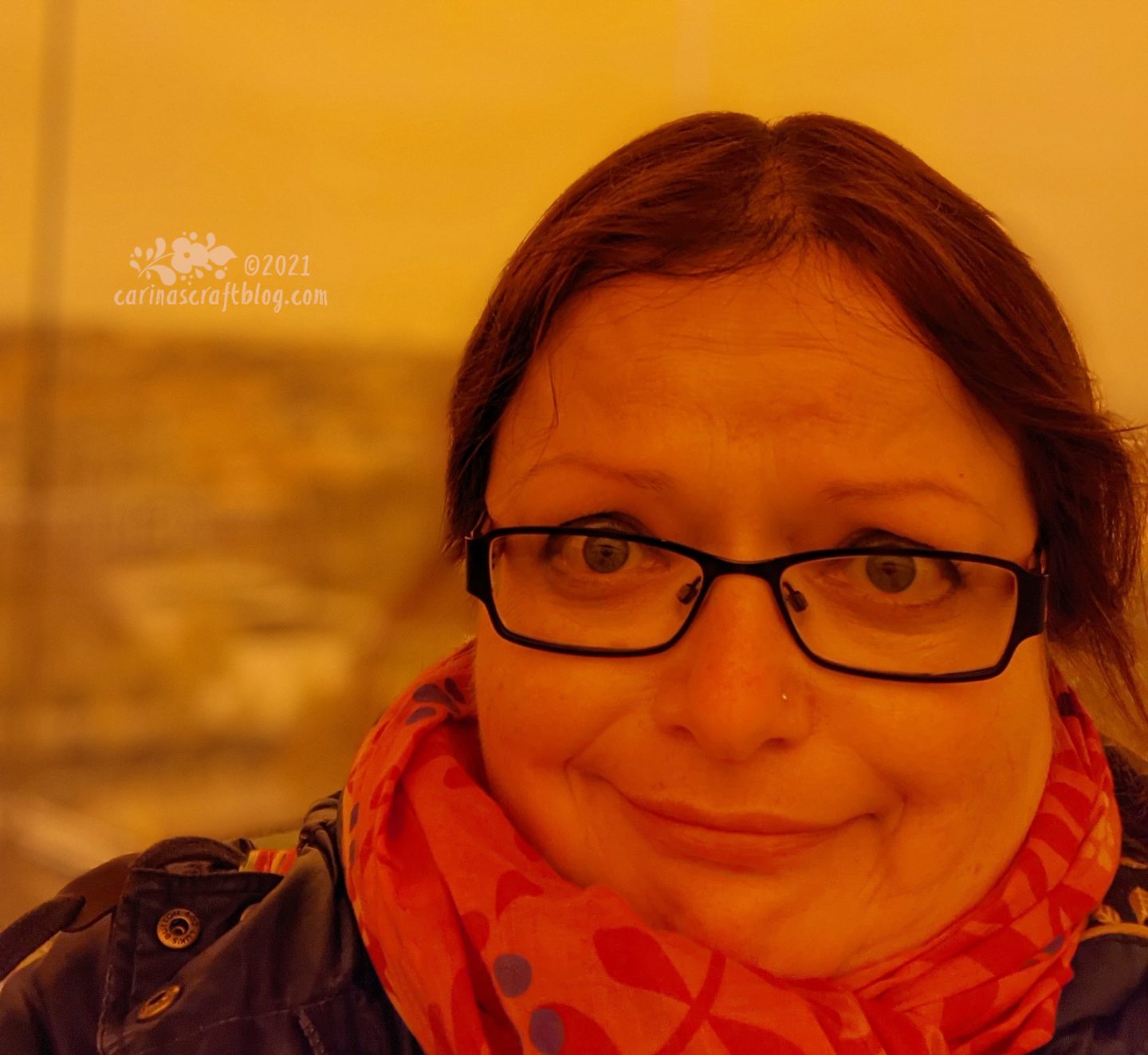 Did you notice the rainbow coloured walk way on top of the art museum in the previous picture? I am not good with heights but I decided I'd go up there anyway. On my own! I had been there before with Tony. Otherwise I don't think I would have done it on my own. That look on my face is only slightly pretend-scared! :-D
If you are ok with heights, I can recommend the Rainbow on top of Aros, it is a beautiful view and a unique experience.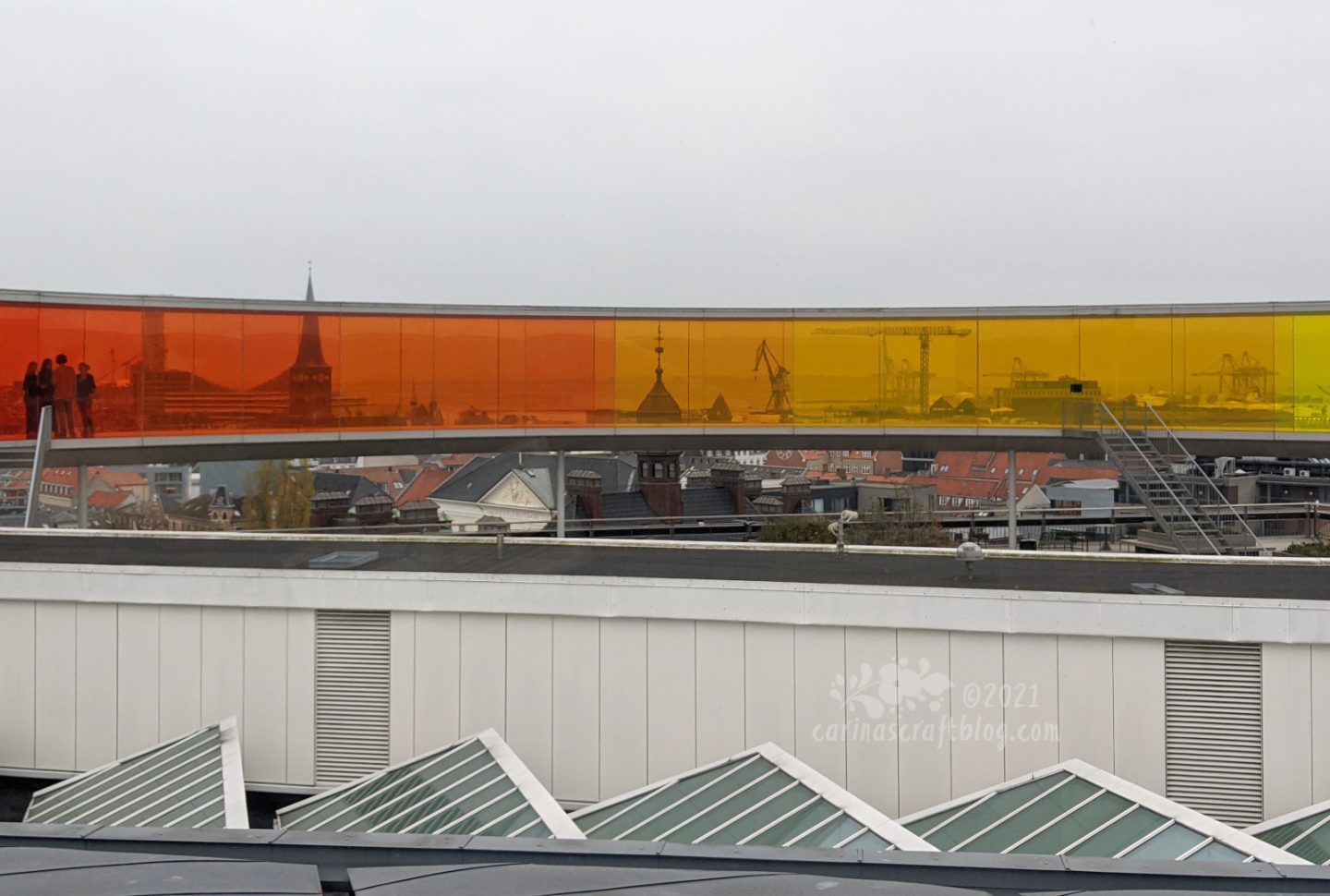 Looking across the Rainbow and you get a sense of the kind of view you get up there. Recognise the Cathedral on the left? :-)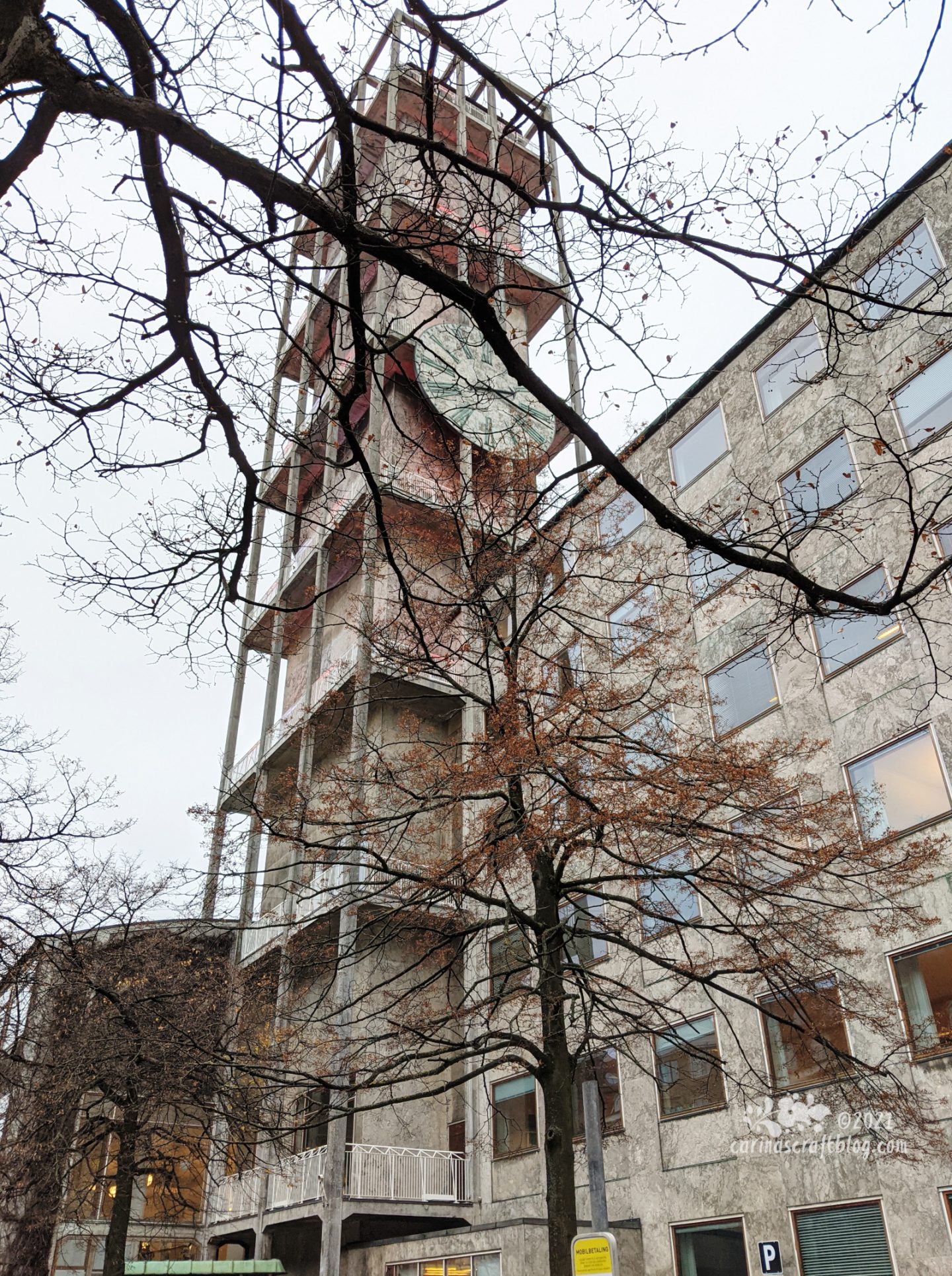 The tower on the Town Hall in Århus. Tony and I got married there. Not in the tower, but elsewhere in the Town Hall! :-)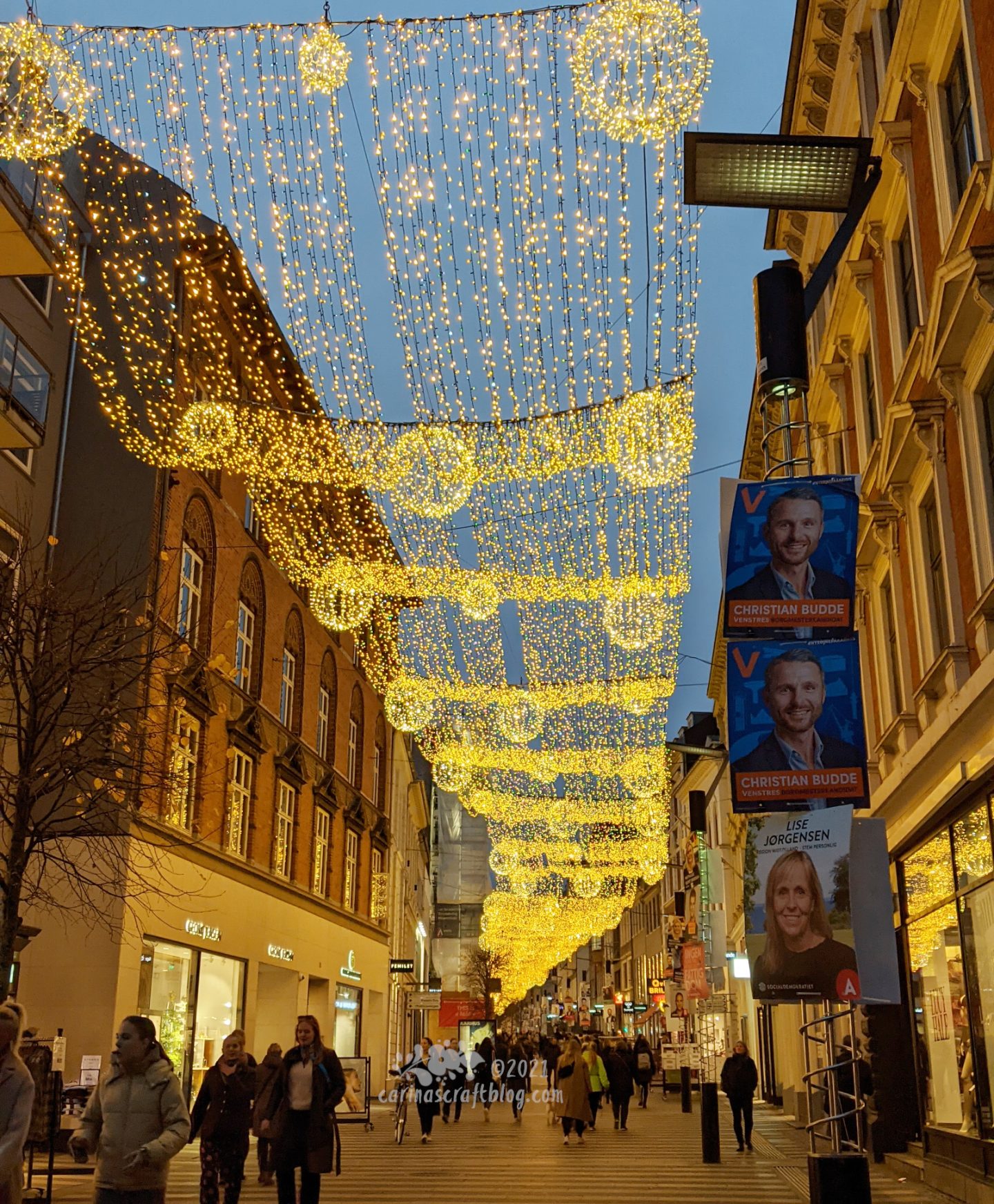 In Århus they light this canopy above the main shopping street from mid November to Christmas. It is beautiful. And it certainly helps somewhat to dispel the gloom of a November afternoon because it gets dark really early in Denmark at this time of year.
Oh by the way, you may have noticed in a few of the pictures these posters of people on lamp posts etc? It was local election time in Denmark the week I was there and those are posters for people standing in the various wards.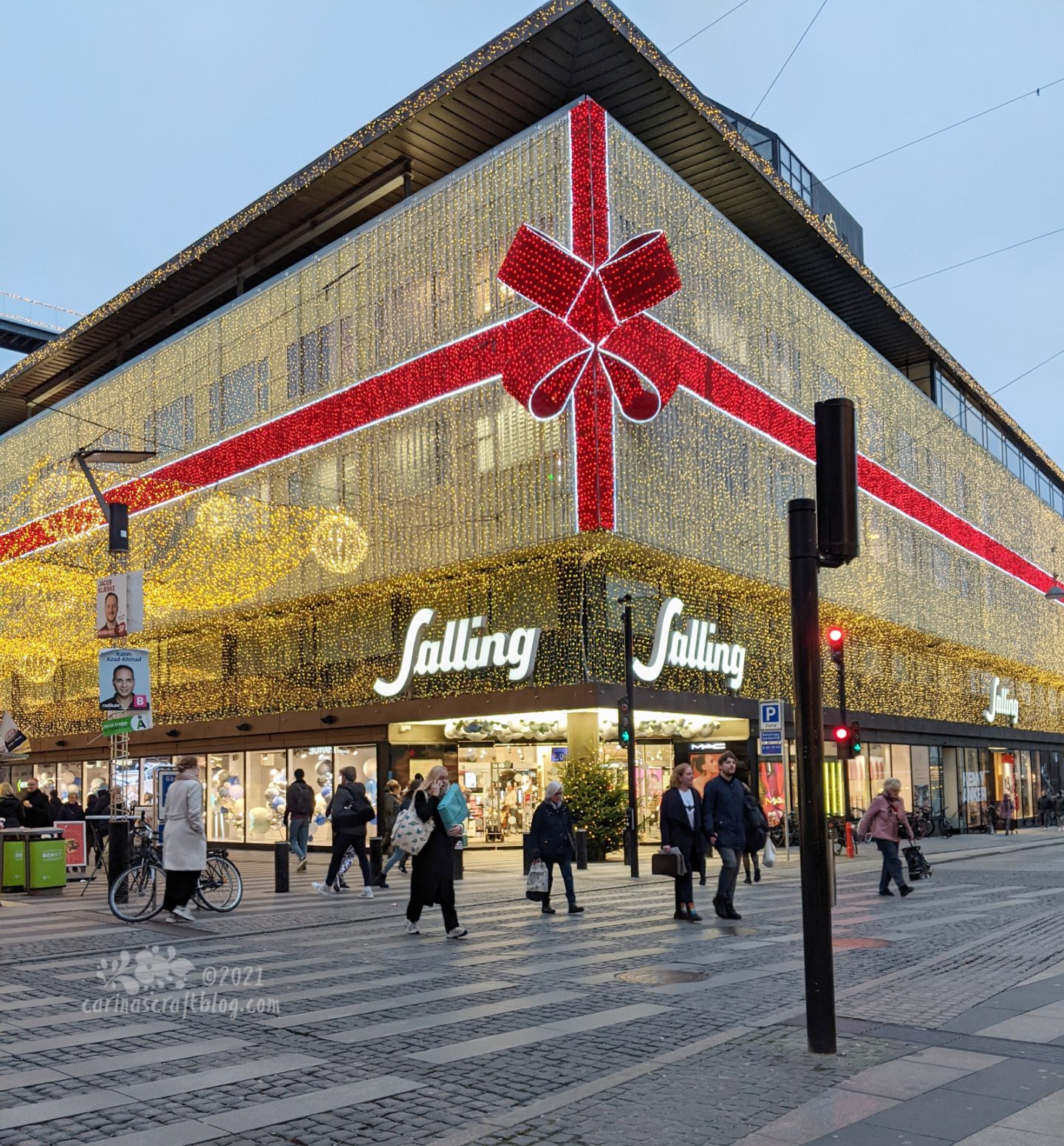 One of the department stores in Århus, all decorated for Christmas.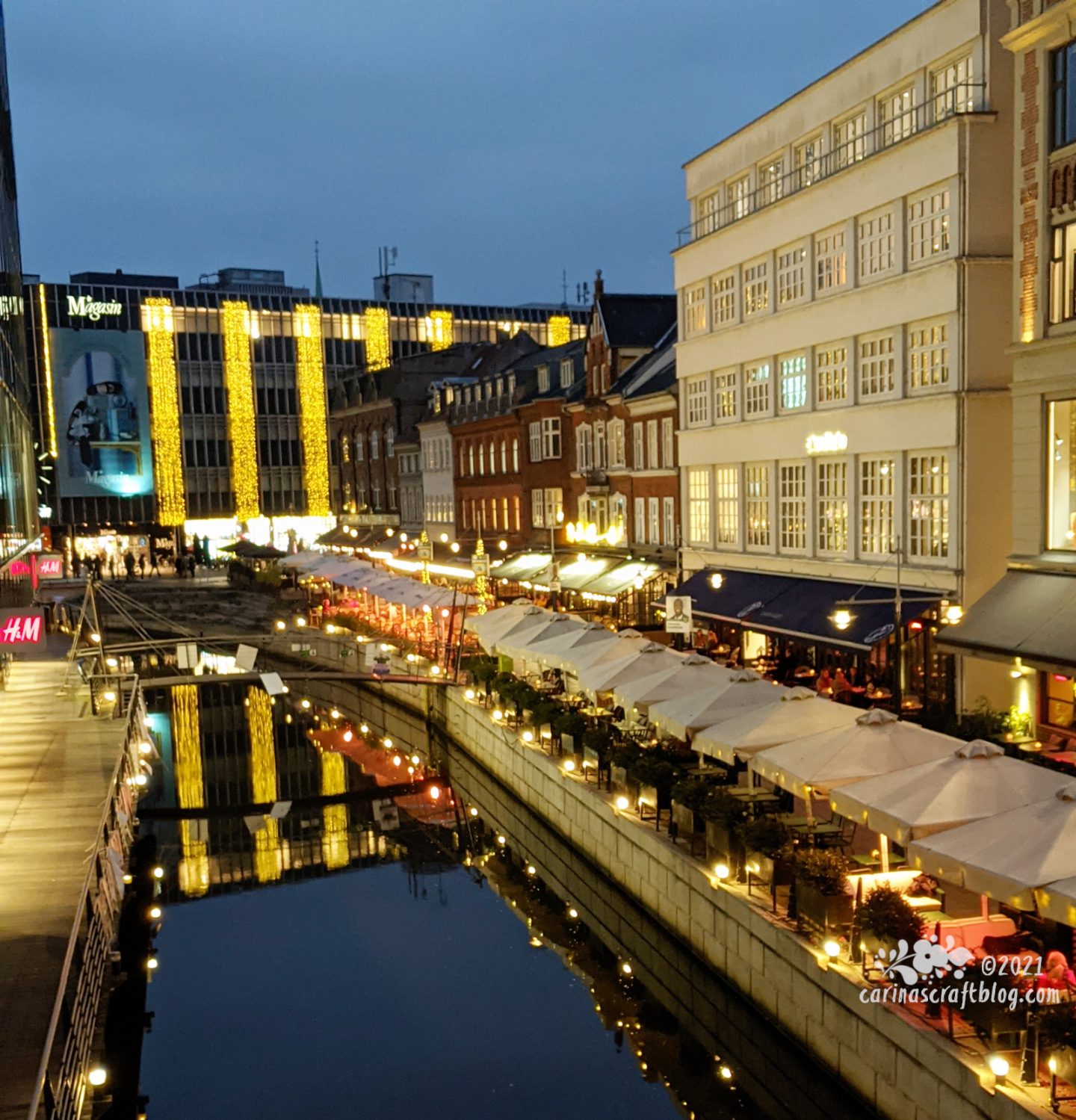 The small river in Århus, with restaurants alongside it. In the background is the other department store in Århus.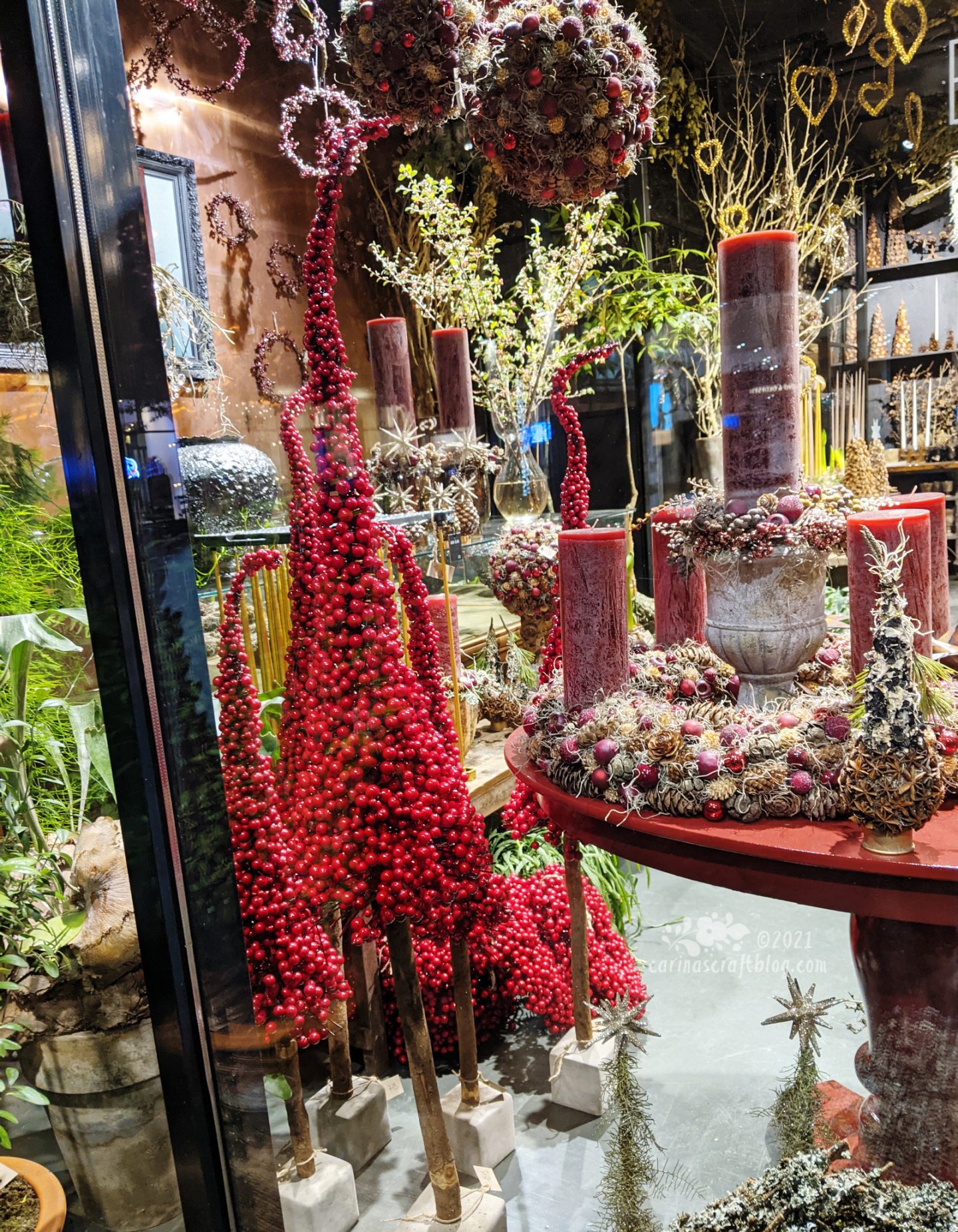 A look into a florist. Lots of Christmas-y decorations in there. And notice the one with the candles on the table? That's the sort of thing people make all over the country with their pillar candles and clay. Maybe not as big or elaborate as this one, but it's the same sort of thing! :-)