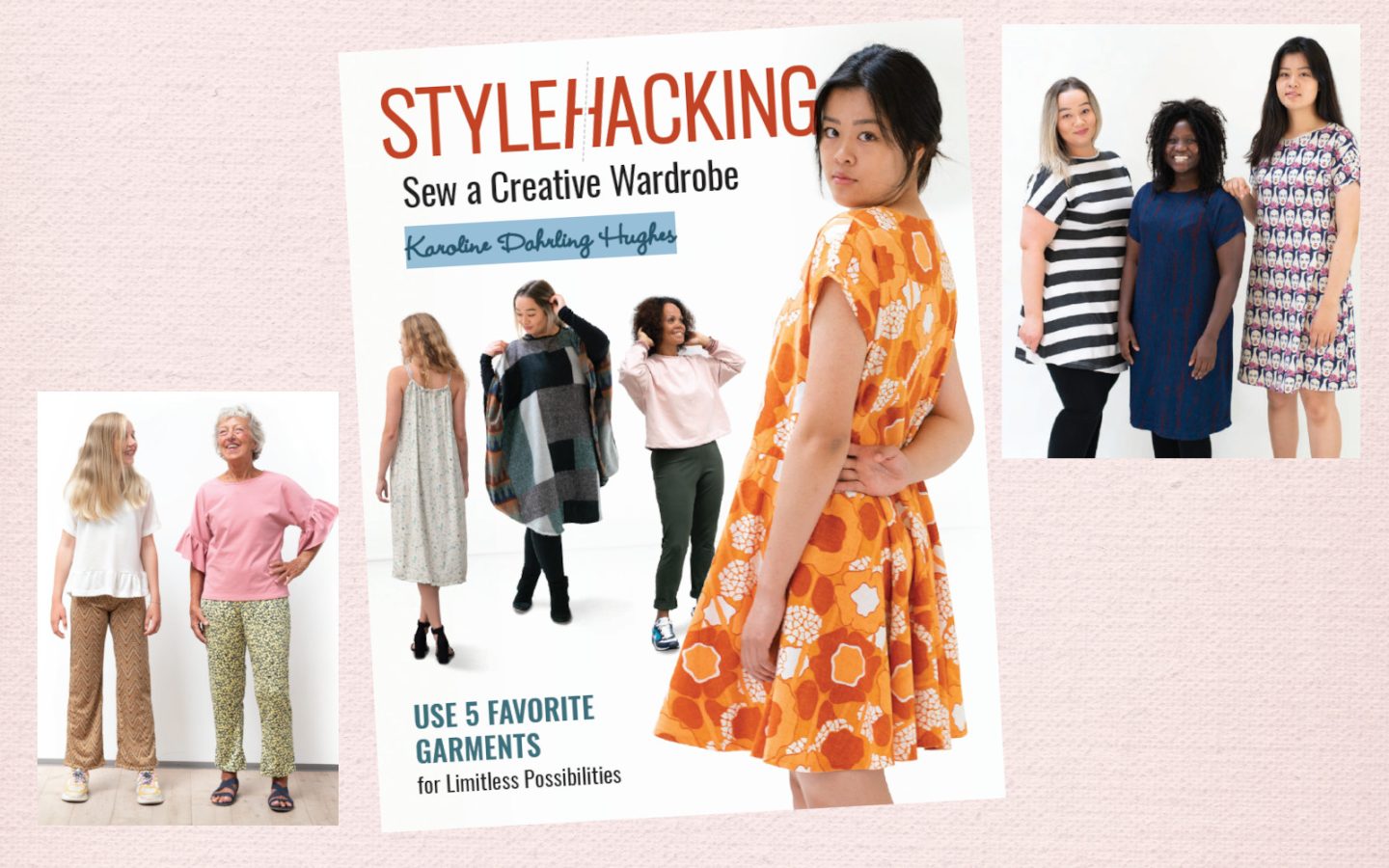 Today I have the pleasure of being part of a blog tour for a new clothes sewing book called Style Hacking. It is by Karoline Dahrling Hughes of the Skandimama blog. She is a crafter, sewist, blogger and podcaster. Below is a wee interview with Karoline, but first I'll tell you a bit about the book.
Style Hacking is a book about clothes making, but in a very free form way. There are templates instead of patterns and most of the garments look relatively simple to make. The style of the garments is also quite simple (which is not a bad thing!) and pretty loose-fitting.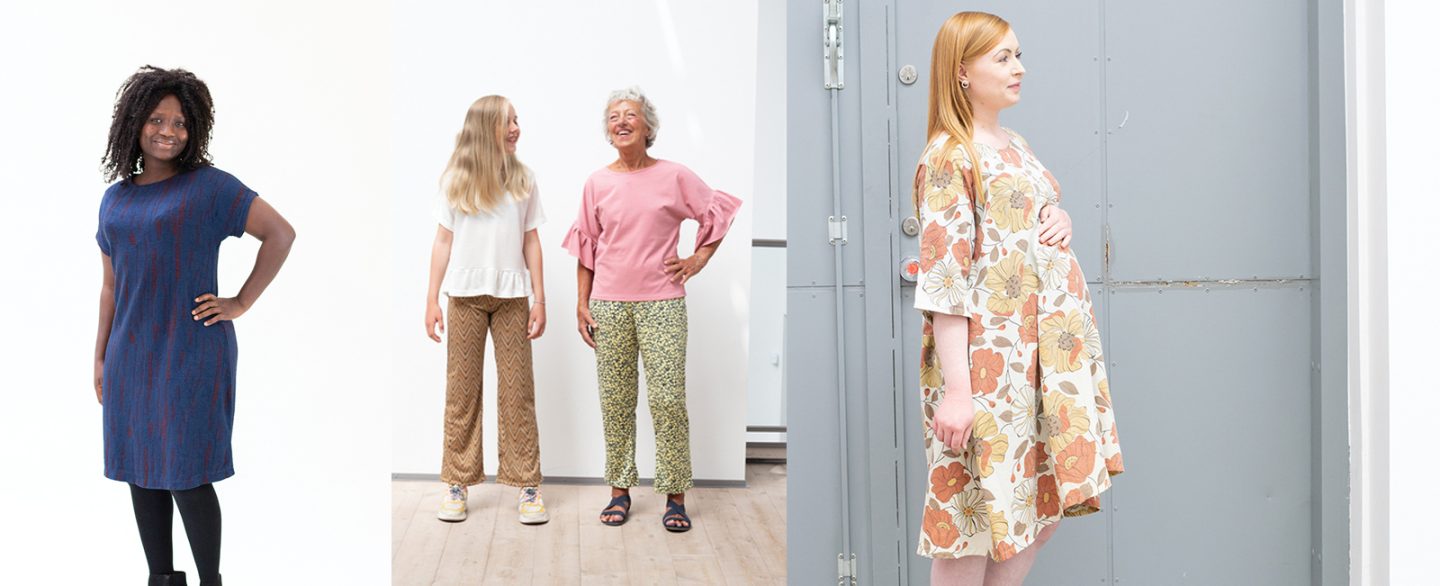 As you'd expect, the book has a section with various sewing techniques. Then Karoline shows how to make the five basic templates (based on clothes you already own) that are the starting point for the garments in the book. Following that a section showing how to make those five garments. The final part of the book is a whole bunch of garments based on the five basic templates. The garments are divided into five groups: Tops; Skirts; Pants, Shorts and Jumpsuits; Dresses; Jackets and Outerwear.
In the past few years I have made a few tops (although I don't think I have ever blogged about it?!) using woven fabrics, but I think with the tips in Style Hacking I may actually have a go at making a t-shirt or something in stretch fabric.
If you have been wanting to try making your own clothes I think this would be a good book to get you started.
Oh and one thing I really like about the book is that the models look like real people! It's refreshing to see that it's not just tall, skinny blondes like you see in some sewing books/magazines.
P.S. On Monday I'll have a giveaway for a digital copy of Karoline's book so be sure to come back for that! :-)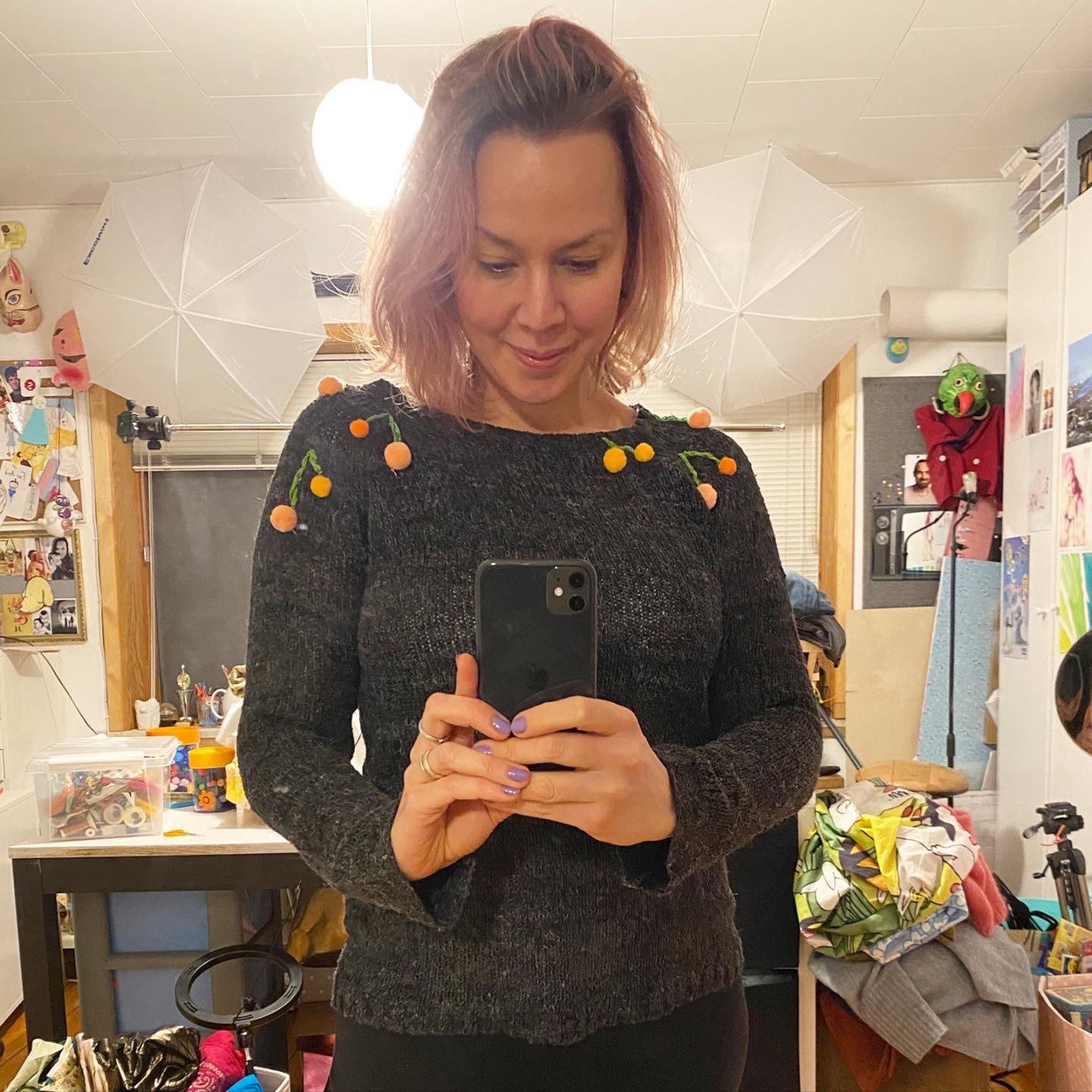 But now, let's hear from Karoline:
Would you tell us a little about yourself?
I am a 40-year old creative woman living in the Northern part of Denmark. I studied fashion when I was in my early twenties, because I always had a passion for making clothes, but working in the industry was not the dream I thought it would be. So I made things for myself and dreamt about bringing them out to an audience – and to inspire. That's what turned out to be a passion for craft-blogging and writing sewing books.
How/when did you start sewing?
At age 13 I got my own machine from my grandmother, when she got a new one. Before that I had watched my mum sew and tried a bit myself. Money was tight, so being able to make things from duvet covers and curtains, or refashion clothes from the thrift shops really drove me into doing more and more. I studied fashion to learn patternmaking and to sew "properly", but I always just came back to my easy style of no-pattern making.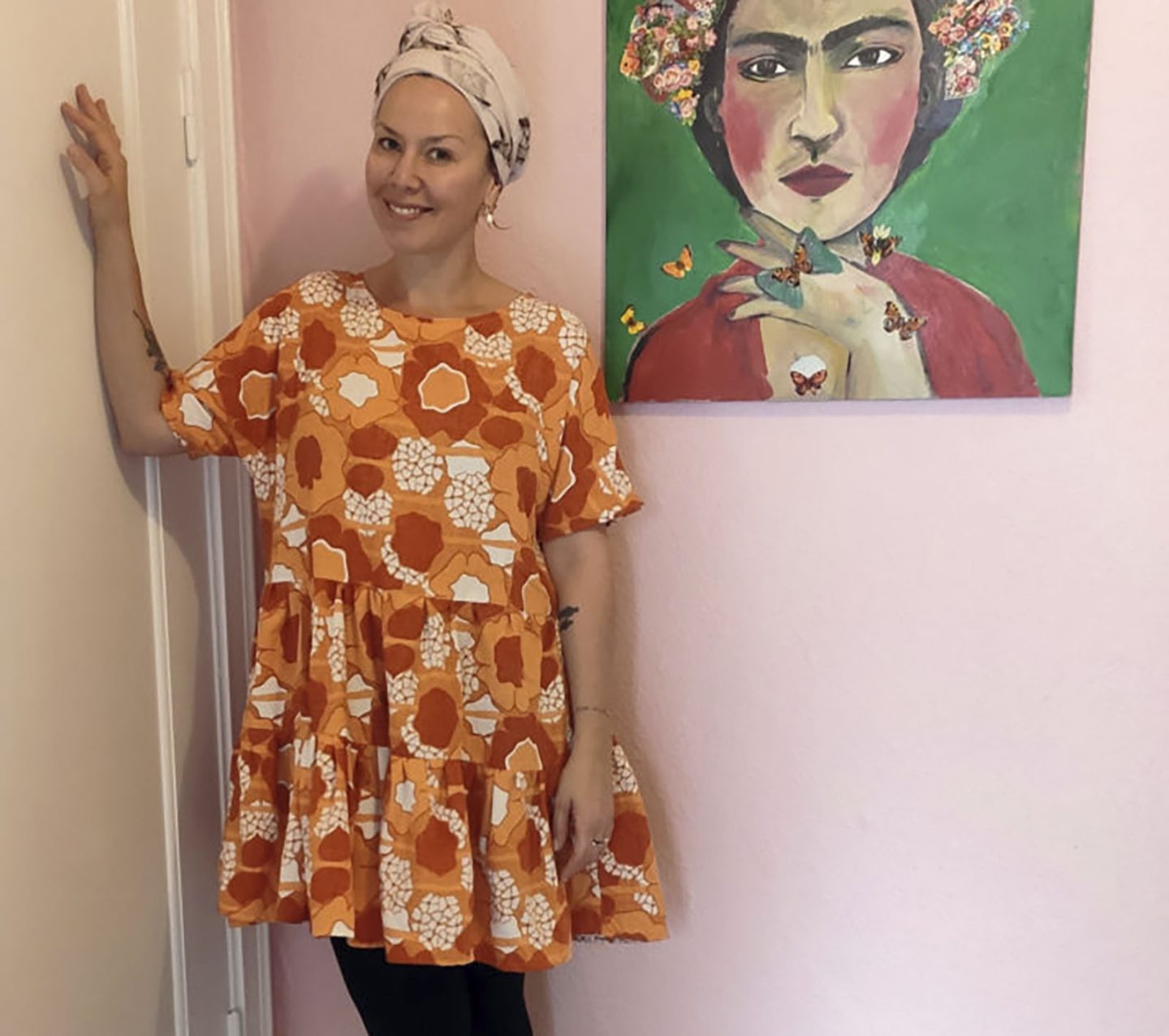 What inspired your book Style Hacking?
I often wear homemade clothes and people comment on them, saying they could never do that – so StyleHacking was to show everybody – that YES, they can do that. It is an easy way for beginners to start – or to just make things easily when you don't have a lot of time.
Why do you like using thrifted fabric?
They are cheap and that's good for beginners who are anxious about making mistakes and cutting wrong, but I also love the stories thrifted fabric tell. The different prints and patterns. And the fact they have often been washed many times make them soft and comfortable. Plus its great to use something that is already around and not make new things.
Best tip for using thrifted fabric?
Buy colours, patterns and textures that appeal to you and build a little cheap stash. Then you will have some materials that are ready to use when you feel like sewing. Wash and iron the fabrics – which I always do whether new or used, and then have them ready. Then you can jump straight into making once you are inspired.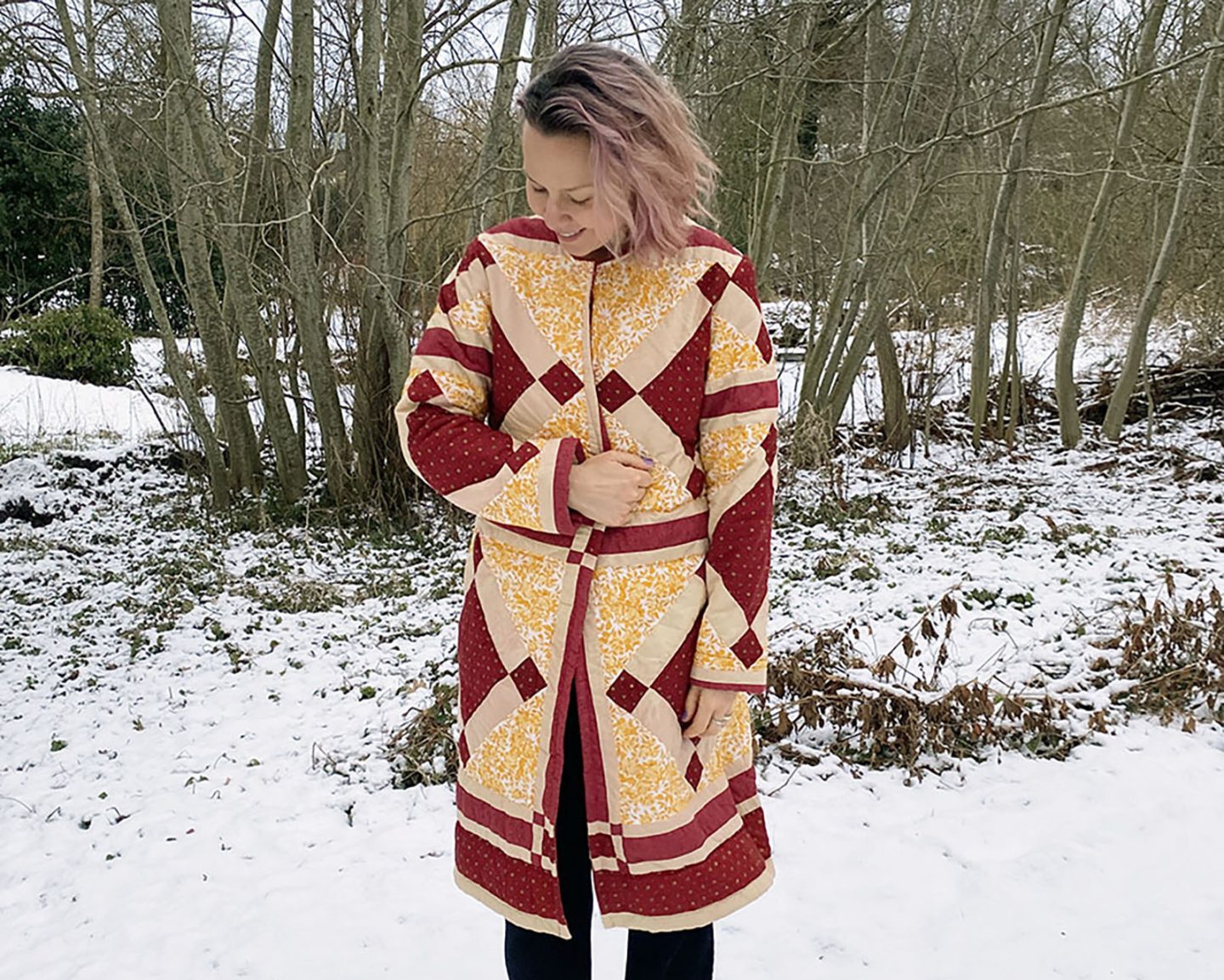 Best tip for sewing clothes?
If at first you don't succeed, make it into something else and try again. Experience will make you better, and suddenly you will be able to do much more than you thought. Use fabrics that you really love, so you will enjoy the clothes made from the fabric even more.
How would you describe your own style?
I am really into comfortable clothes. I love everything oversize – which also shows on the styles I have in my books. Nothing tailored or too tight fitting.
Bold colours and prints are fun, and I can dress totally in black one day and the next be in 4 different floral prints. I feel like, I have a creative look, and I guess other people tell me that too. Since being a teenager making my own weird clothes, I have told myself its fine to not look like everybody else.
Do you think there is something particularly Danish about the things you make?
Hmmm, good question :-)
Danish is often very minimalistic, and there is nothing minimalistic about me, my clothes or my home. But my sewing style is perhaps minimalistic in that way that it is supposed to be easy and simple. As few cuts and seams as possible.
Apart from that my approach to making is very much that it needs to be cosy – hygge. No stress, just a lovely bit of creative time. And I hope that's what readers will get from my book.