I made the top for this quilt slowly, slowly in 2020. Each block/sections, whatever you want to call it, is based on the number of steps I did each day. I finished the top in early January 2021 and then…nothing happened! :-D
Last year I started putting the back together and I finally finished the back recently. So I could quilt it. Which I did. And now it's done.
All the fabric, with one small exception, is Denyse Schmidt fabrics. I decided that I wanted to make a quilt from my rather large collection of DS fabrics and this felt like the perfect project. The DS fabrics work very well in a random, scrappy kind of quilt.
The front is made of 12 columns of 31 rows. In the picture above we've got January at the bottom and December at the top. Can you spot the point in October where I got an actual step counter and not just relied on using an app on my phone? :-)
I made a little video of the quilt (YouTube link):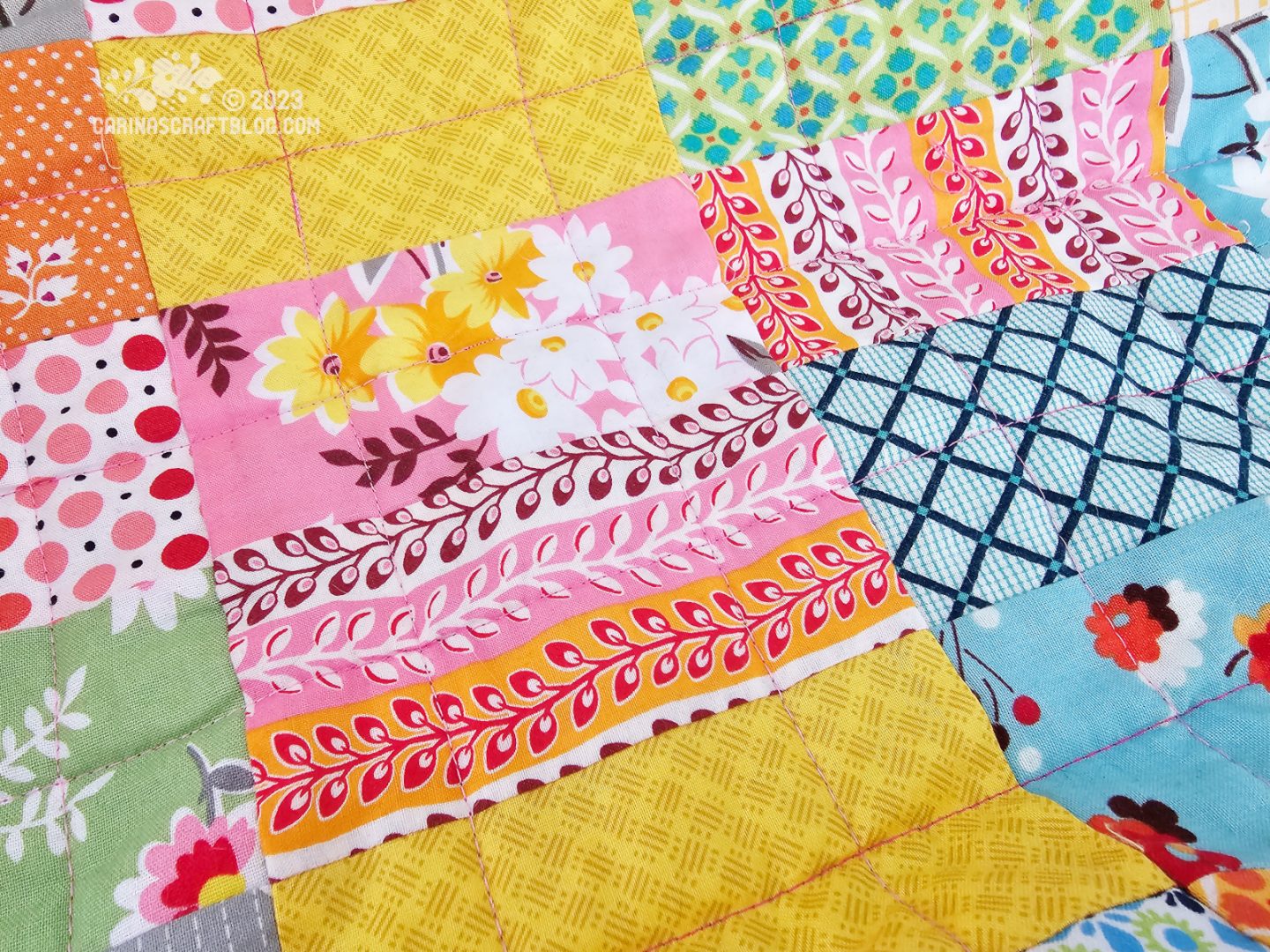 I assigned one colour per 1000 steps, so 0-999 was one colour, 1000-1999 was another colour etc. All the way to 20K. Maybe I had some beyond 20K? I can't remember. I didn't have enough of any one particular print, so I used more than one prints in the same colour for most ranges. 2000-2999 was three different grey prints for example.
That of course added to the scrappy-ness which I quite like!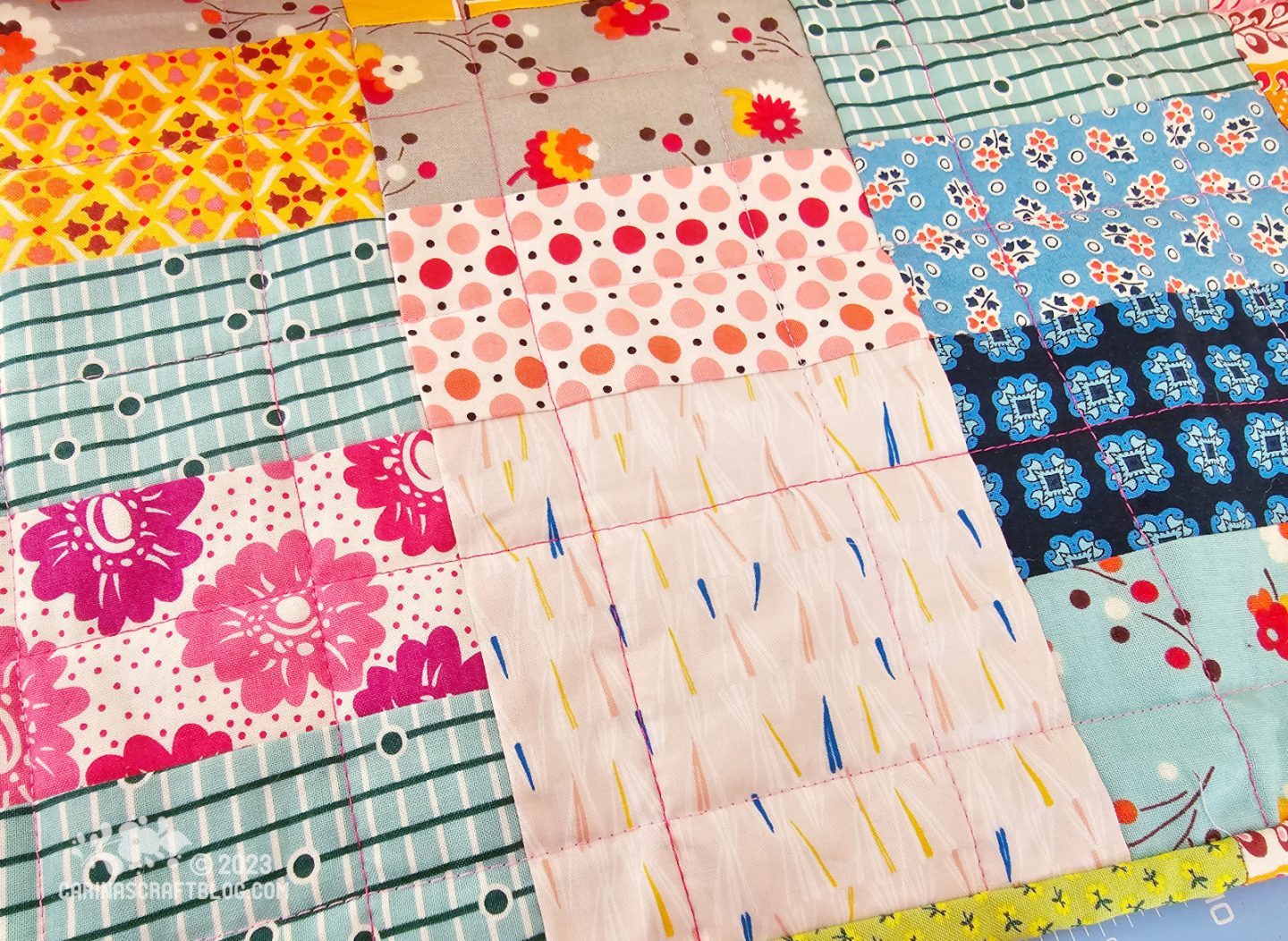 This is the fabric exception: where the months are shorter than 31 days I used a Leah Duncan print to 'fill in'. I wanted something that felt both neutral and patterned and also something that would go with the DS prints. I think this one goes really well. I also used it as part of the binding.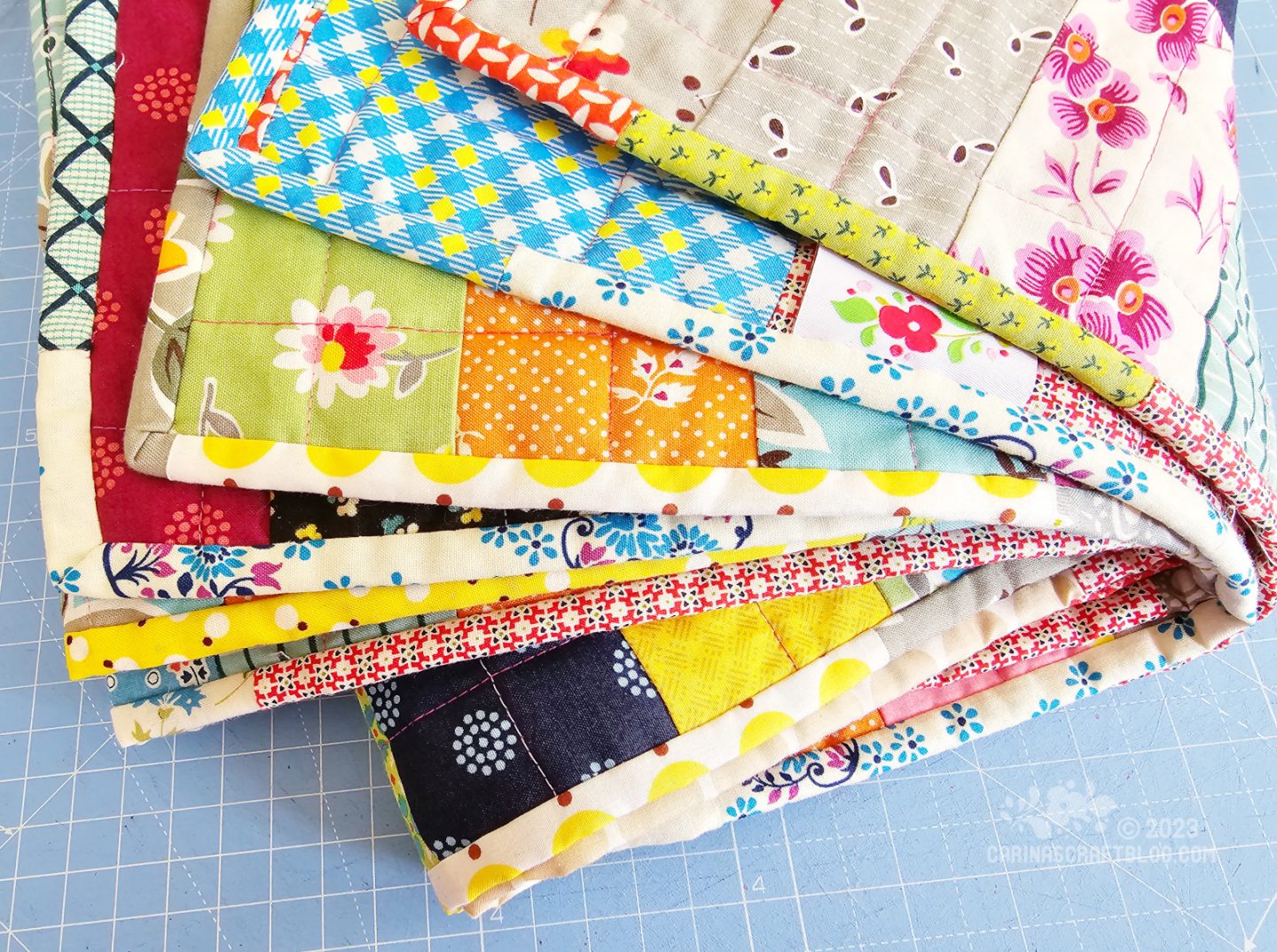 Speaking of binding, that is scrappy too! I made the back a bit bigger than strictly necessary and once I had finished the quilting and trimmed the edges, there was almost enough to make up the binding, with the addition of a strip of the Leah Duncan fabric.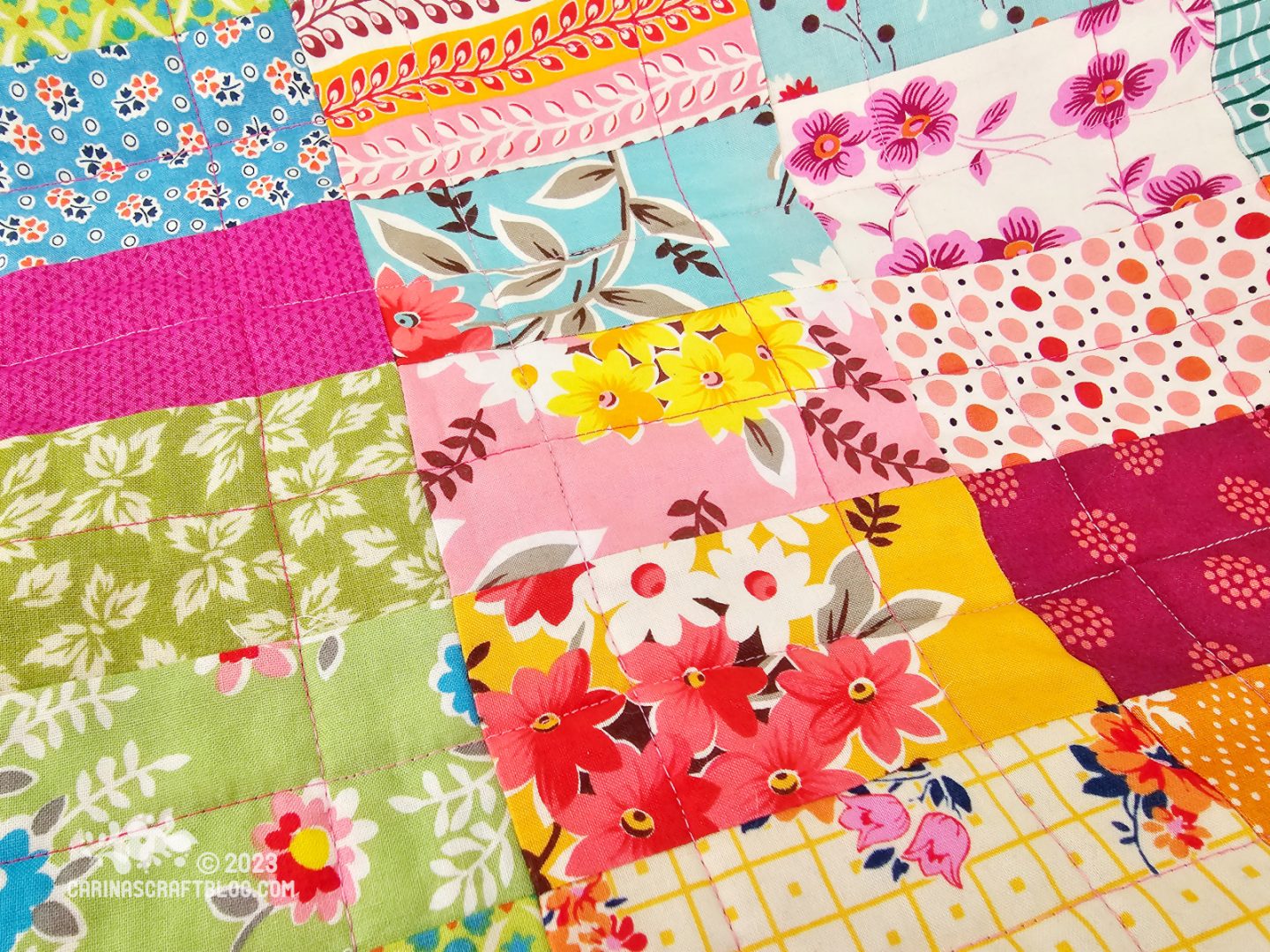 It was my plan to hand quilt it, but I've had a bit of an RSI issue with my right thumb so I decided that it was probably best to not hand quilt since it's not strictly necessary. But I did partially hand stitch the binding, one of my favourite parts of making a quilt. :-)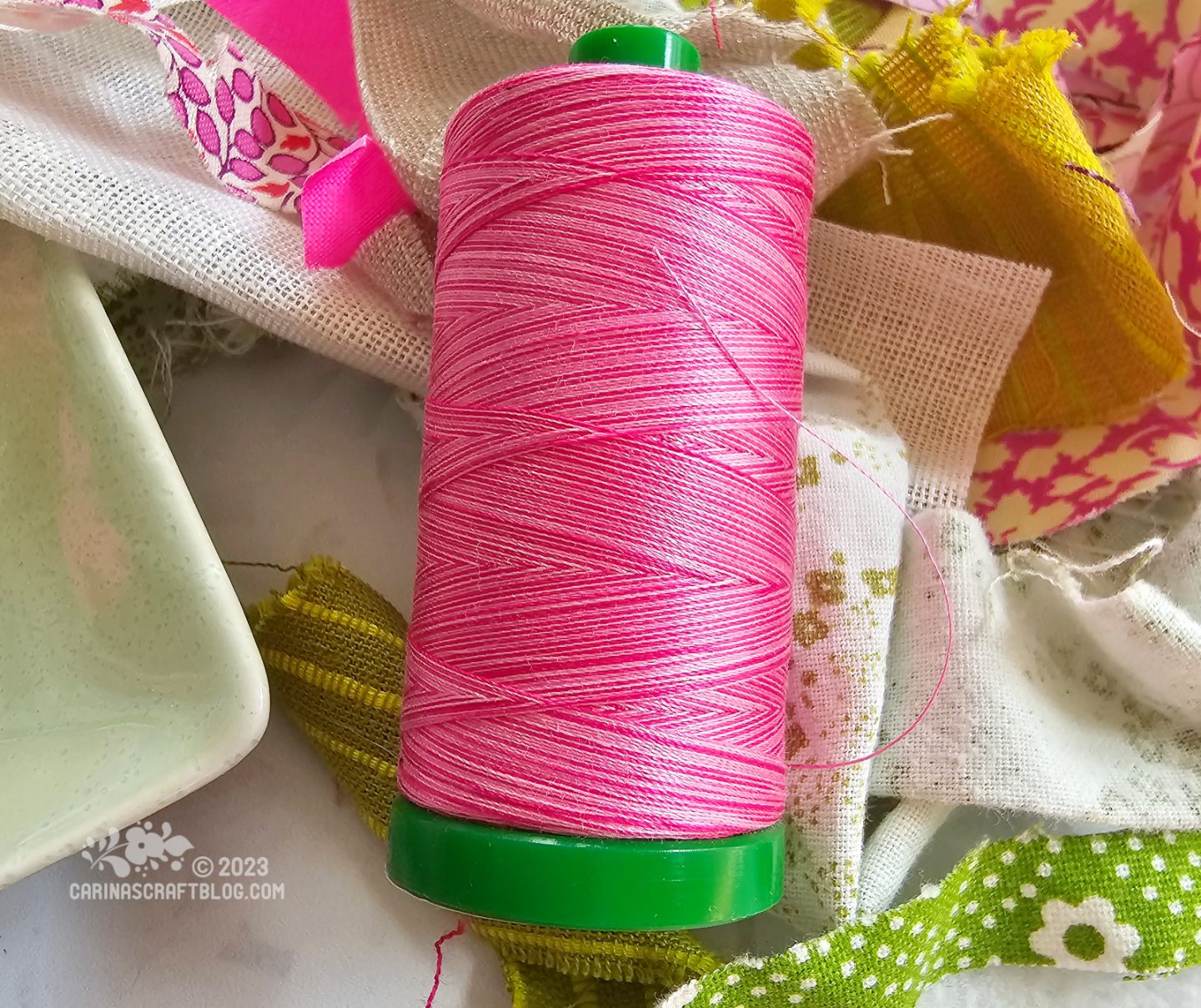 I used this pink variegated Aurifil thread on the front and a purple thread on the back. I really like how the pink is randomly more or less obvious on the front. And there is quite a lot of pink in the quilt so it felt like a good choice. And I like pink a lot, so… :-)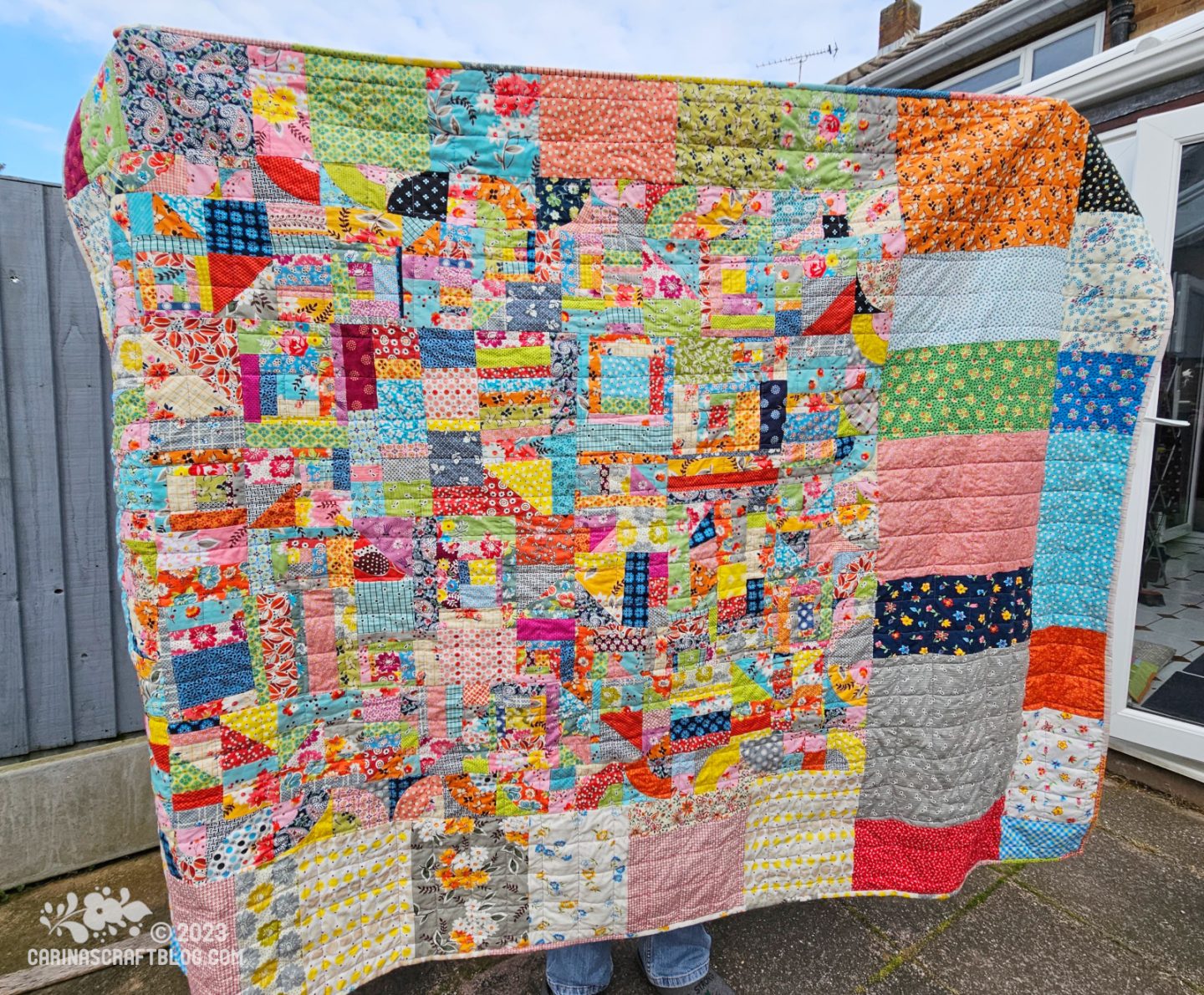 The happy, scrappy back! The back started life as a way to use up DS scraps. At first I made a bunch of wonky log cabin blocks which I mixed with various other blocks. To make it large enough, I added larger pieces around the original scrappy section.
I really like how the back turned out. I didn't plan it at all. I just cut bits of fabric and sewed them together until I had a back that was large enough. I love the randomness of it. I kinda like the back more than the front. :-)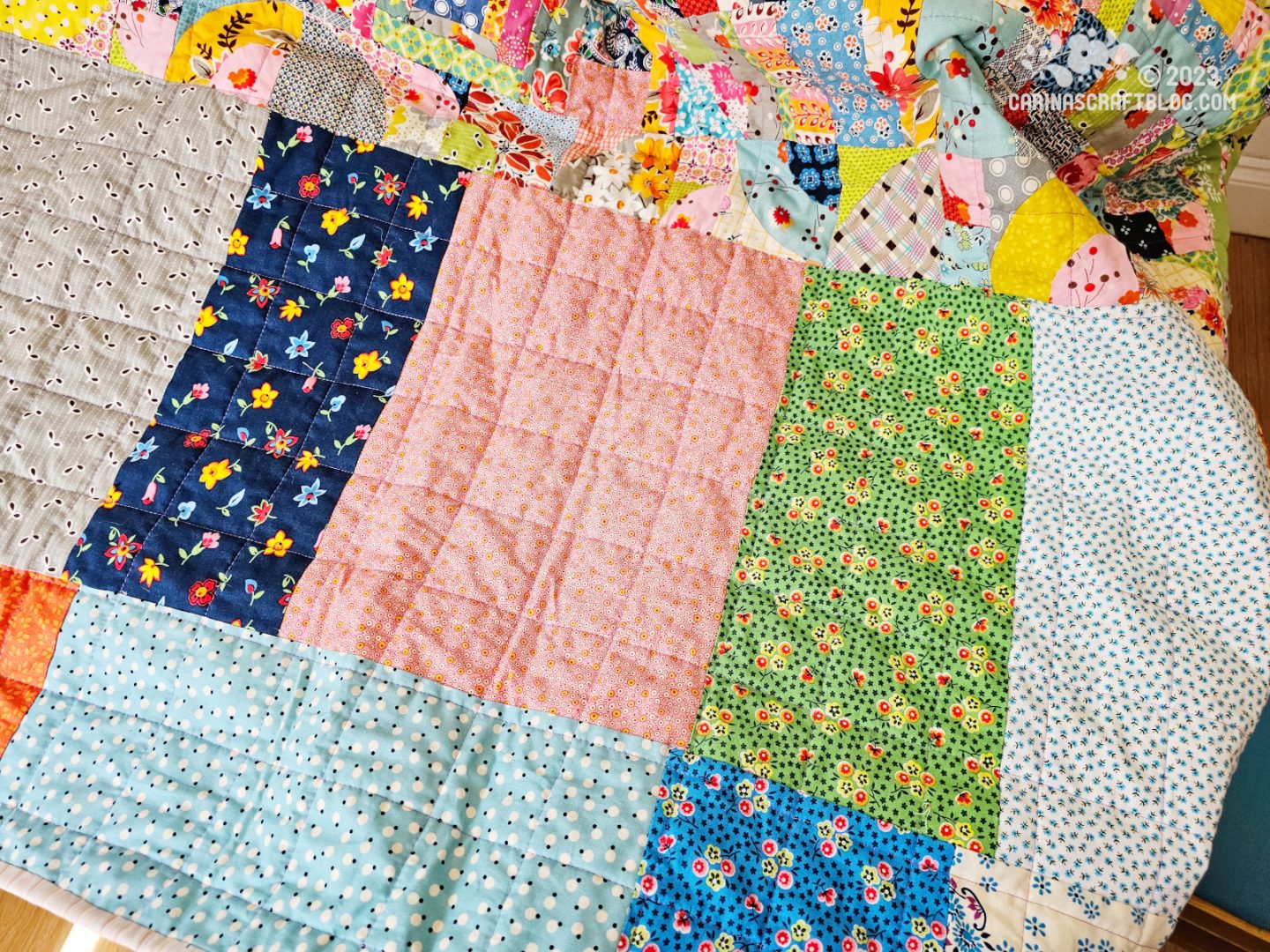 I like how the grid of the quilting shows up on the larger fabric sections of the back.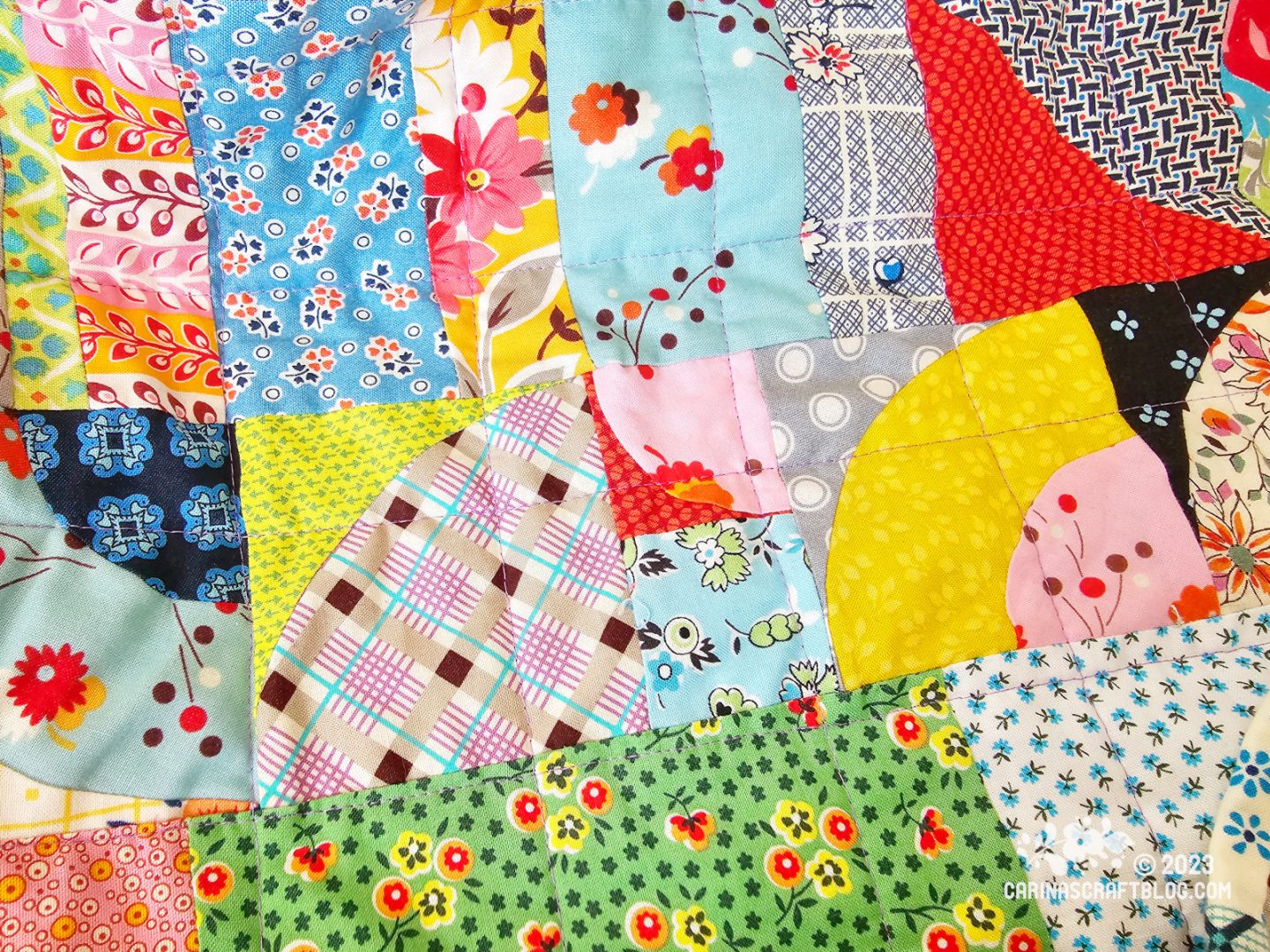 Because the back is so random, sometimes the fabrics will get together and look amazing all on their own. I would never have put that lime green print together with the purple 'woven' print but I like how they go together.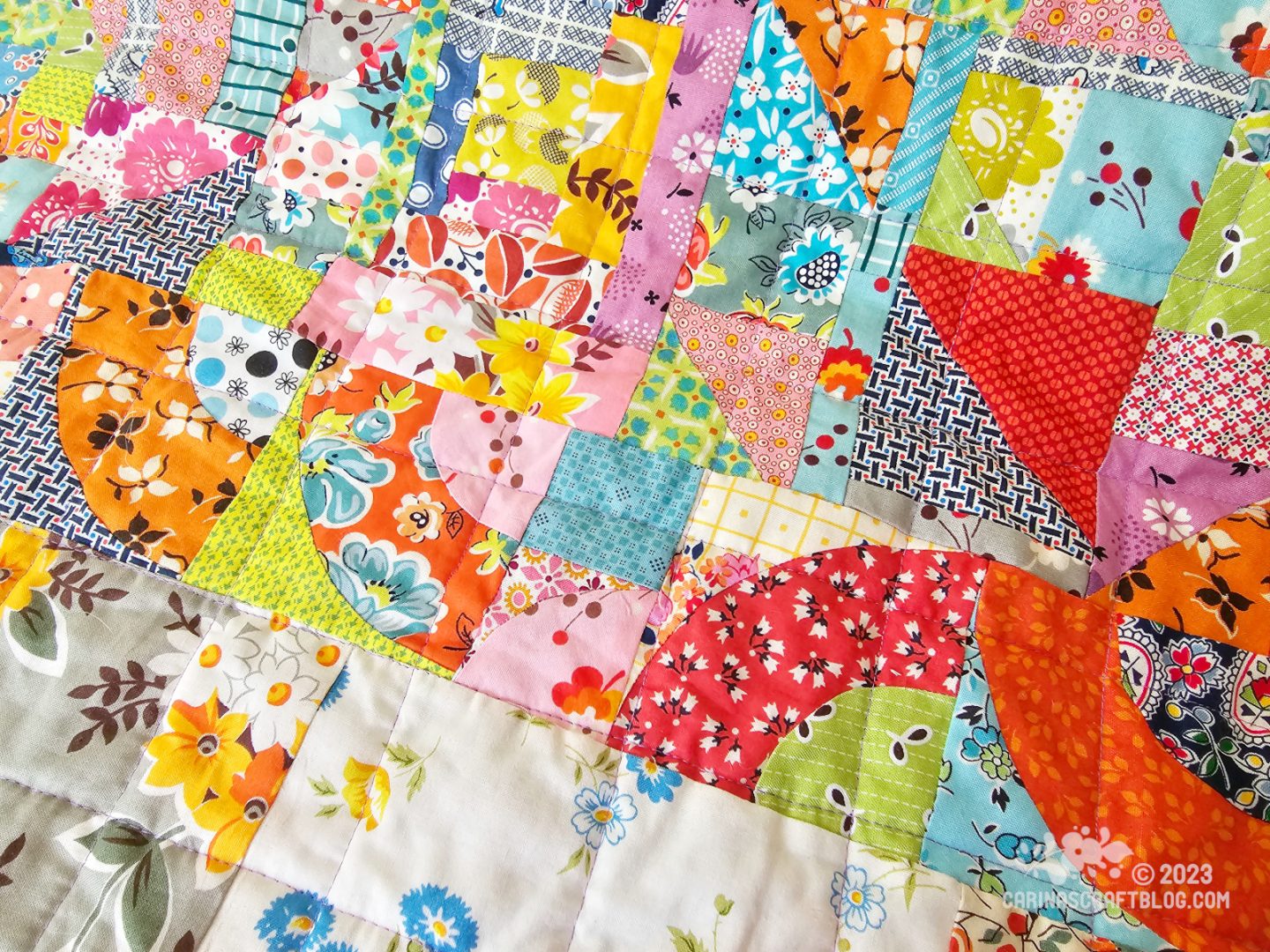 Random fabrics, being random together. :-)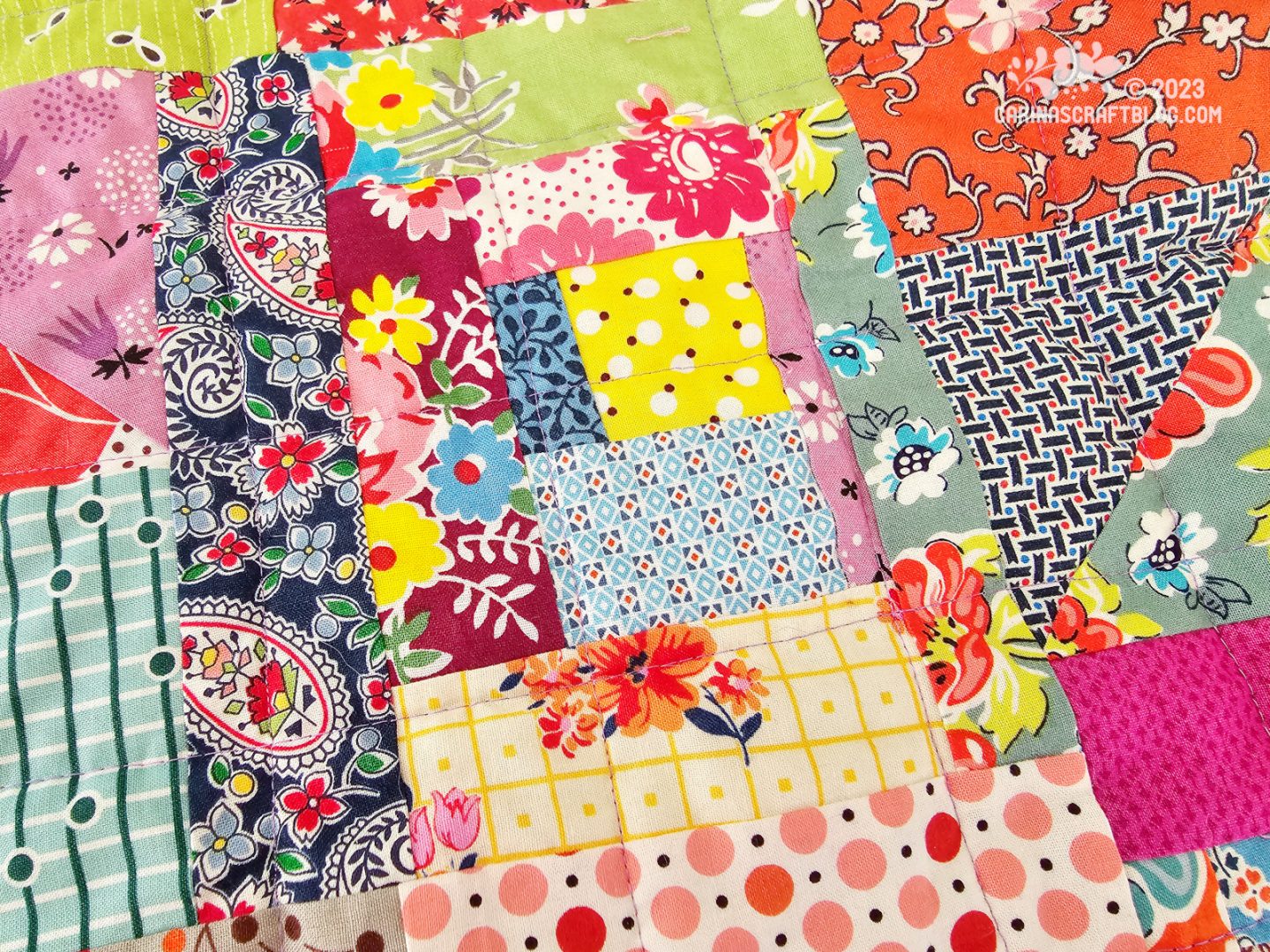 Here you can just about see that the thread on the back is purple.